Eagle Scouts: Paving The Future For High School Students
High School Students Share Their Experience Being A Part Of Eagle Scouts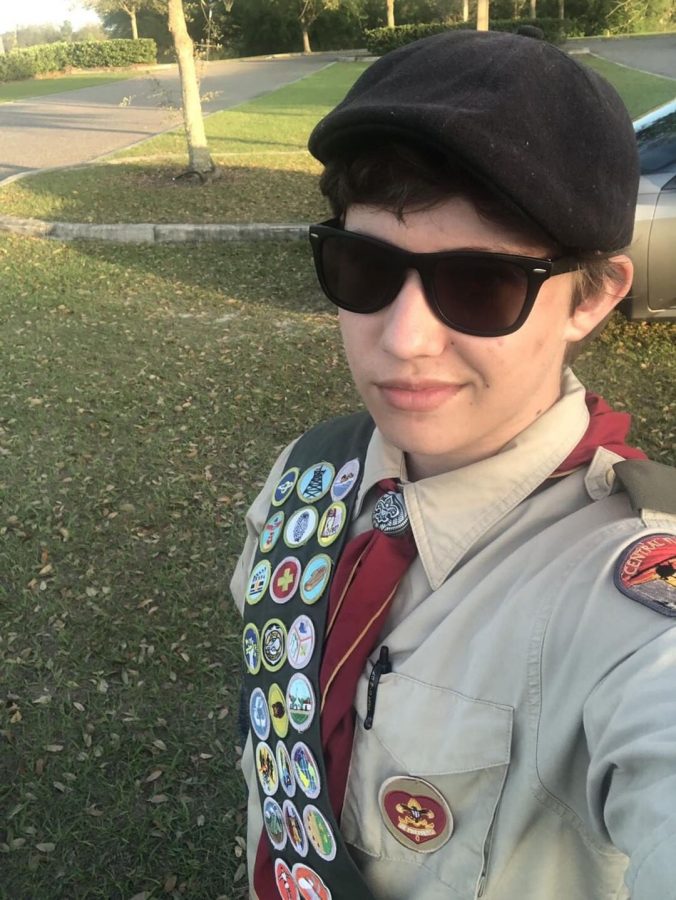 Channing Bowles, Writer
April 23, 2019
Boy Scouts of America gives out almost one million dollars annually to help eagle scouts pay tuition for college. Junior, Clayton Pollard is one of the hundreds of students who are currently working to complete their requirements to receive an Academic Scholarship.  There are three different kinds of scholarships one can receive: Academic, Merit, and World Explorer.
"It's 50,000 dollars. The first step is actually getting Eagle. After that, you have to be accepted into the society and then from there you get additional steps. If I get the scholarship, I'll probably be going to a college here in Lakeland, Florida Southern College. It's a private college and I'd like to go and work on a degree in criminology and possibly go and study abroad with that degree there." Pollard, said.
Becoming an Eagle Scout isn't easy, there are a lot of things that go into it. After joining a scout troop, members must get familiar with the handbook. There are twenty-one merit badges available to earn, thirteen of those are mandatory. You then have to be an active Life Scout for at least six months.
"When you start off you start as a no rank. You go through Tenderfoot, Second Class, First Class, Star, Life and then Eagle. Through that process there are a couple objectives you have to go through with each rank. As you go on, you do your own thing whether it be projects or merit badges. It's a very unique process and through that you learn to become a leader," Pollard, said.
The goal of the Eagle Scouts Service Project is to help out with the community or an organization in some way. Helping out in the community is a very import virtue to Boy Scouts of America. A requirement for the project is that it must not benefit Boy Scouts of America in any way.
"I renovated a bunch of different parts of an animal shelter, fund raised about $26,000 dollars, we renovated the floor, the benches, the shelving. We had to rip the floors apart. We actually made a mosaic of the logo of the animal shelter too. And it was a lot, we had like twenty volunteers and almost five hundred hours in total." Senior, Fabian Velasquez said.
Achieving the requirements to become an Eagle Scout is a learning experience.   Becoming an Eagle Scout means putting in the time, effort, and anything else needed to earn this high rank. The community service project is very time consuming and getting the details correct has been proven to be tedious. There can be issues in preforming this task but there is always a way to overcome them.
"Whenever you're renovating something you always find damages that you can't see just from walking around. So, we found that the floor came up really easy. We ended up being able to fix it. Another setback was hurricane Irma. It came when we were going to do our work so I had to push it back another month." Velasquez, said.
The Eagle Project gives scouts an opportunity to not only help their community but also showcase their ability to lead. This is an important qualification for becoming an Eagle Scout. Starting this project is a lengthy process and requires a lot of consideration.
"Less than 1% make it so it's very hard to get in. It takes a lot of dedication to take the time to do everything. It was a difficult process. It can be discoursing with all of the paperwork and the projects and community hours but it's for a good cause, for the community and everything. I see a lot of kids who look up to me and say I'm a great leader. Kids who are boy scouts." Senior, Will Glines, said.
Receiving the Eagle rank means that the scout has completed all of the requirements such as earning a certain number of merit badges, being an active troop, and even meeting the age requirements. Completing all of this may not be an easy task but it's definitely rewarding.
"We learned a lot. We thought it was going to be a quick and easy thing but we kept finding more and more problems so we came up with more and more solutions." Velasquez, said.