President Joe Biden and Vice President Kamala Harris Inaugurated   
In An Inauguration Like No Other Biden And Harris Kick Off The Next Four Years
Beyond a sea of American flags, on a day unlike any other in American history, Joe Biden and Kamala Harris carved their names into the history books by becoming the 46th president and vice president of the United States of America.  
One of the most historically notable details about this inauguration is not just the unusual circumstances under which it was held, but also the absence of former president Donald Trump. Trump is the first president in over a hundred years to not attend the inauguration of his predecessor.  
Instead, Trump released a farewell speech the day before the inauguration that covered what he and his administration achieved during his time in office. 
"Together with millions of hardworking patriots across this land, we built the greatest political movement in the history of our country," Trump said. "We also built the greatest economy in the history of the world. It was about "America First" because we all wanted to make America great again."  
Within his address, Trump acknowledges domestic terrorism displayed by extremist Trump supporters. During this incident rioters in Washington DC, to prevent Joe Biden from being named president-elect broke into the congressional chamber itself. While Trump did issue a statement gently requesting that the rioters return home the day of the event, he was impeached for inciting insurrection earlier in January.  
"All Americans were horrified by the assault on our Capitol. Political violence is an attack on everything we cherish as Americans," Trump said. "It can never be tolerated." 
This incident was also the reason for extra security at the inauguration. NBC news reported that there were tens of thousands of guards to ensure the safety of those attending the inauguration, making it so that there were more guards than guests. In addition to this, Politico said there would also be physical barriers and a fence to prevent any issues. 
While Trump made the decision to not attend, many notable Republicans still did, including but not limited to Trump's former vice president, Mike Pence, Senate minority leader Mitch McConnell, and House minority leader Kevin McCarthy.    
According to the Washington Post all these men declined Trump's invitation to attend his departure ceremony at Joint Base Andrews. Instead, the group attended the ceremonial mass with President Joe Biden.  
Trump took Marine 1 in the morning to fly to Joint Base Andrews and was scheduled to fly down to Florida at 11:00, an hour before the inauguration ceremony. This meant that many ceremonial traditions that would involve Trump did not take place at Joe Biden's inauguration.  
While an inauguration would normally be a multi-day event, Biden's inauguration looked slightly different. The Washington Post approximated that only 2,000 people would be attending the inauguration in person. Enough for every Congressional member and a plus one along with a handful of other VIPs. Other presidential inaugurations have included several hundred thousand people, including private citizens able to purchase tickets, but this time most had to tune in from home. Throughout the inauguration, it was also very clear that the chairs had all been spaced out, and that everyone was wearing a mask unless they were actively speaking.  
The inauguration took place just outside the Capitol building, minutes before noon on January 20th. Joe Biden's morning was spent at the Blair House where, as tradition dictates, the president-elect spends their final night before taking their oath. This was followed by another tradition, a mass with the vice president-elect, the president-elect, and other important politicians before everyone finally made it to the Capitol. 
First making their appearance, President Joe Biden and the First Lady, Dr. Jill Biden walked out hand in hand. The MC for the inauguration, U.S. Senator Amy Kloubuchar, said a few words before welcoming to speak to the chair of the inaugural committee, Senator Roy Blunt. Then came a longtime friend of the Biden family, Father Leo O'Donovan, who said a prayer for those gathered. He also quoted the prayer made at the very first presidential inauguration, for George Washington. 
After came the singing of the National Anthem, performed by Lady Gaga in a stunning black and red dress with a dove brooch, accompanied by the President's Marine Band. The pledge of allegiance was later said (and signed) by fire captain Andrea Hall.  
Vice President-Elect Kamala Harris was sworn in immediately after, by the first Latina to serve on the supreme court: Justice Sonia Sotomayor. This created a historic first, as Vice President Kamala Harris is now the very first Asian American, African American, and woman Vice President.  
Jennifer Lopez also performed at the capitol, with beautiful renditions of "This Land is Your Land" and "America the Beautiful" complete with a Spanish twist. 
President-Elect Joe Biden took his oath of office with his hand upon a bible that was reported by the New York Times to have been in his family for well over a hundred years. He was sworn in by the Chief Justice of the Supreme Court, John Roberts, the same man who had sworn in former President Donald J. Trump four years prior.  
The very first laureate youth poet recited her poem, "The Hills We Climb" for those gathered. Poet Amanda Gormen, who attended and spoke at the inauguration at only 22 is now the youngest inaugural poet ever. The poem itself had a heavy focus on racism and the racial divide, which was also touched upon by Biden in his inaugural address.  
A benediction was performed by Reverend Slyvester Beaman, who has been a friend of President Biden's for 30 years. Biden also would go, along with some other politicians, to Arlington Cemetery, to lay a wreath down for some of America's fallen soldiers.  
The traditional inaugural lunch was lost this time, a tradition that has existed for over a hundred years. Despite traditions surrounding an inauguration like these, Biden was able to still have a parade, although it was much smaller (and socially distanced) than the normally packed parade routes of past presidents. It was also referred to as a "Parade Across America" by NPR since it included streams of performers from all over the world as opposed to just a parade around DC.  
Some other performers that featured in the inauguration include Garth Brooks, a famous country singer, who has performed at the inauguration for many years now. Tom Hanks also hosted a special celebrating the inauguration. 
After two terms of serving as the Vice President, and watching Barack Obama deliver his inaugural addresses, President Joe Biden made his first address to the American people as the president of the United States.  
The running theme in his speech was one of unity, with a heavy focus on coming together as a country. After such a divided election and generally unusual year, this address seemed to come at just the right time.  
"Millions of jobs have been lost. A cry for racial justice some 400 years in the making moves us. A cry that can't be any more desperate or any clearer," Biden stated. "And now, a rise in political extremism, white supremacy, domestic terrorism that we must confront, and we will defeat. To overcome these challenges – to restore the soul and to secure the future of America – requires more than words. It requires that most elusive of things in a democracy: Unity." 
Biden also went on to acknowledge that January 20th did not necessarily have to be a day about one victorious party, but it could instead be an acknowledgment of something else.  
"Today, we celebrate the triumph not of a candidate, but of a cause, the cause of democracy. The will of the people has been heard and the will of the people has been heeded," Biden has said. "We have learned again that democracy is precious. Democracy is fragile. And at this hour my friends, democracy has prevailed."  
After a year with a pandemic, near-constant protests, and months of waiting for election results the United States – and the world – is lacking in unity. The unity that the Biden administration wants to bring around once more.  
Inaugural poet Amanda Gorman brought a final note for the American people to look upon as the United States watches a new administration and a time of healing begin. 
"We will rebuild, reconcile and recover," Gorman said. "And every known nook of our nation and every corner called our country, our people diverse and beautiful will emerge, battered and beautiful."
About the Contributors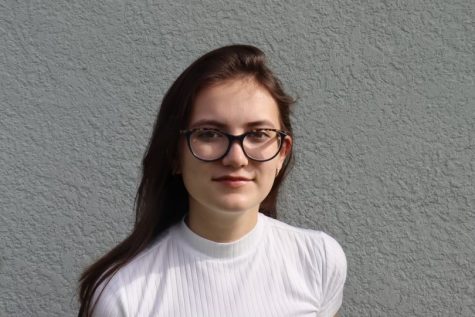 Kate Stout, Editor In Chief
Kate Stout is a sophomore at Four Corners Upper School, and this is her second year on staff. Kate was born in England but raised in central Florida. She...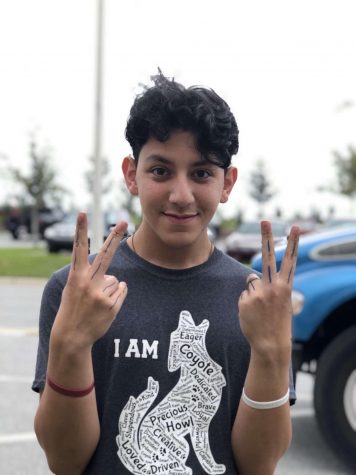 Patrick Deliz, A&E Editor
Patrick Deliz is a senior at Four Corners Upper School, in his second year with The Coyote Chronicle. While invested in the arts, Patrick enjoys photography...