Drama With Music
Olivia Rodrigo's Latest Release "Driver's License" Makes Fans Wonder What Is Going on Behind-the-Scenes
One of the latest songs written by the 'High School Musical: The Musical: The Series' (HSMTMTS) actress, Olivia Rodrigo has been the No. 1 song in the country for three weeks.  Using the narrative of obtaining a drivers license, Rodrigo fashioned the backdrop for a breakup story.  
"You said forever / Now I drive alone past your street," Rodrigo sings in the chorus. 
After 'Driver's License' was released, it became an instant hit with Rodrigo hosting a launch party premiring the song on her YouTube channel. The song itself became a TikTok sensation as users on the platform lip synced to the song and created scenes to match with the heart wrenching lyrics.  It was not long before the drama began to spill from the music and was eventually portrayed on 'Saturday Night Live', with Rege-Jean Page. 
A majority of fans of the Disney+ show HSMTMTS are following the gossip surrounding Olivia Rodrigo's new song. Some believe it was inspired by a love triangle between her and show co-stars Joshua Bassett and Sabrina Carpenter, who are said to be entangled in a real-life "love triangle." 
Rodrigo and Bassett, who play Nini Salazar-Roberts and Ricky Bowen in HSMTMTS respectively were an on-screen couple before they linked offstage. But that did not last long, as in August, when Rodrigo shared a video on TikTok captioned, "And that is on failed relationships," along with the song "All I Want" from the series' original soundtrack. Fictionally, the song was written by Paige for ex-lover Ricky. But fans quickly began to speculate if the sentiment was inspired by real life. 
"You think you can hurt my feelings?" read the clip's text. "I wrote this song," she said. 
Rodrigo's new single, "Driver's License," parallels the HSMTMTS storyline, including the cryptic lyric, "I guess you didn't mean what you wrote in that song about me." Fans online deduced that this was a reference to Bassett's own solo singles, "Common Sense" and "Anyone Else," which debuted in 2020. 
This is where Sabrina Carpenter comes in. It was rumored that Carpenter and Bassett began their romance after Rodrigo and Bassett split sometime last year. While these reports still remain unconfirmed, Bassett and Carpenter appear to be getting pretty comfortable with each other in a recent TikTok in which they were dressed as Sharkboy and Lavagirl, of the 2005 flick "The Adventures of Sharkboy and Lavagirl." 
The Reality 
Olivia Rodrigo has recently come to terms with the song and what has been going on. In recent interviews she discusses the meaning behind the song but is actually not interested in unveiling all the drama behind the song. However, it might not be what fans want to hear. 
"I totally understand people's curiosity with the specifics of who the song's about and what it's about, but to me, that's really the least important part of the song," she says in an interview with Billboard, "It's resonating with people because of how emotional it is, and I think everything else is not important." 
But she is particularly proud to see how others have taken the song and made it a part of their own stories of heartbreak. 
"To see it do really well — to have this really painful moment in my life and turn it into something beautiful that can maybe help people through a tough time that they're having like I was having a tough time — it's just so empowering," she said. "And I feel grateful that I got to do that." 
About the Writer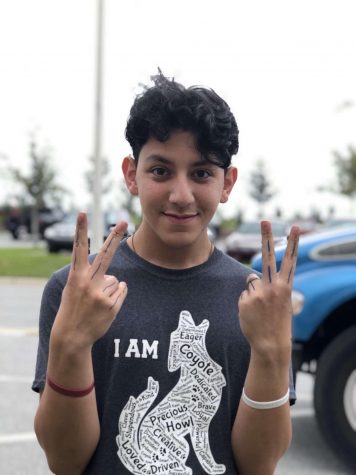 Patrick Deliz, A&E Editor
Patrick Deliz is a senior at Four Corners Upper School, in his second year with The Coyote Chronicle. While invested in the arts, Patrick enjoys photography...