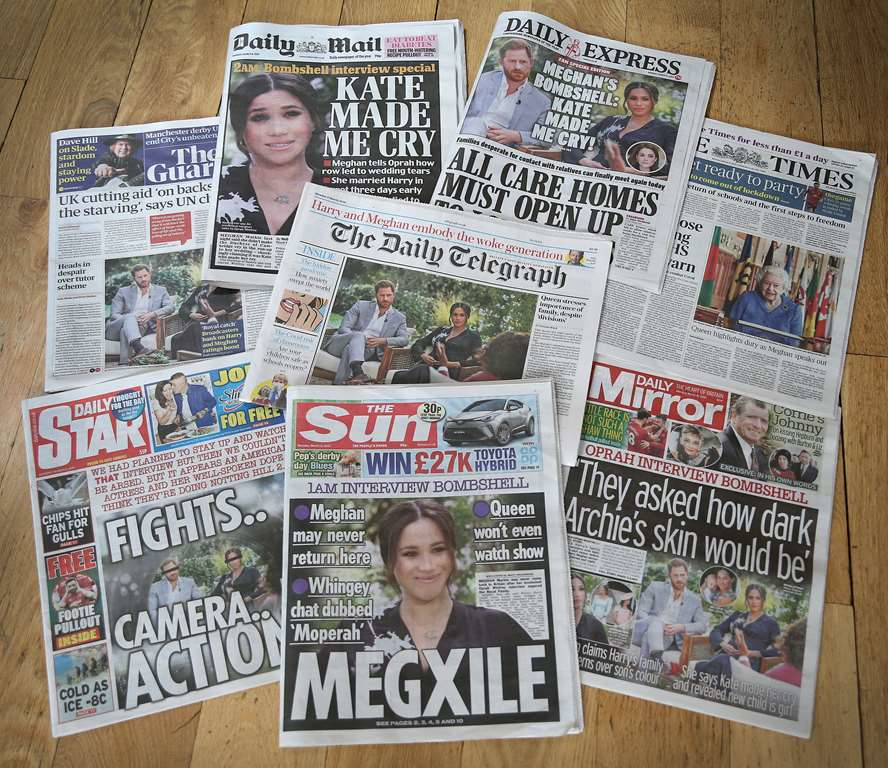 Meghan Markle and Prince Harry David's were recently interviewed by Oprah Winfrey and it was full of stunning news about the couple's marriage, life as royals and their decision to quit being members of the monarch. This was the first time that the Duke and Duchess of Sussex were interviewed after stepping down from their royal duties.  
The interview included several key moments that shocked everyone throughout the world even including members of the royal family. The two-hour interview discussed multiple topics and gave both Meghan and Harry the chance to be honest and speak out without being disrupted by the royal standard.  
Mental Health  
Markle has mentioned before that her mental health while being a senior royal has been suffering but her interview with Winfrey allowed her to go into detail for the first time about how severe the experience had really been. 
"And I – remember so often people within the firm would say, "Well you cannot do this because it will look like that. You can't." So, even, "Can I go to lunch with my friends?"" No, no, no. You're oversaturated, you're everywhere. It would be best for you to not go out to lunch with your friends." I go, "Well I haven't – I haven't left the house in months." Markle said. 
Since the Duchess was not able to do any normal day to day activities like she was used to, it caused her to feel lonely or as if her life were being controlled by everyone but herself.  
"There was very little that I was allowed to do. Ans so yes of course that breeds loneliness when you have come from such a full life or when you have come from freedom." Meghan said. 
Even after speaking to people about this, Meghan never received the help she needed while dealing with these drastic changes that came with being a part of the royal family and being a popular topic all over the media.  
"I mean there was a day that one of the members of the family, she came over and said, "Why don't you just lay low for a little while? Because you are everywhere right now." And I said, "I've left the house twice in four months. I'm everywhere, but I am nowhere." ….I continued to say to people, "I know there's an obsession with how things look, but has anyone talked about how it feels? Because right now I could not feel lonelier" Meghan said.  
She had this realization that people in the media were never satisfied with her and it would make her think about how the media plays a big part in one's mental wellness. Even though she didn't follow along with the media she would still hear about it from her friends or family.  
"I would sit up at night and I was just like, I do not understand how this is being churned out and again I wasn't seeing it, but then again its worse when you're seeing it through the expression of my mom or my friends or them calling me crying saying Meg, they are not protecting you and I realized that it was all happening just because I was breathing." Meghan said.  
Markle informed viewers about how life with the royal family, is not like what it seems. She talked about how lonely, deserted and unprotected she felt. It unfortunately got to the point where she considered suicide during her pregnancy with her son Archie Harrison Mountbatten-Windsor. 
"I was really ashamed to say it at the time and to have to admit it to Harry especially, because I knew how much loss he suffered. But if I did not say it then I would do it. And I just, did not want to be alive anymore. And that was a very clear and real and frightening constant thought." Markle said. 
Unfortunately, Meghan never really received the real help that she desired. She asked the palace for permission to go to an institution to get help with her mental health problems and was told she could not because it would make the monarchy look bad. 
"I went to human resources, and I said I just really need help because at my old job there was a union, and they would protect me. They said, "My heart goes out to you because I see how bad it is, but there's nothing that we can do to protect you because you're not a paid employee of the institution. This wasn't a choice, this was emails and begging for help, saying very specifically, "I am concerned for my mental welfare", but nothing was ever done so we had to find a solution." Meghan said.  
Feeling Trapped  
Meghan and Harry both spoke to Oprah about how life in the royal family was really like. They informed viewers about the lack of protection they had and how that affected them. They also talked about how the media was making false claims against the couple which obviously upset them.  
"So even as things started to roll out in the media that my friends would call me and say, "Meg this is really bad," because I didn't see it, I'd go, "Do not worry. I'm being protected." I believed that and I think that was really hard to reconcile because it was only once we were married, and everything started to really worsen." Meghan said.  
When Prince Harry and Meghan left the U.K and moved to Canada they still planned to serve the queen, but their security was suddenly cut off and can't get an actual answer to why they were not receiving protection especially since they had just had their son, Archie.  
"I came to understand that not only was I not being protected but that they were willing to lie to protect other members of the family, but they weren't willing to tell the truth to protect me and my husband" Meghan Markle said. 
Meghan acknowledges that she did not care about her son being given a title like "prince" she really cared about the amount of security that Archie would be receiving. But was stunned when she was told that he was not going to have any security. While other children of the royal family were given security.  
"And that was when they were saying they did not want to be a prince or a princess – not knowing what the gender would be, which would be different from protocol—and that he was not going to receive security, it was hard. This went on for the last few months of our pregnancy where I'm going," Hold on a second. Our son needs to be safe." 
Once Harry joined the interview, he began to speak about the different ways he felt trapped while being a part of the royal family and how it affected not only him but his wife and son.  
"My biggest concern was history repeating itself, and what I was seeing was history repeating itself but more perhaps or definitely far more dangerous when you add race in, and you add social media in "Harry said.  
He also said he felt his family did not support Meghan, who acknowledged her struggles with her new royal life before marrying Harry, and the hate she endured by tabloid attacks and false stories. 
"I asked for calm from the British tabloids, once as a boyfriend, once as a husband and then once as a father." Prince Harry said.   
When asked why Harry and Meghan decided to leave the royal family in January of 2020 the couple had many things to say but they tried to make their explanation as simple as possible.  
"There was a lack of support and lack of understanding.… I was trapped within the system" Harry said.  
Race  
As the first person of mixed race in the royal family, Meghan received a great amount of racist and sexist remarks by British tabloids and internet trolls. Not only was this affecting Meghan but this also led to conflict about her, at the time, unborn son, Archie who is also of mixed race.  
"You know there is a construct that is at play there and cause from the beginning of our relationship, they were so attacking and inciting so much racism, really it changed the risk level because it wasn't just catty gossip, it was bringing out a part of people that was racist in how it was charged. And that changed the threat. That changed the level of death threats. That changed everything." Meghan said.  
Members of the royal family were aware of the hate and death threats that Meghan and Harry were receiving but no action was taken against it and Harry tells viewers about how that affected him. 
"The most telling parts and the saddest parts, I guess was that over seventy members of parliament, female members of parliament both conservative and labor came out and called the colonial undertones of articles and headlines written about Meghan, yet no one from my family ever said anything over those three years. That really hurt. "Harry said.  
Markle shared with Winfrey that different conversation that were held about her son, she revealed that there were concerns about Archies security and even about the baby's skin color.  
"In those months when I was pregnant, all around the same time, so we have in tandem the conversation of "He will not be given security, he is not going to be given a title" and concerns about how dark his skin might be when he's born." 
When Harry was asked about the conversation, he had with his wife about his baby's skin color and why it was important to members of the royal family, he didn't say much. 
"That conversation I am never going to share, but at the time it was awkward. I was a bit shocked" Harry said.