Credit To The Creators
Addison Rae And Jimmy Fallon Receive Backlash For Not Giving Credit To The Creators Of Popular Tik Tok Dances
The Tonight Show Starring Jimmy Fallon
Tik Tok star Addison Rae and Tonight Show Host Jimmy Fallon receive backlash after having a segment on the show that was based on popular Tik Tok dances. Many viewers have gone to Twitter to voice frustration that Black Tik Tok creators do not get the same opportunities and publicity as white stars on the platform. After people on social media started to speak out about this problem, Jimmy Fallon had another segment on his show that highlighted the creators and allowed them to perform their dances and talk about themselves as well.  
Following up to this segment, Fallon spoke out about the situation and let people know that he recognizes his mistakes and was going to fix it by having these people on his show.  
"On our last show before break, we did a bit with Addison Rae where she taught me eight viral Tik Tok dances, now, we recognize that the creators of those dances deserve to have their own spotlight. So right now, some of the creators will join me to talk about how their dance went viral and then perform the dance themselves." said Jimmy Fallon. 
The creators who joined Fallon were Mya Nicole Johnson and Chris Cotter ("Up"); Dorien Scott ("Corvette Corvette"); Fur-Quan Powell and Camyra Franklin ("Laffy Taffy"); Adam Snyder, Nate Nale and Greg Dahl ("Blinding Lights"); and Keara Wilson ("Savage"). 
Addison Rae has acknowledged before that she did not create the dances and that on her social media pages, she credits the creators. In the world of Tik Tok this is common because there are millions of videos that are based on one dance that someone created, which means that those creators are expecting some type of recognition. Complications arise when these dances find their way into the real world, often via the platform's most popular stars, not the original creators.  
"I think they were all credited in the original YouTube posting, but it's kind of hard to credit during the show. But they all know that I love them so much and I mean, I support all of them so much. And hopefully one day we can all meet up and dance together. I think ever since the beginning, I've been talking with most of them. I definitely want to collab with a lot of them." Addison Rae, said. 
When one creator was about how they felt about their viral dances being performed on national television by Addison, it gave them the opportunity to talk about the situation.  
"Of course, I was happy and everything. My mom always tells me, 'When it's my time, it's my time.' I felt like that should've been my time and Chris's time, because we created the dance. This isn't the first time this has happened, and I don't want it to continue, I feel like it is very important for us to get our credit because we are very good creators that are very overlooked in what we do." Co-creator of the 'Up' dance, Mya Nicole Johnson said.  
Who gets noticed and who gets ignored matters in the world of social media, these kinds of biases mean that White creators are getting profit while Black creators miss out, even though they play a significant part in the popularity of these dances. Some believe that celebrities like Jimmy Fallon have more responsibility to help break down this form of inequality. 
Many viewers went to Twitter to share their views on the segment which is raising concerns about how equality on social media.  
"This is what white privilege looks like—Black creators innovate dances and do them amazingly, but Addison Rae gets invited on Fallon to perform them in a ho-hum way. She's not racist, Fallon's not racist, but somehow the Black dancers are erased. Even though they dance better." Journalist Toure wrote on Twitter. 
But there are also people on Twitter that disagree with these statements and are arguing back by saying that Addison is not to blame in this situation.  
"These are popular Tik Tok dances, everybody knows she didn't invent them, you don't need to credit patty and Mildred Hill after singing happy birthday to you, ur just looking for reasons to be mad at her, if anything it's the shows' fault to invite her and not them." said Twitter user.  
Another example of this is when Tik Tok star, Charlie Damelio also went onto the Tonight Show and was showing Jimmy Fallon how to do a select number of viral dances. The lack of credit to the creators of these dances was handled in the same way that people dealt with the Addison Rae incident.  
"Since I'm basically always on Tik Tok, I sometimes come across different peoples accounts and majority of their videos are of them doing some of the most popular dances or trends and if the person doesn't tag the creator, then you will notice that viewers will go into that persons comment section and start bashing them and saying that the creator deserves to be acknowledged and demanding that the creator is tagged or mentioned." Sophomore Mya Dwyer said. 
Due to this reoccurring problem, more black dance creators on Tik Tok are calling out the platform to properly credit them for viral dances that are making popular Tik Tokers rich and famous. 
"People have made dancing a business, so give the dance credit, it's like you make something and it comes from you and your soul or your brain, and someone else who is more popular or in a different position takes it and you don't get recognized for it." Bryan Sanon, the creator of the 100 Racks Challenge stated.  
There are many misconceptions that are tied into social media especially when it comes to the most popular influencers and celebrities, when they dot give credit to someone for either a dance or song then the media assumes that they are trying to take credit for that thing, when in some situations that's not the case.  
About the Contributor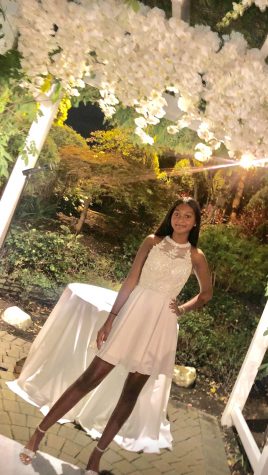 Cianna Sulaiman, Writer
Cianna Sulaiman is a sophomore at Four Corners High School and this is actually her first year on staff. She enjoys playing volleyball , singing and also,...