Candlelight Processional
Choir Gets Accepted To Perform at Epcot's Candlelight Processional After First Year Of Auditioning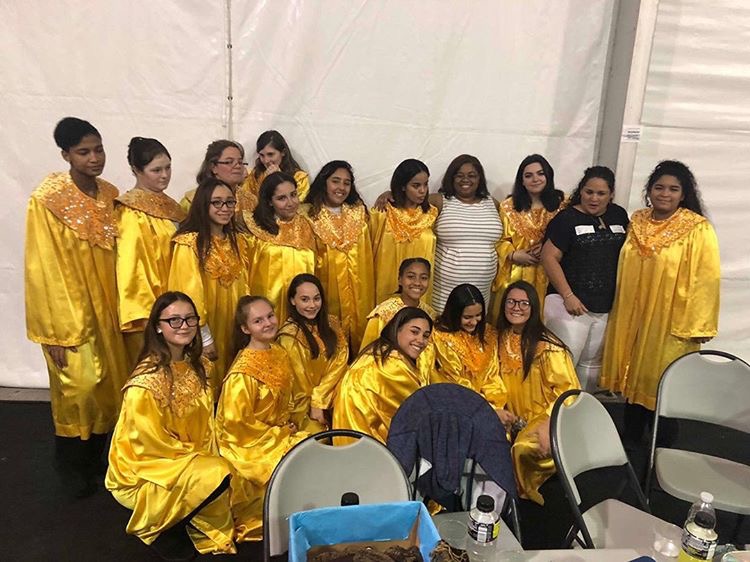 Breanna Gallo, Writer
December 13, 2018
The high school choir was filled with excitement when they found out that they would be singing at Epcot's Candlelight Festival on November 22nd. Candlelight is an event where a celebrity narrator tells the story of Christmas, while accompanied by a 50 piece orchestra and a choir. The choir ranges from school level singers to professional choir singers. This was the choir's first year auditioning to be part of Candlelight and they got accepted.
The audition process to be able to sing at Candlelight is selective and although many schools audition, not all get accepted. Among the choir were a wide variety of larger choir groups. Most of the choir students were given the chance to perform at their first major professional event. They were also given the honor to perform on opening night.
Junior, Alexandra Olivares, explained, "I think out of all the high school girls, I probably reacted the most. When Ms. Thomas put the email up on the board, I just skimmed through it and I just saw that we were going to be performing on Thanksgiving and so I jumped out of my chair and I screamed and I hugged my friend Alejandra very tight."
To prepare for this, the choir had many practices in order to help them learn all 14 songs which they would be performing at Candlelight.
"Well for me, I don't have the choir class, so practice for me was harder because I had to practice at home but when we did have rehearsal, I felt like I was a little behind because I knew the songs but when I practiced with the choir, I kept messing up so it was really stressful," junior, Karla Matta, says.
When November 22nd finally came around, all of the hard work the choir put in was finally ready to be witnessed. They performed two shows, each of which were one hour long and without breaks in between.
Before the performance, freshman, Sophia Cortez, said "I was kinda nervous but also excited to be on stage." After the performance, she described herself as "In pain. My throat was dead and my legs were dead but I was happy, and I want to do it again."
Although the performance was on the same day as Thanksgiving, this did not stop the choir from being there, nor did it seem to be a burden.
Ms. Thomas explained, "It was awesome. It's an honor really to be able to perform on opening night because it's a big deal. It's the first night the show opens and this was the diamond anniversary, the 60th anniversary of Epcot's Disney Candlelight so, it was a huge deal, there was a lot of Disney people there, a lot of higher ups were there. It was packed from the orchestra pit to the back of the stage. It was full of people. This was a really big honor, especially since this was our first year auditioning and we had never done it before."