What It Takes To Get Ready For A Cheer Competition
Cheerleaders Share Their Experience On What It Takes To Compete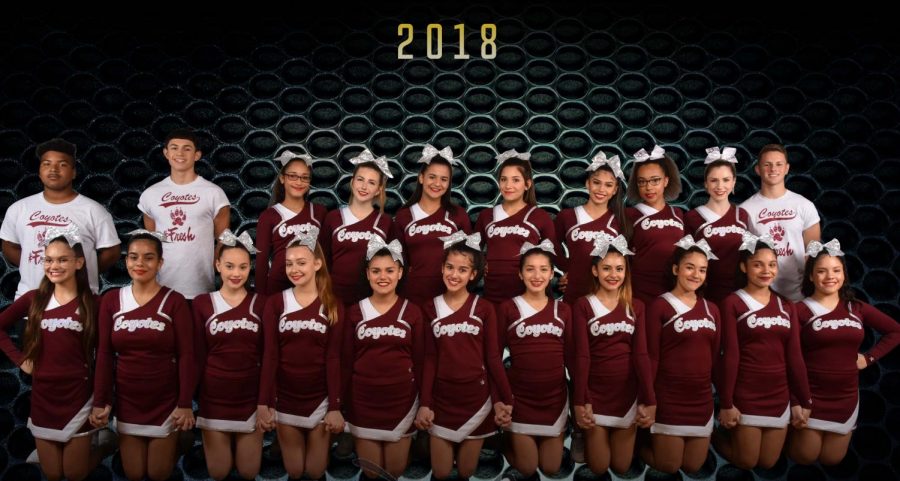 Competition season can be stressful for every cheerleader. In order to have the best competition season, your squad needs to be organized and plan ahead for the upcoming season.  As a high school squad, you have to balance so much—pep rallies, games, classes, school activities, and, your competition season. All of this can be done efficiently with the right preparation and planning.
"I have started preparing for this competition since the summer, I have stretched daily to improve my skills, and gone to tumbling practice" freshman, Sophie Cortez, said.
Everyone on the team was determined to bring the banner from competition home. They practiced four days a week, 3 hours each day. Every day they went over the routine over and over again until perfection. The biggest focus was to get everyone synchronized and learn stunts that could be executed properly.
"I can definitely say that what prepared me the most was practicing very hard and also constantly making sure everyone knows the routine." Cortez, said.
Making it to the competition and being able to show all of their abilities in the best way, the squad went through a bumpy road.
"There were a lot of times where I wanted to give up, because I believe that some people were more dedicated than others and I wasn't sure until the very end that the routine was going to hit". Cheer Captain, Kassidy Thezan, said.
For everyone it was difficult to synchronize and learn everything in the short amount of time. The team had only 3 weeks to learn the routine and perfect it.
"For me personally the hardest part was the time crunch. Simply because it seemed almost impossible to accomplish what we did in a short amount of time," junior, Javier Martinez, said.
Along with Martinez, senior, Gil Mangual also joined the team late because of football season and agrees that it was difficult to prepare a two and a half minute routine in the short amount of time.
"I came to team late without knowing anything about the sport and I had to learn everything in a short amount of time" Mangual, said.
To go out there with a new squad and pass through all those difficulties they needed something to motivate them to go out there and show all they got.
"Some of the cheerleaders stayed extra after practice and helped me learn the routine which a played a big part in my performance," Martinez, said.
Teamwork was the main source of motivation and what helped the end result. They worked together to get the routine and for everyone to be physically prepared. They were encouraging each other and that is how in a short amount of time they formed a second family.
"Practicing every day made me build a stronger bond with all the girls and guys in the squad," Thezan, said.
It very important for every squad to have a strong bond so that they work together as a team. As a cheer captain Thezan expresses that was one of her harder jobs since every single girl and guy on the squad was so different and uniting them around one idea was not the easiest job.
"The best advice I received before the competition was to calm down and have fun," Mangual, said.
A huge play in the success of the team was because of commitment.
"With constantly cheerleading I missed good chances to help heal my spine and I always had to tell my friends I am busy but knowing that in the end it will be worth it, I am not sorry I had to sacrifice my time with friends," senior, Julianna Benz, said.
Cheer has taken so much of every cheerleader's life especially when knowing that a whole team is relying on you. Practicing every day and almost forgetting about social life or any kind of problems you may have outside of school.
"Knowing that I could fly again after an injury last year is what encourage me the most, because it pushed me to prove that I am best person to put in the air," Benz, said
Once competition season starts, the expectations are raised even more with additional practices that are mandatory and traveling to competitions. It takes a strong person to have this type of dedication to their team and to increasing their cheer abilities.
"Cheer is tough sport but with dedication and passion it is all worth it," Thezan, said.
About the Writer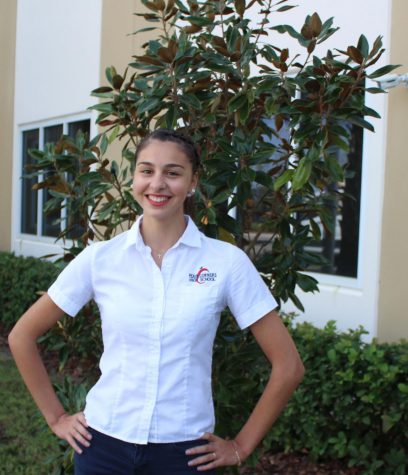 Lora Cholakova, Writer
Lora Cholakova is a senior at Four Corners High School. This is her 4th year being involved in Journalism, but this is her first year of being on the newspaper...