"I'm The One And Only Spiderman"
Spiderman: Into the Spider-Verse Review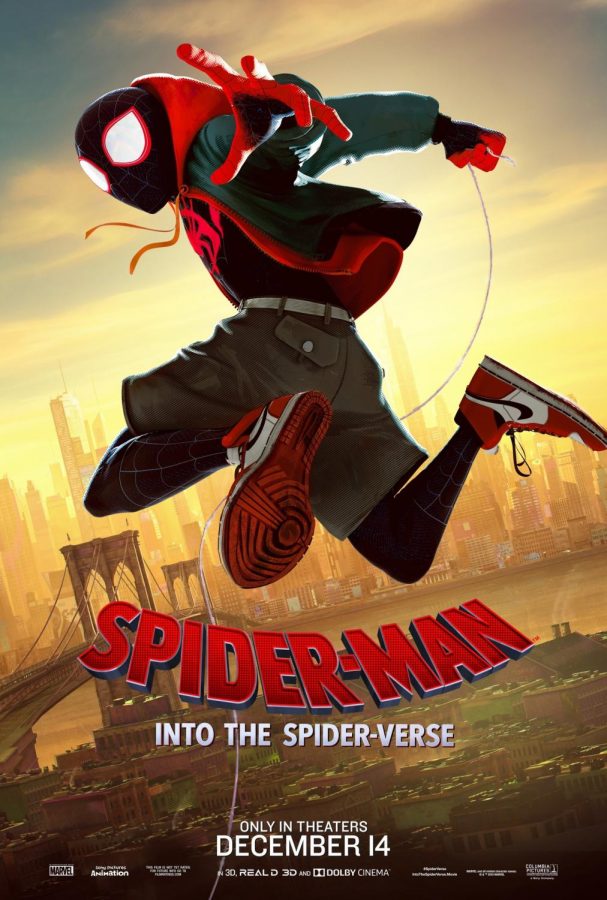 Bitten by a radioactive spider, teenager Miles Morales, voiced by actor Shamiek Moore, and his spider friends from other dimensions hit the big screen in cinemas on December 14, 2018. This animated movie is about a teenage boy the son of a Puerto Rican ER nurse mom and an African American cop dad living in Brooklyn, New York. With Miles new powers, friends and family to help him along the way, he must save the city.
Forming a team, Miles Morales, Peter Parker, Gwen Stacy, Spider-Ham, Spider-Man Noir, Spider Women and Peni Parker go head to head with the main antagonist Kingpin voiced by actor Live Schreiber, who is threatening their universes. As they fight to stop him, Miles struggles to gain control of his new powers and experiences losses, leaving the audience feeling bad for him at times. As the movie progresses, he works his way through these challenges and takes on the responsibilities of a super hero.
Unlike the majority of the Marvel movies, Spider Man: Into the Spider-Verse was an animated cartoon. In the movie, things like text boxes or big words like BOOM give the same effect as the comics. These small details create originality and a comic book style throughout the movie.
With many funny moments, Spider-Verse follows a pattern when each new Spider man character is introduced. Each character tells the audience a bit about themselves and how they are "The One and Only Spiderman" from their own dimension. Each of their stories start with the fact that they were bit by a radioactive spider, the discovery of their powers, the loss of a family member or friend and who they are.
In 2011, Miles Morale's character was introduced as a way to diversify the Marvel Characters. When the movie came out, it captured today's youths' culture, style and music, along with starting new fashion trends with the Air Jordan 1 Retro High OG "Origin Story" shoes that were released the same day as the movie.
Along with the shoes that were released, the sound track was released the same day and has many artists from today's R&B and hip-hop genres. Songs by XXXTENTACION, Post Malone, Nicki Minaj, Juice WRLD, Swae Lee, Lil Wayne, Ty Dolla $ign and many others have taken part in creating the songs to this new movie. With this sound track being part of the film, it added to the movie in a sense where it elevated some of the scenes creating emotional and tense sequences where it was needed.
The film's unique style has already won it two awards; The Golden Globe Award from Best Animated Feature Film in 2019 and New York Film Critics Circle Award for Best Animated Film of 2018. This movie has also made a total of $277.3 million dollars worldwide in box offices.
Spiderman: Into the Spider-Verse has impressed viewers worldwide by capturing today's culture, funny moments, original style and interesting story-line. With all the film elements, the movie contains many aspects that today's audiences and previous comic book readers can enjoy.  Taking into account the film's reviews, awards and its impact on today's trends, this movie ended 2018 as one of the year's best animated features.
Rated: 10/10
About the Writer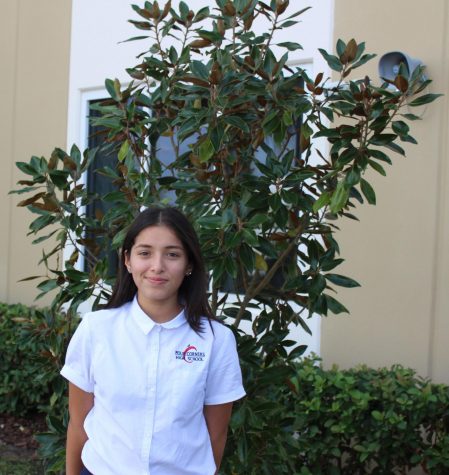 Daniela Araujo, Writer
Daniela Araujo is a freshman at Four Corners High School and this is her first year on staff. Daniela enjoys photography, learning new things, and writing....