Why Should High School Students Study Abroad?
The Top 5 Reasons Why Students Should Study Abroad
Hang on for a minute...we're trying to find some more stories you might like.
Studying abroad may be one of the most beneficial experiences for a student. By studying away from home, you will have the opportunity to study in a foreign nation and take in the allure and culture of a new land. Many are scared to go out of their home country to study because you are too far away from home and its dangerous. Others believe that they will miss out on what happening at campus. However living without your family and friends for a while will give you an experience that might change your way of life. It will give you a preview of what living on your own will be like. According to a survey conducted by The Institute for International Education of Students- 96% reported increased self-confidence, and 95% said it had a lasting impact on their worldview. Studying abroad truly isn't a vacation, it's a lot of hard work and full schedule. However there is many benefits and some free time that could be used more than effectively.
1. By studying abroad, you'll have the opportunity to improve your language skills. Studying a language in class might seem easy and fun, but applying it to the real world is an entirely different experience. It's likely you'll learn the language faster because you're practicing it regularly. You'll also be able to pick up conversational language you wouldn't study in class, enabling you to speak like a local.
2. By immersing yourself in another culture, you can develop valuable life skills needed for personal growth, including independence and adaptability. These skills can give you a boost of confidence in both your personal and your professional life and career. Studying abroad can be overwhelming, but the challenges you overcome can help you become a more mature person. You'll find out that you can do better than you think in the new unexpected circumstances that you will discover since day one of your trip.
3. If you are still questioning why to study abroad, you should know that studying in a different country offers many new activities and interests that you may never have discovered if you'd stayed at home. You might find that you have an undiscovered talent for hiking, water sports, snow skiing, golf, or various other new sports you may never have tried before. You'll also have the chance to discover other new and exciting forms of entertainment. Taking part in new activities and having fun outside of your comfort zone is one of the biggest advantages of your experience abroad.
4. Meeting people from around the world is one of the most common reasons students choose to travel abroad. According to the Institute for International Education of Students, more than 50% of the respondents are still in contact with their international friends they met when studying abroad. and often see them during summer traveling. Many students develop close friendships during their time overseas, and in our new modern technology world , oceans are no longer barriers to keeping in touch. The friends you meet abroad will become part of your network for life. Along with building rewarding personal friendships, the connections you make can be the most valuable you can have in your life. Wherever your career may take you some day, having international connections can open the door to unexpected opportunities. As the saying goes, it's not what you know, but who you know.
5. When you study abroad it's very likely that you will build global competency, which relates to your personal awareness and respect for other cultural perspectives and norms. It is developed by exposure to multicultural environments and increased international awareness and understanding. Your ability to adapt and be flexible in unfamiliar situations and to effectively communicate across cultural boundaries during your international experience are a sign of global competency.
Apart from the general reasons why you should step out of your comfort zone and try something else. There are many more benefits that you might experience right after your first step on new land. Don't be scared to try new things and seeing the world differently.
About the Contributor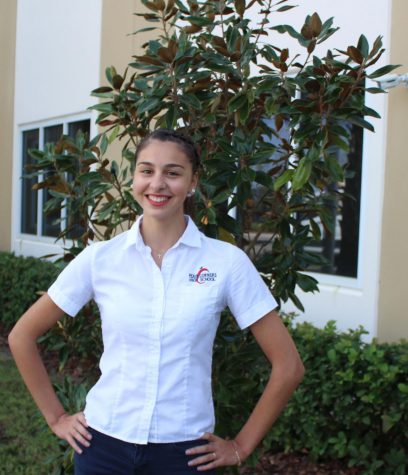 Lora Cholakova, Writer
Lora Cholakova is a senior at Four Corners High School. This is her 4th year being involved in Journalism, but this is her first year of being on the newspaper...