Marjory Stoneman Douglas Anniversary
The one year anniversary of the Marjory Stoneman Douglas High School shooting brings a time of mourning and healing for students and families in Parkland Florida. The tragic anniversary brings light to the misfortune at a Broward County high school which claimed 17 lives, 3 of which were educators, and the remaining 14 were students between the ages of 14 and 18.
Students of Marjory Stoneman Douglas felt waves of emotion as the anniversary approached, for some it was a reminder of the friends they lost and for others the loss of innocence. The attendance plummeted today as many of the students did not attend school, some visiting the places of rest of the victims and others staying with family. Of the 3,300 students enrolled approximately 400 were present according to Eric Garner in an interview with South Florida Sun-Sentinel. Many students who did visit the campus laid flowers at the tribute garden for the victims, known as, Project Grow Love which resides on the northeast corner of the school.
Garner also stated, "It's such a day of incredible mixed emotions. There's so much loss and so much strength that's happened since then."
After the shooting, many of the students from Parkland joined in movements to protest gun violence and raise mental health awareness. One year since the travesty many of these students have continued to be a part of these movements and still maintain their involvement in school despite the backlash. These movements have helped open the conversation on gun laws and school safety across the United States.
"So many people, their lifetime mission has come out of this moment," Garner, said. "We need policies put in place that are going to keep us safe. There's still a long way to go. But at least we're better than we were right after the shooting."
Several counties took a moment of silence today to pay tribute for the tragedy in Parkland one observed at 10:15 a.m. and another at 2:21 p.m. One of the observances that were held later today was an interfaith service at Pine Trails Park between 5:45 p.m. to 10 p.m., another gathering was held in the front of the school shortly after the first service started.
Although tragedy struck the campus February of last year and mourning has fallen upon the students once more, some are using this as a time to remember love and to show kindness in times of sorrow. While the event at Marjory Stoneman Douglas was a heinous depiction of violence, the anniversary reminds students to keep their strength and spread encouragement with one another in this time of grieving.
"Since that tragic day, the Parkland community has demonstrated tremendous courage and resiliency, reminding us just how strong and united Floridians can be in the face of such devastating loss," Governor, Ron Desantis, stated Thursday.
The Coyote Chronicle sends its deepest condolences for the families and victims of the shooting and hope that those at Marjory Stoneman Douglas are finding peace within this tragic memorial.
About the Writer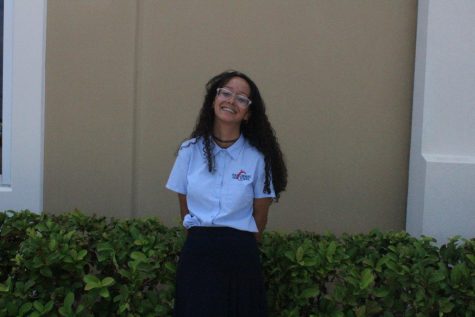 Victoria Filippi, Editor in Chief
Victoria Filippi is a senior at Four Corners High School and this is her fourth year on staff but fifth year working in publications. Her interests include...