Offset Tells A New Story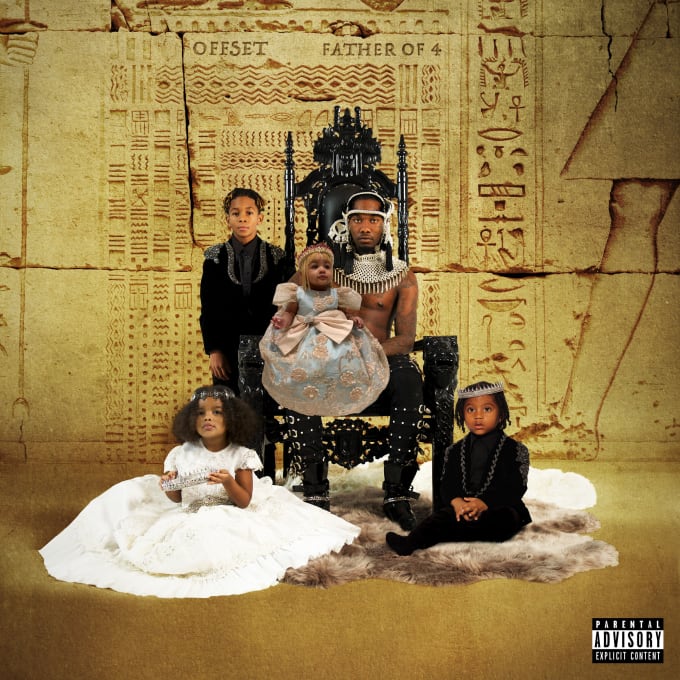 After failing to deliver his first solo project back in December, Offset has finally pulled through with the release of Father of 4. The project which is mainly produced by Southside and Metroboomin, packs much more in its 57-minute runtime than just hard-hitting 808's and melodies.
Offset has been the quietest member of the Migos when it comes to his private life and everything outside of rap. This project however allows us to dive into the mind of the Atlanta-native and gives us insight into someone that has been seen as "more drip than heart".
What is surprising about this album is the material Offset raps about and conveys to the listener. Unlike his other compadres in the Migos group, Offset gets deep and emotional throughout this album. Ranging from various topics like his children, to his very publicized relationship with Bronx rapper, Cardi B. Offset touches on personal situations in which fans weren't expecting or had no idea about.
The opening track titled 'Father of 4' which features Big Rube immediately sets up the tone of the entire project. Offset reminisces on time he missed with his children due to being in jail, not knowing if he was the father of his daughter, and trying to gain stature in the rap game.
"The situation was a tight situation for me, but I had to step up like I said in the song," Offset says in an interview with Billboard when asked about missing the first years of his daughter's life. "How it happened was a little rockstar-ish, but I still faced it. I wasn't there for some time, but I faced it and I'm there now."
Songs such as: 'Tats On My Face', 'North Star' and a personal favorite, 'Red Room', allow the listener see a different side to Offset that many just assume he didn't really have, but listening to him having to suck up some of his pride and have the courage to rap some of the lines he says on these tracks make it that much more impactful for the record as a whole.
"Yeah those were the hardest bars, though. It's the truth" Offset states. "I didn't want to offend anyone because it's a very sensitive topic. I didn't offend anyone and I appreciate how the people took it."
Another stand out track on the album is 'Don't Lose Me' in which Offset confesses to some of his wrongdoings as a husband and father. He also clears the air about his addiction to lean and why he had to move past it.
"I'm sorry, let me come on home/ she said "put down the styrofoam"/ Number one, it's a loyalty code/ Temptation, had the devil in my soul/ I wanna be with you when we old" Offset raps.
The project features many of Offset's frequent collaborators: Gunna, Travis Scott, 21 Savage, Cardi B, Quavo and Gucci Mane. 'Father of 4' also has some notable surprise features as well from artists J. Cole and CeeLo Green.
However, the featured artists do not add any depth to this project other than Cardi B, as some of the album pertains to their situation. It almost feels as if they're intruding on Offset's personal piece about himself and the album may have been fine or even a bit better without any features for that matter.
The album is at its best when its solely focused on Offset and what he has had to endure during his life, but that also leaves some listeners not being able to relate, especially if you're not a parent.
Also, nothing really special pops out of this album either. Yes, we do get a new layer peeled back to Offset's character, but besides that nothing is groundbreaking or innovative. A lot of songs fit and are fine how they are but none are smash hits, which is what Offset was maybe trying to accomplish. However, that may put the re-listening value in jeopardy. How many times would a listener want to hear Offset struggles of being a father and husband over and over?
There were a couple of songs like 'Wild Wild West' and 'On Fleek' that don't really fit on this project on a cohesive storytelling level. Both songs which feature Gunna and Quavo, are essentially boasts about having a stupid amount of money and flexing their "Pateks" and "Rollies" to the rest of the world. These songs feel like light attempts at creating a "Smash Hit", but they fall very short when compared to other songs on the tracklist. Neither feature was strong which is a little disappointing as Gunna and Quavo are some of the hottest artists in the rap game now.
Ultimately, Offset has crafted a very solid album with good story telling about his hardships of being a father and husband. Whether this album can stand the test of time and be re-visited with just as much enjoyment upon first listen, only time will tell.
OVERALL: 6/10
BEST TRACKS: Father Of 4, Red Room, Lick, After Dark, North Star, Don't Lose Me
WORST TRACKS: On Fleek, Wild Wild West
About the Contributor
Juan Viruet, Entertainment Critic
Juan Viruet is a senior at Four Corners High School and this is his first year on staff. Juan was always curious about how good of a writer he could...