A Successive Victory
The Recent Cheer Competition Leads Coyotes To Place 1st And Bring Home A Banner
The Bishop McLaughlin Catholic High School Cheer Competition brought a swift victory for the Coyotes Cheer Team on April 17th. Following their most recent victory on February 16th, the team was not only to able to place 1st but bring home a banner.
"I think we did way better than we did our first competition because we remembered our counts, we worked harder than we did in our first competition, and we had a new set of people which gave us more strength," 9th grader, Skyla Charette said.
The win came after strategic improvements and adjustments to their performance given at the previous competition. Focusing on critiques given by judges in the previous competition the team was able to place 1st and solidify parts of the routine that needed to be improved.
"Our last competition we did tumbling but for this one, we went to non-tumbling again because we weren't really getting there. We worked to advance our stunts to more elite stunts, having better choreography, adding more transitions to make our basic routine sassier," 9th grade, Arianna Flores, said.
The cheer team faced off against seven other schools for the title of Grand Champion, needing to have the highest scoring routine between all other contestants. While the team felt confident in their ability to perform, not knowing how teams before them performed caused pre-performance anxiety. However, students in the crowd who went to support and watch the team felt that they had performed extremely well and had full confidence in their win.
"Our team we were very energetic, loud, and school spirited, everyone was loud and had a lot of energy to what they were doing. I wasn't worried, I had confidence for our school and I felt like they were going to go out do what they needed to do and bring home the banner," Junior, Brayden Halidy, said.
After all the groups finished performing the cheer team waited for the judges to announce who had won the title of Grand Champion. With suspense on the rise, the team waited anxiously to find out if they had placed and if they would be awarded a banner. Hearing their name called by the judges as the winning team and that they had scored enough to receive the banner came as a major success for the group.
"You have that little paranoid feeling and anxiety-like "oh my God they did so good, what if we didn't do that good" because you don't see some of the people who go on before, you see some after you, so you know if the ones after were worse or did better than you so you never know. When you have that self-confidence in yourself, and just knowing "we hit this or we went ahead and we did that we go this done good so it's a lot about having self-confidence," Flores, said.
While the cheer team was able to pull a win in this competition, competing as flawlessly as they did may put some pressure on the team for their last competition of the season. The pressure to continue this success may cause anxiety for some members of the team but they believe they will be able to have the same victory in their final competition.
"It's kind of funny I thought about yesterday how do we do better than we did, and the only thing I can come up with is just fixing the tiny mistakes that we made and the critiques the judges gave us which were very minimal," Coach, Jennifer Araujo, said. "The critiques are usually ways to make your routine better and they're from the different perspectives of multiple coaches, one person will be judging on tumbling another person will be looking at technique and motions, you'll have another judge looking at your jumps, another looking at your stunts, your pyramids, your facial expression. So you're getting a wide variety of expertise but in different things, so you can take all their various feedback and really tighten up your routine to make it a winning routine."
About the Contributor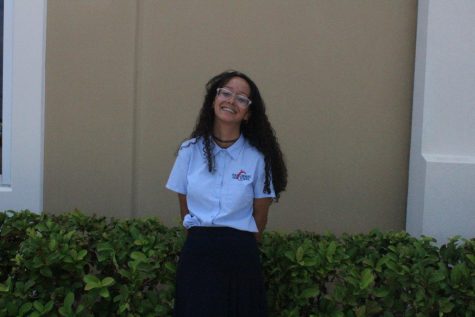 Victoria Filippi, Editor in Chief
Victoria Filippi is a senior at Four Corners High School and this is her fourth year on staff but fifth year working in publications. Her interests include...