Did Kyler Murray Make The Right Decision?
Hang on for a minute...we're trying to find some more stories you might like.
Kyler Murray had the entire sports world talking about him when he became the second straight Oklahoma quarterback to win the Heisman trophy. Football fans who cheered him on were disappointed (despite his success) due to the fact that he was planning on pursuing a career in professional baseball. Murray was selected 9th overall in the 2018 MLB draft to the Oakland A's, and up until mere weeks before the NFL combine, remained committed to baseball. It was not until February 11, when he made the hardest decision he would ever make: to play football professionally.
"Moving forward, I am firmly and fully committing my life and time to becoming an NFL Quarterback," Murray announced in a statement via his twitter account. "Football has been my love and passion my entire life. I was raised to play QB, and I very much look forward to dedicating 100% of myself to being the best QB possible and winning NFL championships."
The reason this topic was covered so extensively is due to the fact that many professionals along with fans believed baseball is a smarter alternative to football. This is due mainly to career longevity, along with contract guarantees in the MLB, and ultimately, the fear that someone of Kyler Murray's shorter stature (5'11) would not be able to play football at a professional level in a league where the prototype height for a quarterback is 6'4.
"Number one, and this is not really that big of a deal in terms of obviously he's willing to consider the NFL Draft, he's got a baseball future as a shortstop," said ESPN personality Stephen A. Smith. "I think about him. I don't want to hear anything about his height. There's [Jose] Altuve. Look at what he does. It doesn't matter in baseball, but it damn sure matters in football, the fact that he is so short."
Kyler Murray, through his athletic ability and decision to play football in the NFL, created a larger conversation, a conversation that factors not only height, strength, and stature but most importantly: personal safety.
In a study done by the JAMA network, out of 202 deceased American football players, 87 percent were neuropathologically diagnosed with CTE (Chronic Traumatic Encephalopathy) via a brain donation program. This is mainly due to the physical nature of the game, and becomes a more prominent issue each and every day for football athletes.
"CTE has been found in athletes as young as 17 years old and in both professional athletes and those with a history of participation in contact sports at only the high school level," says Dr. Robert A Stern from Boston University. "The repeated brain trauma triggers progressive degeneration of the brain tissue, including the build-up of an abnormal protein called tau".
This issue was prominent in our school as well, as the football team saw multiple players sit out games with concussions.
"I lost memory of what I was doing in terms of the game," senior Keanne Hiraldo recalls about his own concussion sustained during the football season. "I caught on to the fact that I had lost my train of thought very quickly."
Football players are not the only athletes to worry about the effects of repetitive concussive trauma, however. A study done by the Boston University Center for the Study of Traumatic Encephalopathy and Sports Legacy Institute revealed that former MLB player Ryan Freel, who took his own life in 2012, had a very serious case of CTE. Most baseball fans may remember Freel once stated in an interview that he had an imaginary friend named Farney, who would speak to him during games.
"He's a little guy who lives in my head who talks to me and I talk to him," Freel had said. "Everybody thinks I talk to myself, so I tell 'em I'm talking to Farney.
Despite this specific example, baseball has proven itself to be a much more long-term sport. Many baseball players go on to play more than 10 seasons, while an average NFL career could easily come to a close after 5. There is also a much lower risk of career ending injury in the MLB due to the less physically demanding nature of the game, despite the extensive season.
CTE has had major health repercussions, and has caused tragedy to strike in many places. In 2014, the Aaron Hernandez trial began, and it was revealed that Hernandez had the most severe case of CTE ever recorded for someone his age, and this may have contributed to his extremely violent behavior. Back in 2007, WWE superstar Chris Benoit took the lives of his family and then himself. In a neuropathological test after his death, it was revealed that Benoit had the brain of an 80-year old man at age 40, and he would constantly forget things along with being easily confused.
Brain injuries (such as concussions) cause disinhibition or the inability to regulate emotion and behavior", neuropathologist Dr. Bennett Omalu explains. "You start to become more emotionally driven, almost primal. You're more likely to engage in violent and criminal behavior. You're more likely to lash out. People with brain injury are more likely to have encounters with law enforcement, abuse alcohol and drugs. They're more likely to have a breakdown of intimate relationships."
Although the actions of Hernandez and Benoit are inexcusable, there may be more science behind their actions than most believe.
This leads us back to Kyler Murray. At the end of the day, football is his passion, and was always going to be his choice. Although baseball may prove to be a safer option long-term, and the effects of CTE always loom in the distance, Murray looks to follow in the footsteps of Seahawks quarterback Russell Wilson, who was in a very similar situation years ago, and went on to become a Super Bowl champion. The great thing about sports is that in fact, anything is possible (as Kevin Garnett once said) and your career is determined not only through skill, but by heart and passion.
About the Writer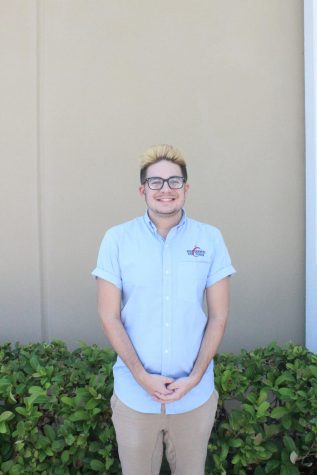 Demitri Stathakis, Assistant To The Adviser
Demitri is a senior at Four Corners Upper School and has been actively involved in journalism for four years but has been on staff for two years. He is...