We're All In This Together
Drama Department Presents High School Musical Jr.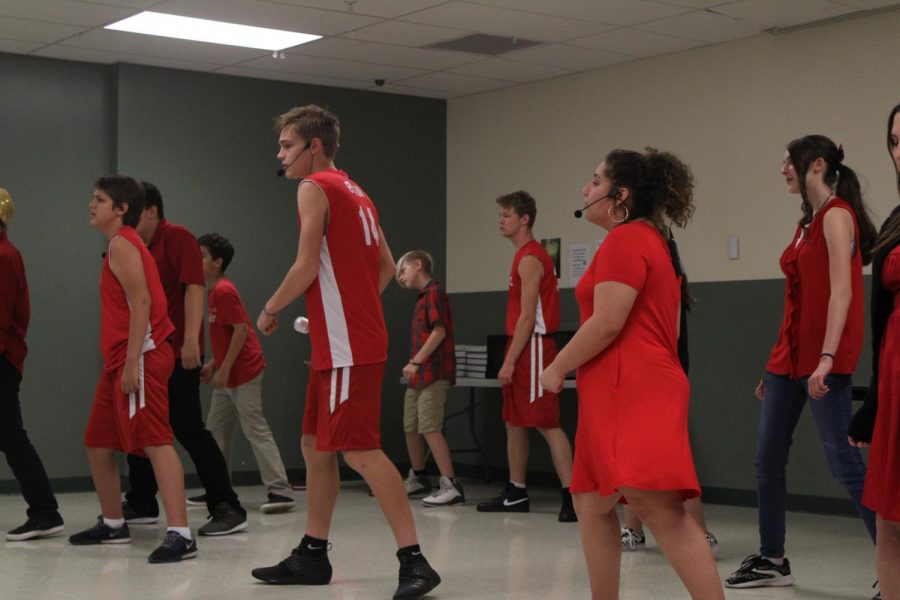 The production version of Disney's hit televised musical, High School Musical, came to life on April 4th through the 6th. The drama department proudly presented 'High School Musical Jr.'  after several months of rehearsals and preparation.
In 'High School Musical Jr.', Troy Bolton, played by senior Korbin Hawkins, and Gabriella Montez, played by freshman Monica Rivera, threaten their school's social order when they try out for the lead roles of the school musical. Despite the lack of support from the students of East High, Troy and Gabriella resist peer pressure and earn the lead roles of the musical.           
"It feels like a really big responsibility, but also an honor." Rivera, says, regarding the responsibility of having the main role.
The casting of the characters in the musical took place just before winter break. Some of the students who were cast felt as if they could relate to their character and that they were similar, while others could not be any more different from whom they were portraying. 6th grader Olivia Georgette is just one example of this. She relates to her character, Sharpay, in some situations.
"It depends on if you do something to me. Make me mad or salty, then I'll start acting like real life Sharpay. But otherwise, no, I'm not really like her." Georgette says.
The cast of the show and director Mrs. Julie Gardieff faced challenges while the play was coming together, but with perseverance, they were able to make the best of what they had. The cast didn't allow technical issues, absent cast members, and other difficulties to get in their way.  With time, everything began coming together, and the cast was able to work past their challenges.
"In the beginning, it was kind of a mess. People didn't show up to rehearsals, everybody was just kind of scattered, there was a lot of things that we had to pay close attention to that people kind of slacked off on," sophomore, Breanna Gallo, who plays Kelsi, says. "And a lot of the cast, it was their first time performing, but as we got closer to dress rehearsal, more and more people started showing up, and we were able to polish our routines more up until the day of the performance."
Around a week before the show, a preview took place during the school day. The preview included three scenes from the musical, and it gave the cast a chance to have a glimpse of what having a real audience was like. It also allowed the cast members who were having trouble with stage anxiety to get over their fears before the real show.
"It definitely got me over my fear of stage because I was shaking a lot on the preview," 8th grader, Matheus Vida, who plays Chad, says. "But then it got me a little bit more relaxed, and I saw how it was gonna go in the actual show."
The week before the show was difficult, according to Director Mrs. Julie Gardieff and the cast. Running through the musical, polishing routines, dances, and songs, and pre-show anxiety was overwhelming for everyone involved, but the cast felt that being able to see the final result and how far the musical has come was worth it in the end. After the long week before the show, they were able to see the final result of their hard work when it was performed.
"They did incredibly well, especially from where we were last week with dress rehearsals, to the shows throughout Thursday, Friday, and Saturday," Gardieff, says. "I could not have been prouder of them."
About the Contributor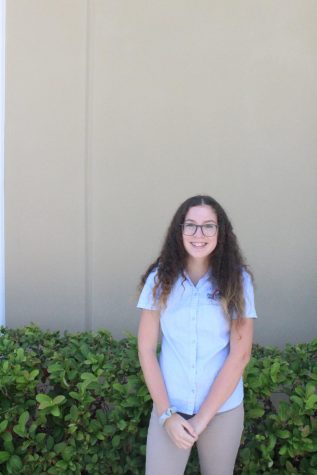 Gianna Stathakis, Writer
Gianna Stathakis is a freshman at Four Corners Upper School, and has been on the newspaper staff for two years. She is a competitive soccer player and...