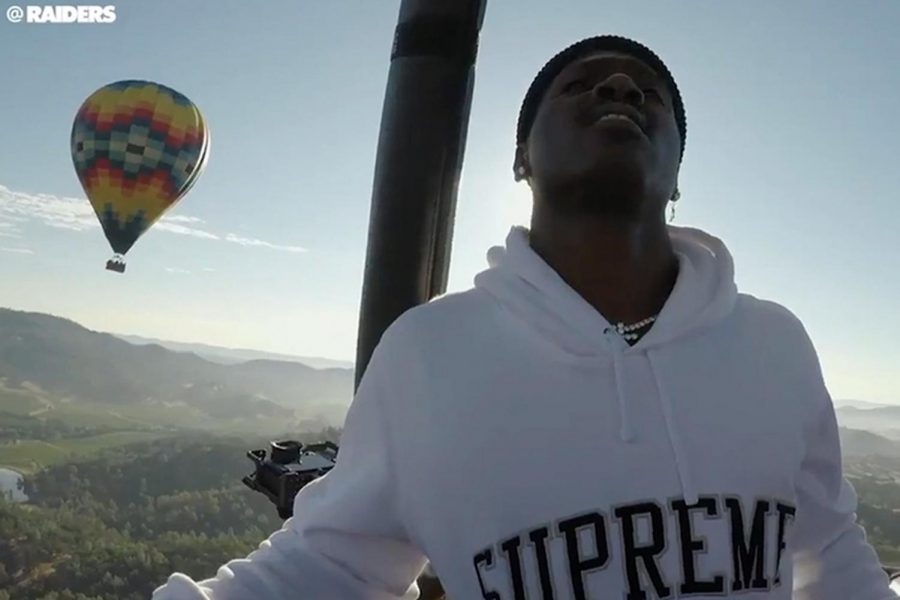 Raiders/Las Vegas Review Journal
The Antonio Brown Conundrum
October 11, 2019
It may have been a new location for Brown, but it was almost as if he never left Pittsburgh. From the second he flew in to training camp (yes, flew, as in a hot air balloon) there was all eyes on Antonio Brown, but not for the reasons you may have expected.
The 'helmet saga' as it was dubbed, began on August 9th, when the league office informed Brown that the helmet he had worn for the duration of his career was no longer approved to be worn. This only drew more media coverage to Brown, who had already been dealing with a bizarre injury to his feet which was caused by wearing improper footwear in a cryogenic chamber. Brown refused to switch his helmet, and immediately filed a grievance against the NFL (twice), both of which were dismissed. At one point, Brown even stated he would not play in the upcoming season unless his helmet issue was resolved.
Fans got to watch this happen from the comfort of their own home, as the Oakland Raiders were chosen to be featured on HBO Sports' critically acclaimed docu-series "Hard Knocks" a weekly program that follows an unsuccessful NFL team's training camp and preseason as they try to improve their team. Brown stole the show, as the camera crew followed him extensively, and at times, almost tried to make the viewer feel sympathetic towards Brown. The way the series played out made you believe the worst was over. Eventually, Antonio found a new helmet, and everyone was excited to see him finally rock the silver and black. That was, until Antonio got himself into even more trouble.
During Brown's grievance with the NFL, he failed to come to practice on two occasions, both of which he was fined for by GM Mike Mayock. Brown was outraged by the fines, and took to social media to express his feelings.
"When your own team want to hate but there's no stopping me now, Devil is a lie," stated Brown via his Instagram Story. "Everyone got to pay this year so we clear @Raiders".
When Brown reported to practice on that Wednesday, he immediately confronted Mayock about the fines. This led to a very heated verbal altercation, where Brown reportedly called his GM a "cracker" and became very confrontational, attacking him with cuss words, and even punting a football across the room, telling Mayock to "fine me for that". Brown left the facility immediately after, and the Raiders intended to suspend him. This is where Antonio Brown's short time with the Raiders would come to an end. On that Friday night, Brown posted a private phone conversation between himself and Head Coach Jon Gruden, in which Gruden begged the receiver to "just play football". It was on this same Friday night that the team fined Antonio over 215,000 dollars for conduct detrimental to the team. This in turn, voided his guaranteed 30 million dollars in salary, meaning he was no longer to receive this money. He was also informed that he was not entitled to termination pay in the event of his release.
The Raiders saga for Brown on  Saturday, September 7th. He took to his infamous Instagram and posted an image with the words "You are gonna piss a lot of people off when you start doing what's best for you". In the caption, Brown simply stated "release me @Raiders". The Raiders granted Brown his wish, and within a few hours, Brown was no longer an Oakland Raider. In a shocking turn of events, Brown signed with the New England Patriots mere hours later, finalizing a 1-year, 15 million dollar contract that included 9 million in guarantees. Once again, when everything seemed to be going in a positive direction, things immediately took a turn for the worse.