A Not So Sweet Return
It is a bird, it is a plane, it is the Popeyes' spicy chicken sandwich, and it is back. Many people were dying to get their hands on the spicy chicken sandwich that Popeyes introduced in early August. Some people were disappointed when the sandwich sold out worldwide and people could not get their hands on it, many thought it was the end of the sandwiches' reign. Then Popeyes' tweeted… 
"Y'all…the sandwich is back Sunday, November 3rd. Then every day. 🤯🔥" — Popeyes Chicken (@Popeyes Chicken) October 28, 2019.     
 Many people were excited when it came back, especially the people that never got a chance to try it before it sold out. When the sandwich was first released, Chick-fil-A and Popeyes had an all-out war on Twitter about who had a better chicken sandwich. Then before the re-release of the sandwich Popeyes took another jab at Chick-fil-A creating a sign saying that stirred controversy.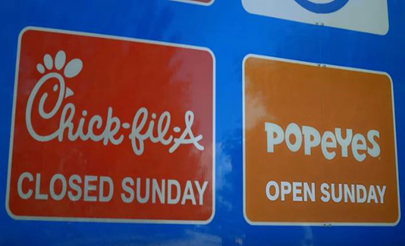 With Popeyes still trying to have a Twitter war with Chick-fil-A, you would think that they had enough. Everyone had their give or take opinion on whether the chicken sandwich was better than Chick-fil-A. This time some new faces had something to say.
"The Popeyes chicken sandwich is better than Chick-fil-A and I would eat the Popeyes chicken sandwich way more than Chick-fil-A's" senior Kaliek Lewis, said.
The first release of the sandwich created chaos as people trying to get  it faced lines that ran around the restaurant, but with this release it brought something a bit more chaotic and tragic. At a local Popeyes in Maryland at 7 p.m. there was a fatal stabbing over the sandwich. 
"For you to get that angry over anything and to develop into this type of violence, again, is a very sad and tragic day" the Maryland Police Department stated. 
Obviously these two men were glad to get their hands on this sandwich and let their emotions get the best of them. According to the report one of them cut another in line, which then escalated to the fatal stabbing.
 Popeyes, devastated by the incident, wrote "We do not yet know whether this was the result of a dispute over one of our products or something unrelated, but there is no reason for someone to lose their life on a Monday night in a parking lot."