The End Of a Dynasty?
A new era of the NFL emerges
"The 10 the 5 touchdown titans!", Who knew that there would be a time in history where the New England Patriots wouldn't be able to trot their way into the Super Bowl and defend their title? Many think this could be the end to a dynasty that has been prominent since 2009. Since 2009, the Patriots have been in every postseason, and the Titans have put their Super Bowl hopes in a coffin. You could say a lot of fans all around the nation no matter what team it was, were glad that the Pats will not be defending their title, but who could have expected that they would get knocked off by the Titans. After the loss, some fans were left devastated and even in tears. For that devastation you can thank Titans running back Derrick Henry who racked up 182 yards and one touchdown on 34 carries in the win over the Patriots in Saturday's wild-card round playoff game.       
"I feel fantastic that the Patriots are not in the playoffs, it's good to have other teams. It brings different fan bases hope." said Deputy Officer Morgan.
Even though the Patriots were eliminated there still is a lot of fire power in the NFL such as: the Ravens, 49ers, Seahawks, Packers, Texans, Titans, Vikings, and the Chiefs. A few of those teams have had an outstanding season this year, with the Ravens being the number 1 seed and the 49ers being the number 1 seed in the AFC and NFC. Although the Ravens have been good this season, they have not always been the best, starting off last season 5-6 and losing to the Chargers last season in the playoffs. This season was a whole different story, however. You could say that Lamar Jackson stepped up to the plate this season and start putting in work all season long with some heart-stopping stats and a few broken records. He set an NFL record for the most rushing yards in a season by a quarterback and the Ravens franchise record for most passing touchdowns in a season. He also threw for 3,127 yards and rushed for 1,206 yards. The Ravens are not the only team that's had a breakout season story this year, the 49ers came off of a losing season in 2018 being 4-12, to being 13-3 in the 2019 season. That kind of season should have been enough to fuel them to want a winning season and that's exactly what they got this year, being one of the best teams in the NFL and being the number one seed in their conference, all while being dominant offensively and defensively including players such as Richard Sherman being one of the best corners in the NFL and superstar tight-end George Kittle racking in 1,053 yards and 5 touchdowns this season.
With a lot of new faces in the playoffs this year, there will be some bandwagon fans hopping on to new teams as always. You can for sure give teams their credit where it is due. There are a lot of new fan bases and of course they all believe that their team has what it takes to win it all, but it can only be one winner. Some fans have taken it upon themselves with opinions…
Ravens (Bandwagon): "I feel like they're a dangerous team and I feel they don't have any other competition in the AFC division other than the Chiefs who I predict they will face off next week." Said Senior Isaiah Minor
49er's (Over-hyped?): "it's going to be the 49er's and Ravens, and the 49ers are going to win that." Said Officer Morgan.      
Chiefs (Super Bowl hopeful): "They're my favorite team so I can actually enjoy watching them this year and hopefully they go on and win the chip this year". Said sophomore Nikko Rodriguez.
Seattle (true fan): "I think we had a really tough battle, the NFC was a very hard conference, having the 49ers in our division is a struggle because even though we have a good record the 49ers are a very strong team. As far as the Super Bowl goes I think if we can beat Green Bay this week, I like our chances to make the Super Bowl whether that be against Minnesota or San Fran. Go hawks." Said senior sports editor Demitri Stathakis.       
Green Bay (The lucky one): "I'm happy that Green Bay is in the playoffs, and I am happy to see Aaron Rodgers play in the playoffs he's a bad man" said senior Xavier Rivera.
Titans (Underdogs): "Taylor Lewan is an outstanding player from the university of Michigan". Said Coach Matthews.
Texans(Them boys): "They're a good team, and they have a lot of good players such as Deandre Hopkins, Kenny Stills, and Deshaun Watson, key players that make a big impact on the team". Said Referee Ryan. (Referee from JV game.)
Vikings(Saints' nightmare): "The Vikings are a good team and they can dominate all around, they are the Saints worst nightmare". Said Athletic Trainer Caylee Kitchen.
About the Writer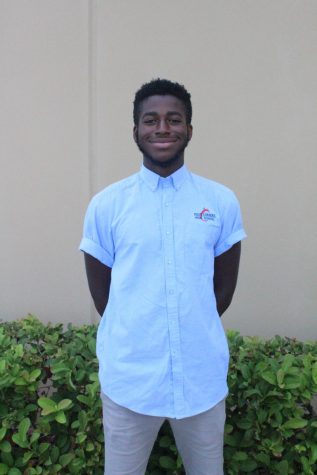 Joshua McDowell, Writer
Joshua McDowell is a senior at Four Corners High School, and this is his first year on staff. Joshua enjoys playing sports and hanging out with friends....