Another One In The Books
In a season where nothing could seem to go right, motivation was higher than ever. In the first year eligible for district playoffs, the varsity basketball team had to rally together to keep not only their season alive, but their pride as well. 
As with all new things, it was a bit shaky in the beginning. In the game of basketball, it's hard to come out and win immediately with a new roster. With the additions of a few new faces such as senior Lis Sharaxhiu, sophomore Victor Dones, or even freshman Isaiah Smith, the new- look coyotes suffered 3 straight losses to begin the young season. The ball began to start rolling however, when they picked up their first win of the year, beating Winter Haven Christian 75-34 in a statement game.
"Going into this game we all knew we needed a win," said Senior Lis Sharaxhiu. "We started the season off slow and the team had to win in order to have a positive outlook on the rest of the season. The whole week we had great competitive practices and we were definitely ready for a change to our morale."
This was refreshing for the coyotes, as not only were they suffering losses to begin their season, but injuries as well. Within a month of starting, two players (senior Miguel Fonseca and sophomore Victor Dones) had both sustained broken noses, and senior Nate Jenkins was sidelined with a high ankle sprain. This was a huge blow to the depth of the team, and made it extremely difficult to win tight games. 
Things started to turn around however, as they would go on to win 3 of their next 5 games, including a 64-26 route of Osceola Christian, a win on the road against division rival New Dimensions, as well as a home win against another division rival, Frostproof. 
"What I think of how we played against another division is that we played very well, there were many ups and downs such as loose balls, missed layups, and much more but we managed to stay stable and still be in the game most of the time," said Sophomore Victor Dones. 
Unfortunately, this would prove to be the majority of the success on the season. Frustrations were high as 7 of the final 10 games were lost.  It was during this span where the team played Fort Meade twice, once at home and once away. During the away game, an altercation led to a fist fight which resulted in 2-game suspensions for 5 players, and indefinite suspensions for Seniors Tashuan Cook and Miguel Fonseca. As a result of this game, the entirety of the JV roster had to be called up to play the final two games of the season. 
"I feel like what happened shouldn't have happened and it wasn't a really reasonable decision because we were just playing basketball then one of them decided to punch our players and we did what we had to do after, and even though it wasn't the most logical thing to do it still happened but it really had a negative effect on the rest of the season, which resulted in JV players being moved up to varsity and fill in spots, this also resulted in me having to step up and help out my teammates but I still played like trash so it really didn't matter," explained Senior Joshua McDowell. 
Following suspensions being served, the regular season ended and the school's first venture in the post season began. With their (mostly) full roster returning, the coyotes entered their first round matchup against New Dimensions refreshed and ready to play. In a thriller that saw them come back from a large deficit and ended in overtime, the boys emerged victorious in a 94-88 win to send them to the second round against Santa Fe Catholic, which they would unfortunately lose, ending their first playoff run. 
Personally I've learned how to work as a team and win as a team as well," Said Freshman Isaiah Smith.  "Learning how to work as a team and win consistently will expand our basketball program abundantly in future years to come. Being in the playoffs for the first time has been a great experience for myself and players on the team in that kind of atmosphere. Hopefully this will benefit our team, players, and coach in the future."
In a year full of extreme highs and unfortunate lows, the boys managed to pull it together and gain the basketball team their first ever playoff win, and gain valuable experience going forward. With many promising talents still on the roster, the future is bright. 
About the Writer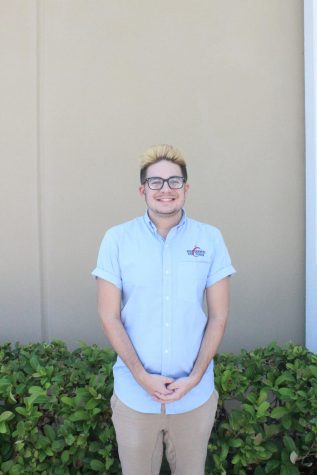 Demitri Stathakis, Assistant To The Adviser
Demitri is a senior at Four Corners Upper School and has been actively involved in journalism for four years but has been on staff for two years. He is...