Cupid of Crime or Cupid of Movie Gone Wrong?
Margot Robbie's "Harley Quinn: Birds of Prey" is a comic book spin-off that was expected to thrive in the box office. However, instead of being successful, the film has been hitting the below average mark  than most big superhero films, according to Forbes.
What is the Punchline?
It is open season on Harley Quinn [Margot Robbie] when her explosive breakup with the Joker puts an extreme target on her back. Unprotected and on the run, Quinn faces the wrath of narcissistic crime boss Black Mask [Ewan McGregor], his right-hand man, Victor Zsasz [Chris Messina], and every other thug in the city. Things soon even out though for Harley when the Cupid of Crime becomes unexpected allies with three deadly women — Huntress [Mary Elizabeth Winstead], Black Canary [Jurnee Smollett-Bell] and Renee Montoya [Rosie Perez].
Why is the Cupid of Crime Being Put on Blast?
It is devastating for not only Robbie, but for the entire cast, who worked hard to make this film, wanting it to thrive, instead ended up becoming a massive joke. 
Even Todd Phillips' risky R-rated origin myth "Joker," starring Oscar-winner Joaquin Phoenix as a mentally ill chaos agent, turned into a $1 billion global home run. However, "Birds of Prey," opened last weekend to $33.3 million, well below box-office expectations of $45 million to $55 million, based on preview testing (88% in the top two boxes for women, 86% people under 30), upbeat fanboy and media reactions, and advanced tracking. Now the film has been hastily renamed "Harley Quinn: Birds of Prey," in hopes that the clearer title, and its improved SEO, will mean a healthier gross.
I think the primary problem with "Harley Quinn: Birds of Prey" was the R-rating, since it cut off kids who have been anticipating to see a Harley Quinn movie. With a visual palette that looked like a cross between "Batman & Robin" and "Justice League", it may have turned off general moviegoers who still prefer somewhat conventional blockbuster features, at least in terms of visuals and surfaced content. Sure, there are folks who were turned off by the "women fighting back against misogynistic men" angle because of old-school sexism, but there are plenty of "no boys allowed" movies (such as "Fifty Shades of Grey", "Pitch Perfect 2", "Mamma Mia", "Twilight", etc.) which thrived despite not caring if dismissive men, or sexist women showed up.
Can We Give the Movie Any Credit?
Mostly the movie works because it is funny, exciting and has great characters. I appreciated and adored all the female leads, but Margot Robbie's Harley Quinn really steals the show, as she is just fantastic. Mary Elizabeth Winstead's Huntress is also a very funny character with a great backstory. I really liked Black Canary in this as well, though I think she should have busted out her super-power a bit earlier in the film. The movie is not nearly as funny as Marvel's "Deadpool", but the humor works. Every time Harley Quinn is on-screen, something funny happens. She reminds me a bit of an even more eccentric power player. Just with a bat, a mallet and a penchant for violence.
There is even a whole scene zoned in to her buying the perfect breakfast sandwich and then getting chased throughout the Gotham streets with it tucked into her shirt. Quinn plays roller derby with a vengeance and drinks like there is no tomorrow. She has all her best ideas when she is drunk, after all.
So the humor works, and so does the weird disjointed way that Harley tells the story. She narrates, first in an animated opening segment, and then throughout, although she is not very good at keeping things in order, so the film bounces around a little bit with timelines. She has to back up more than once to fill in some details. It's clever and there's never any confusion about timelines.
Rating: 7/10
About the Writer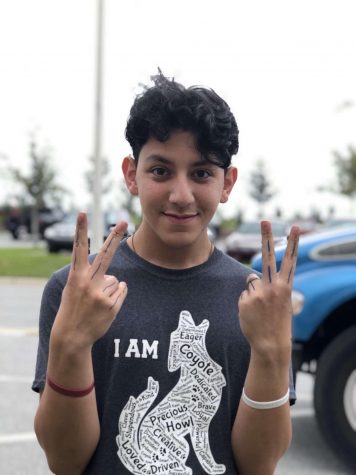 Patrick Deliz, A&E Editor
Patrick Deliz is a senior at Four Corners Upper School, in his second year with The Coyote Chronicle. While invested in the arts, Patrick enjoys photography...