Closed Until Further Notice
Businesses Scramble To Adjust To This New "World", As The Coronavirus Impacts The Economy
Since the outbreak of COVID-19 (or more commonly known as coronavirus), economies and businesses alike have fluctuated, as sales now start to descend.
Shipments from major companies that usually have their products on schedule, were strangely coming in later than usual. Representatives from brands that sell in the store have explained that the coronavirus outbreak, also known as COVID-19, in China have halted production of clothing. Factories have been shut down without an opening date, and travel restrictions have prevented brands from visiting the factories. Workers who have traveled during Lunar New Year are unable to return to work.
Large companies and retailers like Apple and Nike have made headlines during the coronavirus outbreak, as investors anxiously await news on whether the virus will impact the companies' abilities to make sales. Due to the massive impact of the virus, small business owners are struggling, too. Although official reports showing the impact on small businesses have yet to be released, news reports across the country illustrate the struggles. 
Even those who are not being affected by Chinese suppliers still feel the impact. As a fear of crowded spaces, a distrust of products— people of Asian descent are being discriminated against, being avoided in public areas.
No official guidelines have been released for small businesses on how to protect themselves from the virus, but the Centers for Disease Control and Prevention has come forward to explain that "being Chinese or Asian-American does not increase the chance of getting or spreading COVID-19." The CDC has also recommended encouraging sick employees to stay home, and for all employees to practice good hygiene including washing hands with soap and water for at least 20 seconds. 
The line for "essential businesses" becomes blurred, seeing as how many businesses want to remain open. Major industries like Walt Disney World and Disneyland, Universal Studios and clothing brands (such as H&M, Urban Outfitters, Versace, and other large companies) have decided to temporarily close, until the risk of contracting the COVID-19 is below average.
Food industries like McDonalds, Wendy's, Burger King, and many more, have taken precautions, but remain open.
"In a way it's worth it because like some of these people need jobs, and they need to support their family and they have bills to pay, so yeah in a way it's justified but in way it's not because they are still forced to work despite with this pandemic going on, and they are more at risk of just interacting with people everyday and they have no idea where their hands have been, where the money has been. So it's just like why are people getting paid minimum wage being forced to work in conditions like this and I know personally sometimes I'm just scared when I'm working and I'll hear the customer cough in their car or when they give me cash and I'm just terrified because like I don't know what they have. It's nothing discriminatory it's just scary." Employee for Dunkin' junior Arianna Carter, said.
Companies like Dunkin', need people to employ, unfortunately due to the COVID-19 outbreak, many businesses have stopped the employment process, and those who are trying to adjust to this new "normal" will be struggling to support themselves or their family, as stocks start to disappear. 
About the Contributor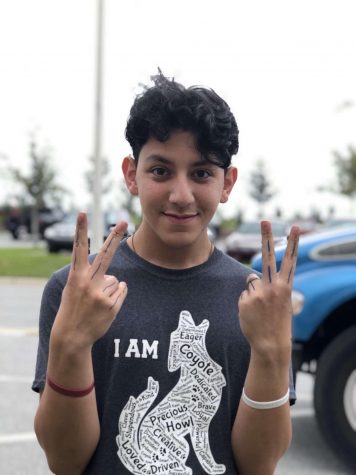 Patrick Deliz, A&E Editor
Patrick Deliz is a senior at Four Corners Upper School, in his second year with The Coyote Chronicle. While invested in the arts, Patrick enjoys photography...