Has U.S. Attempts To Slow The Spread Of The Coronavirus Been Effective?
Evaluating The Efforts By The U.S. To Contain COVID-19
In the height of the pandemic crisis, the U.S. has been called to evaluate a direct course of action to mitigate the spread of novel coronavirus. Since the initial reported case on January 21st, citizens across the U.S. have been on alert for patients who have contracted the disease and have been asked to follow a strict 6 feet distance guideline to "slow the spread". While the virus has continued to spread some citizens are still concerned by the overall effectiveness of the tactics being used.
One of the earliest notices that COVID-19 had become a contagious disease was on January 6th when the Centers for Disease Control and Prevention (CDC) reported a travel notice on Wuhan China. Just 5 days following their initial announcement the CDC announced a Level I travel health notice which warns travelers to use regular precautions but be readily up to date on vaccination. On January 27th following the initial notice the CDC issued a Level III travel health notice to avoid all nonessential travel to China. Compared to Level 1, the advisory calls for all U.S. citizens to steer clear from traveling to certain areas.
On January 31st the White House released a statement regarding the entry of immigrants stated "The entry into the United States, as immigrants or nonimmigrants, of all aliens who were physically present within the People's Republic of China, excluding the Special Administrative Regions of Hong Kong and Macau, during the 14-day period preceding their entry or attempted entry into the United States is hereby suspended and limited subject to section 2 of this proclamation."
However, the policy was criticized because it did not apply to Hong Kong and Macau which both developed cases of COVID-19 after the ban was implemented. Additionally, another critical part of the restriction was that it did not limit any travel to Europe who had experienced its first cases by January 24th. Likewise, travel restrictions on foreigners from Europe were not implemented until March 11th and according to a recent study by the NYU Grossman School of Medicine the genetic profile of the virus taken from 91 patients from New York City originated from European descent.
"Unfortunately, travel bans sound good, but we're way past the point where restricting travel is a reasonable response." Epidemiologist for Harvard's TH Chan School of Public Health said earlier regarding the implementation of the ban in March.
Additionally, the U.S. has implemented a stay-at-home order which has been extended to the beginning of May to slow the spread of the disease. While foreign travel has been restricted, domestic travel has been shown to be continuing despite urges by health officials. Individuals entering from out-of-state, including those from states that have a high community spread, are being ordered to self-quarantine for 14 days. States like Rhode Island and Florida began to stop those with license plates from New York asking them to isolate, but New York Governor Andrew Cuomo threatened to sue Rhode Island for this practice. Rhode Island therefore changed its policy to include all states; the Floridian policy however has maintained to supervising Interstates 10 and 95 in search of plates.
"Any person coming to Rhode Island from another state for a non-work-related purpose must immediately self-quarantine for 14 days." Reads the revised executive order released by the State of Rhode Island.
Locals have also been advised to reduce their gathering size, maintain 6 feet, and quarantine for the remainder of April. Contact or visits outside of the home have been restricted to necessities and businesses have been limited to only essential workers. The term essential workers have been debated for being used too loosely for some companies to maintain open in during the pandemic. Stores like Sears and Game Stop for instance have been targeted for maintaining open even though essential businesses are those needed for the welfare of citizens to stay in practice.
Under the Executive Order 20-89 released by Florida Ron DeSantis it writes "This authorization includes stores that sell groceries and also sell other non-grocery products, and products necessary to maintaining the safety, sanitation, and essential operations of residences,".
Comparatively, it has been stated that the U.S. health department was in no shape to handle the influx of patients who tested positive for the novel coronavirus. On January 8th U.S. clinicians were advised to be on alert for patients who exhibited symptoms of respiratory distress and had recent travel activity from China. With the current number of cases increasing, a vital scarcity has become the number of ventilators that are available. Governor Cuomo has presented the idea of sharing ventilators from areas of low risk to those at high risk and circulating ventilators when low risk areas spike in numbers. The current procedure for providing ventilators is not universal between all states, some states have systems that score patients based on their eligibility for survival, but the shortage of ventilators has caused predicaments for states with high patient numbers.
Dr. Douglas White in an interview with Bay News 9 said "If we're going to be making truly tragic choices, there should be some legitimate authority who is making recommendations for how those decisions are to be made." While not all states have this policy, White adds "If you have guidance at the state level, it creates a consistency across the state in how these decisions will be made."
As the pandemic looms and the U.S. government on both federal and state level are attempting to reduce the number of patients who have contracted the virus, disagreements on the overall effectiveness have caused COVID-19 to keep spreading. Director of the National Institute of Allergy and Infectious Disease Anthony Fauci shared that had social distancing been implemented earlier on controlling the spread would have been less disastrous.
"I mean, obviously, if we had right from the very beginning shut everything down, it may have been a little bit different, but there was a lot of pushback about shutting things down back then," Fauci said.
Although his testimonial does highlight the importance of continuing social distancing the desire to reopen the economy has elevated the desire to reopen and integrate.
However, in an interview with the Associated Press Fauci cautions "I know people are anxious to say, 'Well, we'll give you a passport that says you're antibody-positive, you can go to work and you're protected.' The worst possibility that would happen is if we're actually wrong about that" leading to a greater spread. 
About the Contributor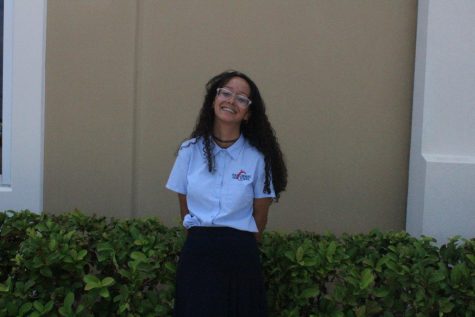 Victoria Filippi, Editor in Chief
Victoria Filippi is a senior at Four Corners High School and this is her fourth year on staff but fifth year working in publications. Her interests include...