A Growing Food Shortage
Global Food Shortages Leave At-Risk Populations Starved
Junior Ian Gilson and his father like many other families in America have created a vegetable garden in their backyard. What once was a patch of grass, has now become the space to grow watermelon, potatoes, tomato, corn and bean plants in long rows against the walls of their home. Encased with cement tiles, the garden has started to sprout a variety of vegetables.
"Well my dad started freaking out about the coronavirus way before it got to the U.S. because he has asthma and health problems so when the virus got here it kind of catapulted into a giant mess," Gilson said. "We got seeds for potatoes, tomatoes, corn, beans, and even watermelons and after that we started to dig up the ground in our backyard and it was a lot of work." 
Gilson did not know that the start of his garden would precede a looming food crisis that has been long in the works for some countries. 
"The number of people facing acute food insecurity (IPC/CH 3 or worse) stands to rise to 265 million in 2020, up by 130 million from the 135 million in 2019, as a result of the economic impact of COVID-19" the World Food Programme predicted. 
Food security across the globe is the ability of people to access food at any given point so they may feed themselves and their families alike. Food insecurity however is a universal issue in which people do not have access to nutritional food and plagues hundreds of demographics in both wealthy and developing nations. 
According to 'The State of Food Security and Nutrition in the World 2019' report "This means that today, a little over 820 million people suffer from hunger, corresponding to about one in every nine people in the world."
The causes for acute food insecurity are a culmination of social, political and economic disparities for many countries according to the '2020 GLOBAL REPORT ON FOOD CRISES'. Additionally lack of delivery methods has put the 55 countries who face the worst food insecurity conditions at further jeopardy. 
"This reflected worsening acute food insecurity in key conflict-driven crises, notably the Democratic Republic of the Congo and South Sudan and the growing severity of drought and economic shocks as drivers in countries such as Haiti, Pakistan and Zimbabwe." The '2020 GLOBAL REPORT ON FOOD CRISES' reported.
On the national level, the United States is expected to also face shortages of meats and those that are sold will be priced much higher. Meats like poultry and beef will be in shorter quantity in supermarkets as manufacturers are choosing to close. 
Group President Steve Stouffer of Tyson Fresh Meats stated "While we understand the necessity of keeping our facilities operational so that we can continue to feed the nation, the safety of our team members remains our top priority…We're working with the county to make sure our people and the community are safe. The combination of worker absenteeism, COVID-19 cases and community concerns has resulted in a collective decision to close."
New plans to address the shortages have been released by the Trump Administration and the United States Department of Agriculture. The new program is expected to provide financial stimulus for the agriculture department and lessen the burden of the ongoing shortage.
"Direct Support to Farmers and Ranchers: The program will provide $16 billion in direct support based on actual losses for agricultural producers where prices and market supply chains have been impacted and will assist producers with additional adjustment and marketing costs resulting from lost demand and short-term oversupply for the 2020 marketing year caused by COVID-19." The USDA wrote about the Coronavirus Food Assistance Program. 
On the local level, food banks are experiencing shortages in food delivery to needy people and families in the United States including Florida. Programs throughout the United States have attempted to continue to feed needy citizens amongst the shortages and large demands.
The Guardian in 'We may have to ration': US food banks face shortages as demand surges' writes "However, in one plan, Feeding Florida is paying local farmers to continue harvesting thousands of acres of crops, some of which is turned into freezable soups, sauces and ready meals by a network of idle restaurateurs." 
While Gilson's vegetable garden may have been a way to protect his father who has a higher risk of developing severe illness if he contracts the coronavirus, Gilson shares a valuable lesson during the time of crisis. 
"I definitely understand why he started the garden since a lot of places are now getting food shortages like the recent shortages of boneless chicken," Gilson said. "People in general should be more prepared in case something happens so that people don't flock to stores and other places to hoard all the food when there are other people who need it more."
About the Writer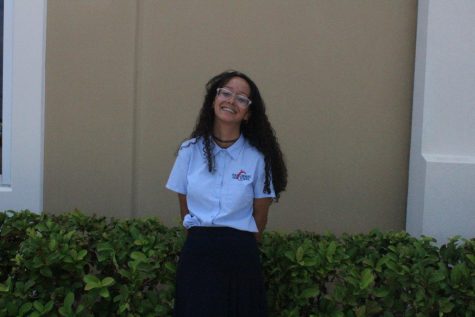 Victoria Filippi, Editor in Chief
Victoria Filippi is a senior at Four Corners High School and this is her fourth year on staff but fifth year working in publications. Her interests include...