Music At Its Finest
The MTV Video Music Awards Kicks Off With Their Pandemic Broadcast
Although 2020 has been a rough ride for many of us whenever we feel down we often turn to music. Premiering last Sunday, the Video Music Awards (VMA) raised some spirits or at least had us dancing at one point or another. 
Nominee Winners
Video of the Year
– Blinding Lights by The Weeknd
Artist of the Year
– Lady Gaga
Push Best New Artist
– Doja Cat
Song of the Year
– Rain On Me by Lady Gaga and Ariana Grande
Best Collaboration
– Rain On Me by Lady Gaga and Ariana Grande
Best Pop
– On by BTS
Best Hip-Hop
– Savage by Megan Thee Stallion
Best R&B
– Blinding Lights by The Weeknd
Best K-Pop
– On by BTS
Best Latin
– Qué Pena by Maluma ft. J Balvin
Best Rock
– Orphans by Coldplay
Best Alternative
– Bloody Valentine by Machine Gun Kelly
Best Music Video from Home
– Stuck with U by Justin Bieber and Ariana Grande
Song of the Summer
– How You Like That by BLACKPINK
Best Group
– BTS
Hosted by Keke Palmer, the night was filled with show stopping performances by incredible artists. The Weeknd set the mood for the night, performing 'Blinding Lights' as the show began. BTS made their first VMA performance debut with their new single 'Dynamite'. Lady Gaga and Ariana Grande performed 'Rain on Me', as well as other songs that were featured in Gaga's new album 'Chromatica'. More performances included the Black Eyed Peas, CNCO, The Weeknd, DaBaby, Doja Cat, and Maluma. Presenters included Bebe Rexha, Bella Hadid, Drew Barrymore, Jaden Smith, Kelly Clarkson, Machine Gun Kelly, and more.
The MTV VMAs even paid tribute to the frontline medical workers, "who kept everyone going with their impromptu and off-the-cuff performances," according to MTV.
Gaga Takeover
Lady Gaga was certainly the star of the VMAs, along with Ariana Grande. Winning nominations for 'Artist of the Year', 'Song of the Year', and 'Best Collaboration', Gaga left a mark on that stage. Not only were her wins all the talk, but her eccentric looks were unforgettable. From a mask with horns and beautiful gowns to an amazing performance, Gaga was the word. She also won the first-ever MTV Tricon Award, an award for winning three nominations. Overall, Gaga now has 18 new VMAs- along with her many other awards to put on her shelves.
Overall
The 2020 VMAs were certainly a sight to see. While odd in some aspects, MTV did not disappoint- given the circumstances we have adapted to. I look forward to seeing how the following awards ceremonies roll out their carpets, preparing for a night to remember.
About the Contributor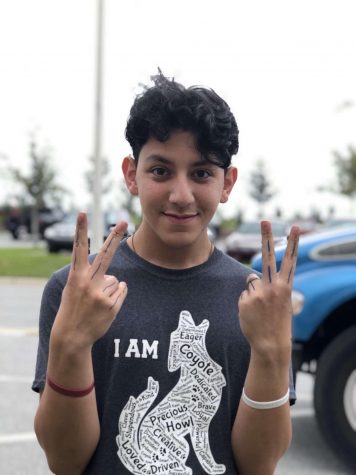 Patrick Deliz, A&E Editor
Patrick Deliz is a senior at Four Corners Upper School, in his second year with The Coyote Chronicle. While invested in the arts, Patrick enjoys photography...