Shifting Into Online Learning
How Online Students Are Handling School From Home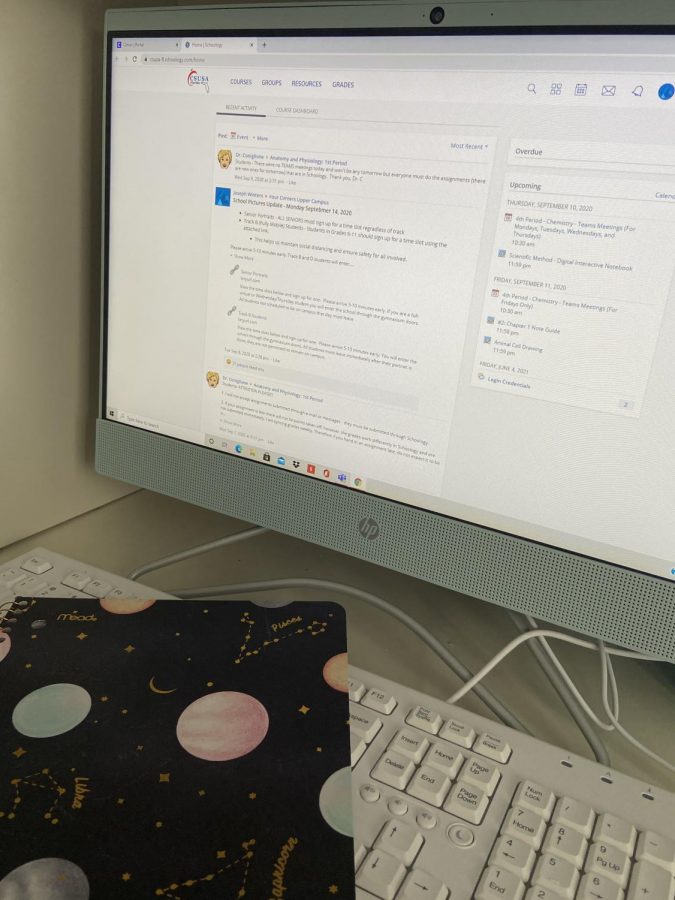 Returning to school this year looks different for both students and teachers compared to previous years. Students who have decided to learn virtually due to COVID-19 are currently familiarizing themselves with virtual education platforms and learning from home. 
Every weekday, virtual students log into either Microsoft Teams or Zoom to meet online with their teachers and participate with the in-person class. The virtual students receive the same amount of instruction as the in-person students, and are able to ask their teachers questions and participate in lessons. 
Schoology is the main platform used by online and blended track students. It allows the students to access and submit all of their work in one place, view the grades received from the assignments, and message their teachers. 
"When we first started using Schoology and Microsoft Teams, my initial reaction was pretty normal," sophomore, Aylea Treston, a virtual student, says. "For some reason, I didn't really care about how school was going to be different. I focused on getting into more classes that would give me college credits."
Even though many students don't mind or even prefer virtual learning, it is still something that is new to everyone and takes some getting used to. Instead of switching between classrooms all day, students now sit in the same spot all day by themselves, opposed to being in a classroom with their peers. For virtual students, schoolwork is now completed digitally instead of using a pencil and paper. 
"The process of trying to adjust to this new way of learning, personally, was very simple," Treston says. "I get up at 7 a.m., wash my face, walk and feed my dog, get something to eat, and then go to school." 
Students' school from home setups vary. Some have a desktop computer or laptop on top of their desk in their bedroom, while others use a tablet or even their cellphones as their main learning device.
Students who enjoy and prefer online school report that being able to work at their own pace allows them to better understand the content they are being taught. Being in the comfort of their own homes allows these students to be more focused and relaxed.
"I would definitely say that being at home makes learning more comfortable for me, because it's a less hectic environment," Treston says.
Just like there are pros to virtual school, there are also disadvantages. Using online platforms means that there are bound to be technical difficulties occasionally. One of the most common technical difficulties is when the audio of a Teams or Zoom call glitches, causing the student to not be able to hear the teacher. However, most meetings are recorded and are able to be replayed by students if necessary. 
"A con of being a blended student is that you can't get that one on one explanation when you're over the computer," sophomore, blended track student, Riley Ball, says.
Getting used to online school is still a work in progress for students, teachers, and even parents. With each week that goes by, students become more used to their new learning situation.
"My overall opinion is that the school is doing great!" Ball says. "Last year was a complete mess but this year the staff seems to have everything under control. Everything is organized and can be easily accessed, which makes everything go so much smoother."
About the Contributor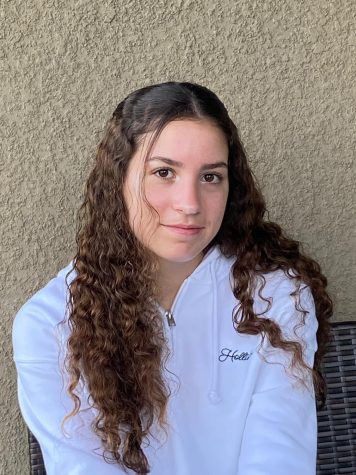 Gianna Stathakis, Student Life Editor
Gianna Stathakis is a sophomore at Four Corners High School. This is her third year on the newspaper staff, and her fourth year involved in journalism....