Sluos Tsol Fo Rednif Dna Evitceted Wen A
Investigating The Messages In "Enola Holmes"
Netflix Adds Another Movie To Their Growing Shelf, With The Release of "Enola Holmes"—making the Top 10 list on Netflix at number one for two weeks.  
STORYLINE  
Enola Holmes [played by Millie Bobby Brown] is the youngest sibling in the famous Holmes family. She is extremely intelligent, observant, and insightful, and defies the social norms for women of her time. Her mother, Eudoria [played by Helena Bonham Carter], has taught her everything from chess to jujitsu and encouraged her to be a strong-willed and independent thinking young woman.   
On the day of her sixteenth birthday, Enola awakens to find that her mother has disappeared, leaving behind only some birthday gifts. She rushes to the train station to meet her brothers, Mycroft [played by Sam Clafin] and Sherlock [played by Henry Cavill], who fail to recognize her at first, not having seen her in many years. Sherlock finds her to be an intelligent girl, whereas Mycroft finds her to be troublesome. As her legal guardian, Mycroft intends to send her away to a finishing school run by the stern Miss Harrison [played by Fiona Shaw]. The flowers left by her mother reveal secret messages and lead to hidden money, which Enola uses to escape disguised as a boy. On the train, she finds the young Viscount Tewkesbury [played by Louis Partridge] hidden in a travel bag. She thinks he is a nincompoop but warns him that a man in a brown bowler hat (named Linthorn [played by Burn Gorman]) is on the train searching for him. They jump off the train to escape. Neither having any food, Tewkesbury forages for edible plants. They travel to London, where they part ways.  
Disguised as a proper Victorian lady, she continues to trace Eudoria—her mother— and leaves cryptic messages in the newspaper personal advertisements. Enola discovers pamphlets and a safe house containing explosives and learns that Eudoria is part of a radical group of suffragettes. She is attacked by Linthorn, who tortures her for information about Tewkesbury, attempting to drown her. They fight, but she ignites explosives and escapes. Enola decides to pause the search for her mother and instead find Tewkesbury again to save him because he is not capable of defending himself. Enola visits the Tewkesbury estate at Basilwether Hall to learn more. Mycroft has Inspector Lestrade of Scotland Yard [played by Adeel Akhtar] searching for Enola.  
Enola finds Tewkesbury selling flowers in Covent Garden and warns him of the danger. She helps him escape but is caught by Lestrade and imprisoned in Miss Harrison's finishing school by Mycroft. Sherlock visits her and admits he is impressed by her detective work. Tewkesbury sneaks into the school, and they escape together, stealing Miss Harrison's motor car. They reach a fork in the road and, rather than returning to London, Enola decides they must go to Basilwether Hall and face Tewkesbury's uncle, who she has deduced was trying to kill him. The estate is seemingly deserted, but Linthorn ambushes them, firing a shotgun. Enola trips him using a jujitsu move, causing a fatal head injury. Tewkesbury's grandmother [played by Frances de la Tour] is revealed as the real villain; a traditionalist, she did not want him to take his father's place in the House of Lords and vote for the Reform Bill. She shoots her grandson in the chest, but he survives thanks to a plate of armor he had hidden under his clothes. Sherlock arrives at Scotland Yard and Lestrade asks him two questions: first, how he managed to solve the case, and second, how his sister — Enola— solved it first.  
Enola finds and deciphers a message in a newspaper but deduces that it was not sent by her mother. At the meeting point, Sherlock and Mycroft discuss Enola, and Sherlock suggests becoming her guardian. They decide to leave, and Sherlock notices a clue but chooses not to look for Enola. All the while Enola has been watching disguised as a newsboy. Returning to her lodgings, Enola finds her mother waiting there. They embrace, and Eudoria explains why she had to leave, and why she must leave again, but she is impressed by what Enola has become. Enola has found her freedom and her purpose—she is a detective and a finder of lost souls.  
ABOUT THE FILM  
We have all seen and heard our fair share of Sherlock Holmes adaptations — from Robert Downey Jr. to Benedict Cumberbatch — but this film brings an intriguing new definition to the household name "Holmes". The film is 121 minutes, or 2 hours and a minute long, which is about the same length as the popular franchises like Harry Potter and Star Wars.  
The 16-year-old — Millie Bobby Brown, also happens to be the film's originating producer. As she explained, over a Zoom conversation with Deadline and her director, Enola Holmes was a project born when she first read the book series with her older sister Paige and fell in love with the notion of playing Enola Holmes. The fact that the idea crossed the finish line is a remarkable feat, considering at that point Brown had only completed her first steps on "Stranger Things" and she was still too young to play the character. But the film, produced by Legendary, is primed for global release on Netflix, and in Bradbeer's hands, it becomes a rare Young-Adult blockbuster that seems certain to attract an audience.  
The film has a strong theme of women teaching and supporting each other as they campaign for gender equality. That draws on the very real struggles of the time, as campaigners protested, fought, and died for women's suffrage.   
Set in 1884, the film nods to real-life suffragists and proto-feminists. We see a flyer for a suffragette meeting that mentions real-life trade unionist Amie Hicks, author Gwyneth Vaughan, and campaigner for the rights and education of children, Margaret McMillan. Enola's mother also reads The Subjection of Women by philosopher, economist, and member of Parliament John Stuart Mill, who along with his wife Harriet Taylor Mill demanded votes for women. He led the first debate on women's suffrage in parliament in 1867. The film portrays a narrow victory in the parliamentary vote, although 1884's Third Reform Act didn't include women. Women wouldn't vote for the first time until 1918, and then only a limited elite — only in 1928 would the vote be granted to all women. Now with all these themes within the film, it is understandable why Netflix would rate the film TV-14 [or PG-13] due to the controversial topics.   
The film even breaks the fourth wall, as Brown takes moments to talk to the audience as Enola, making the film more engaging and perplexing.  
  ENOLA HOLMES FACING A LAWSUIT?  
In June 2020 the estate of Arthur Conan Doyle brought a lawsuit against Nancy Springer, Netflix, and the producers of the Enola Holmes film. Having begun in 1887, most of Conan Doyle's Sherlock Holmes stories have now passed into the public domain — which is why there are so many films about the character — but he returned to the character in the 1920s, so the final story won't be in the public domain until 95 years after it was published in 1927. The lawsuit claims the Enola Holmes series infringes copyright on the more emotional and human version of Sherlock Holmes that Conan Doyle depicted in these later stories.  
  OVERALL THOUGHTS 
In general, I think that this is truly a good and inspiring movie for any audience. The empowerment and attitude of Enola transcend throughout the film, and I would most definitely recommend this to anyone — whether you want something new to watch or a movie for family night, "Enola Holmes" is the movie for you.  
RATING: 4.5/5  
About the Contributor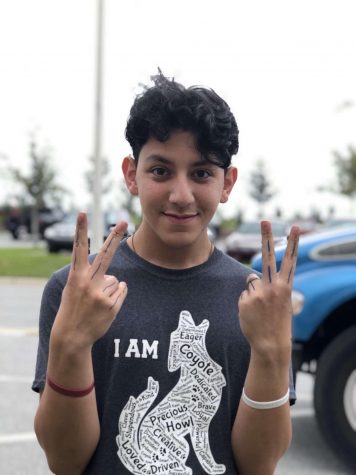 Patrick Deliz, A&E Editor
Patrick Deliz is a senior at Four Corners Upper School, in his second year with The Coyote Chronicle. While invested in the arts, Patrick enjoys photography...