The Devil Made Me Do It
Season 5 of "Lucifer" continues its emotional thrill, as fans beg for more.
What is "Lucifer"?
Lucifer is an American urban fantasy television series developed by Tom Kapinos that premiered on Fox on January 25, 2016 It is based on the DC Comics character created by Neil Gaiman, Sam Kieth, and Mike Dringenberg, both published by DC Comics' Vertigo imprint. The series is produced by Jerry Bruckheimer Television, DC Entertainment, and Warner Bros. Television.
The series focuses on the fallen angel– Lucifer Morningstar (played by Tom Ellis), a handsome and powerful angel who was cast out of Heaven for his betrayal and rebellion against God. As the Devil, Lucifer tires of the millennia, he spends being the Lord of Hell, punishing people– eventually becoming increasingly bored and unhappy with his life down there in Hell. He resigns his throne in defiance of his father [God] and abandons his kingdom for the City of Angels–Los Angeles, where he ends up running his own nightclub called "Lux". When he finds himself involved in a murder investigation, he meets the intriguing Detective Chloe Decker (played by Lauren German) and accepts the humble invitation to become a civilian consultant to the LAPD. Throughout the series, he learns he is changing into someone who is completely the opposite of the devil that he is. But with his stubbornness and selfishness, he ends up getting the detective confused with who he actually is. As the events unfold, several celestial and demonic threats come to Los Angeles; at the same time, Lucifer and Chloe end up allowing their love for each other to bring them through the darkness.
The first season received mixed reviews from critics, though the following seasons were better rated; many critics particularly praised Ellis' performance. Despite initially high viewership for its debut, ratings remained consistently low throughout the series' three-season run on Fox. Fox canceled "Lucifer" after three seasons, only a month earlier before Netflix picked up the series for the fourth season, which received high ratings and critical acclaim. Netflix renewed the series for a fifth season of 16 episodes, the first half being released August 21, 2020. Although the fifth season was initially reported to be the last, in June 2020 the series was renewed for a sixth and final season of ten episodes.
Where We Left Off
Season four's finale left off with Father Kinley (played by Graham McTavish) being possessed by the demon Dromos, who kills another human to summon his brother Squee. Chloe finds a social media post of Kinley entering a church, but discovers Maze (played by Leslie-Ann Brandt) tracking Kinley; she realizes the situation and updates Chloe. At Lux, Dromos and Squee greet Lucifer– who becomes angry at Dromos for disobeying his ban on possessions, Lucifer tells him to return to Hell. In retaliation, Dromos decides to kidnap Charlie and raise him as the new king of Hell. Meanwhile, Ella regains her faith and convinces Dan to let go of his anger. Lucifer, Amenadiel, Maze, Chloe, and Eve launch a rescue mission but, when the demons outnumber them, Lucifer is forced to transform into the Devil and order the demons back to Hell. The ordeal has Amenadiel choose to raise Charlie on Earth with Linda. Eve departs to find herself. Chloe finally accepts Lucifer, admitting her love. However, Lucifer realizes the prophecy was right and Chloe was his true first love, not Eve. After sharing a kiss with Chloe, Lucifer returns to his throne in Hell.
Where We Are Now in Part 1
Two months after Lucifer returned to Hell, Chloe and Maze are now partnering to solve a murder and also spend time together to fill the void from the departures of Lucifer and Eve. In Hell– where over a thousand years have passed– Lucifer visits the victim in his hell loop and once he notices the murder happened in Los Angeles, he decides to try to solve it. The murder victim is Lee Garner whom Lucifer has dealt with on previous occasions. Chloe tells Maze she does not need her to help anymore. When Chloe visits the sister of the victim, she is attacked but "Lucifer" appears to save her. However, it is revealed that Lucifer is still in Hell. Amenadiel takes charge of Lux and tries to clean up the club by going after a drug dealer. Dan uses self-help therapy to cope with the loss of Charlotte Richards. Lucifer returns to assist Chloe in the investigation of a murder at an isolation experiment for a future mission to Mars at a company that is run by Anders Brody. However, Lucifer seems different. Instead of bringing out people's desires he brings out their fears and has a different general demeanor. When Maze confronts him, he reveals that he is Michael, Lucifer's twin brother. He wants to get back at Lucifer and persuades Maze into helping him. Chloe proposes to get intimate with Lucifer but ends up revealing that she knew he was an impostor from when they first kissed upon his return. Michael tells Chloe that she's a gift from God meant for Lucifer– leading her to unravel. Amenadiel goes to Hell to tell Lucifer to come back to Earth and deal with Michael.
The real Lucifer returns from Hell and confirms to Chloe how she's a gift, upsetting her. They investigate the murder of a showrunner who created a show based on them, "¡Diablo!". Maze is upset that Lucifer did not take her to Hell with him but Lucifer points out that Amenadiel could have taken her. Linda realizes Maze has abandonment issues stemming from when her mother, Lilith, left her and the rest of the demons. Lucifer and Michael have a showdown, where Michael claims he was the one who influenced Lucifer leaving Hell to vacation in Los Angeles originally and many other events in his life. After an even-matched fight, Lucifer uses Maze's blade to gash Michael's face, preventing him from impersonating Lucifer again. Later Michael tells Maze about a secret Lucifer is keeping from her and how she can find out what it is.
Trixie visits Lucifer at his penthouse and has him tell her a story about his ring, presented in a black-and-white noir style. In 1946 New York City, Lucifer visits Lilith, Maze's mother. Lilith has Lucifer find her stolen ring because he owes her for giving him her children for his army against Heaven. Lucifer gets the assistance of P.I. Jack Monroe to find the thief. When she gets the ring back, she decides to give up her immortality and puts it in her ring, and gives it to Lucifer. She tells him not to tell any of her children so they remain strong and unbreakable. After Lucifer finishes the story, Trixie retells it to Maze who paid her to get the story. Maze goes to Reno, Nevada, and finds an elderly Lilith (who regrets becoming mortal) but they do not reconcile.
Lucifer and Chloe investigate the murder of a DJ, interrupting their night together. The headliner, and real target of the murder, is DJ Karnal(real name Jed), an ex of Chloe's which makes Lucifer jealous. Maze dresses and acts like Ella as an interpretation of how to make an emotional connection with someone. Linda and Amenadiel cannot figure out how to get Charlie to stop crying. Jed tells Lucifer Chloe dumped him because he was no longer a mystery so Lucifer decides to be a mystery and ignore Chloe's phone calls. Chloe sets up a sting at Lux with Ella, Maze, and Linda to find the killer while Dan, Lucifer, Jed, and Amendadiel try to calm Charlie. Jed sneaks back to Lux and draws out the killer. After realizing Lucifer's Devil-Face calms Charlie, they tell Dan he's no longer needed, however, Michael calls him pretending to be Lucifer to come back to the house, allowing Dan to see the Devil-Face. Chloe goes back to Lucifer's penthouse and they have intimate relations.
Chloe appears to have taken Lucifer's desire power(mojo), but it ends up only working on him. They investigate the murder of an opera singer. Ella begins dating a reporter named Pete. Maze tries to re-enact her first fight with Amenadiel but is really sad about not having a soul and needs someone to talk to. Dan visits Charlotte's grave, worried he's going to hell after learning Lucifer really is The Devil but Michael flies in and tells him how he can have salvation. After another victim is found the same way, they realize this is the work of a serial killer, who is named The Whisper Killer. Ella and Pete help Chloe and Lucifer catch the killer, who uses lilies before cutting the victims' vocal cords. Chloe still feels there is more to the case and keeps working on it. She tells Lucifer that she thinks that revealing his desires is a result of him opening himself up to her. Dan shows up and shoots Lucifer. Lucifer is unharmed from Dan's gunshot, now invulnerable around Chloe. While Lucifer plots for the perfect revenge against Dan, Chloe keeps investigating the Whisper Killer. She learns that the one they caught is a copycat but is kidnapped when leaving Lucifer a voicemail. Ella helps Lucifer continue Chloe's investigation and find her. Pete gives Ella the keys to his house and tells her he has files on the Whisper Killer. She goes to his house but discovers a farm of Lilies the killer uses. Pete admits to being the real Whisper killer but not to kidnap Chloe. It is revealed that Michael kidnapped Chloe and uses her fear to cast doubt about Lucifer. Maze confronts him but he promises a way for her to have a soul. Charlie gets sick and Amenadiel's anxiety about his child only being a mortal causes him to subconsciously freeze time. Maze joins Michael in fighting Lucifer and Amenadiel while time is frozen and God shows up, not liking when his children fight.
Sympathy for The Devil?
Netflix always seeks to provoke controversy in many of its shows and movies, by embodying prophets, saints, and figures of religious authority. Most recently the actor Dennis Heisbert appeared as "God" in the fifth season of the crime-drama series "Lucifer", which angered many followers of the work around the world.
In the series, "God" appears in the form of light at the beginning, then he appeared as a person, who arrived on Earth to solve the problems that appeared among three of his children, to end the eighth episode– "Spoiler Alert", with the actor continuing his role into the next part of the show that the network has not announced a date for its release yet.
The incarnation of God and his appearance in the form of a person shocked the followers of the series of various religions, who refuse to insult the divine self by embodying it in the form of a person because that is a lowering of the status of God.
Netflix announced the launch of a sixth season of the series after rumors spread about the appointment of another actor to replace Tom Ellis to star in the new parts of the "Lucifer" series, and Netflix quickly denied that the rumor that the sixth season is to be the last of the show.
Overall Thoughts
This show is truly amazing and definitely worth watching. "Lucifer" is any day a must-watch. If you are looking for comedic relief and sass jammed into one show, then this is surely the one for you. Despite the controversial religious themes, this show is really captivating. I can not wait for Part 2 of season five and the rumored season six soon to come.
RATING: 4.9/5
About the Writer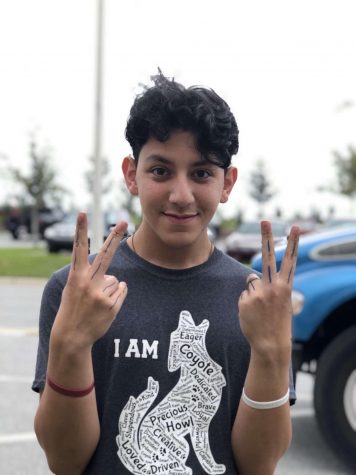 Patrick Deliz, A&E Editor
Patrick Deliz is a senior at Four Corners Upper School, in his second year with The Coyote Chronicle. While invested in the arts, Patrick enjoys photography...