"Move Out Of The Way It Is An Emergency"
High School Biomedical Students Construct Their Own Emergency Rooms
Project Lead the Way's Biomedical Innovations course encouraged students to construct an emergency room of their own design. Each group was tasked with using the information they researched to create a functional emergency room that could house patients, staff, and other resources. 
"Your mission is to design an emergency department that takes efficient patient care to the next level," Project Lead the Way Biomedical Innovations, said. 
The purpose of the build is for students to explore critical issues that disrupt the productivity of an emergency room and incorporate innovations that solve these problems. Creating wider hallways and placing the nursing station at the center of the facility are some of the innovations that were incorporated. 
The teams assigned for this project modeled their emergency rooms on two respective platforms for a panel of teachers to view. Group 1 used the service Minecraft to build their emergency room while Group 2 used a platform called Tinkercad. Each group challenges while constructing the emergency room and deciding what to include. 
"In my opinion, I think we could have done better if we had better communication and distribution of the work, but in general we still managed to get it done." Senior Santiago Escudero, said. 
Considering the coronavirus epidemic, students were also tasked to consider how their emergency room would function during an influx of patients. Each team, therefore, modeled their hospital based on a real location and a situation that would cause the influx of patients. 
Likewise, both groups charged two patients to the emergency room, relating their vital signs and chief complaints. Once the patient introduction was complete, the groups then described the movement of patients through the hospital elaborating on the type of care they received. 
"One of our patients had a broken bone and the other had a bullet wound, so during the building process, we made devices that the patients would use in the emergency room. " Senior Draven Prieto said.
While the models for each emergency room varied because of the platforms utilized both groups demonstrated the components that are necessary to develop a functional hospital. 
About the Contributor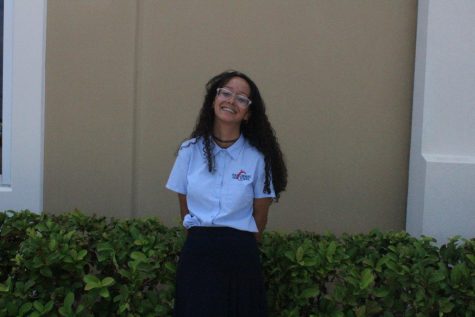 Victoria Filippi, Editor in Chief
Victoria Filippi is a senior at Four Corners High School and this is her fourth year on staff but fifth year working in publications. Her interests include...