Checkmate!
One Of Netflix's Latest Releases Depicts The Intricacy Of Chess
Who would have ever thought that a show about chess that is set in the 1950s-60s, could break a cultural norm and display female empowerment? Netflix's "The Queen's Gambit" shows how fun and competitive chess can be. 
BREAKDOWN 
Elizabeth "Beth" Harmon (played by Anya Taylor-Joy) is orphaned when her mother dies in a car crash on New Circle Road, possibly a suicide. She is taken to an orphanage, where the children are given tranquilizing pills to make them compliant. While cleaning erasers in the basement, Beth discovers the custodian, Mr. Shaibel (played by Bill Camp), studying chess on his own. After repeated requests he reluctantly agrees to teach her the game; she has already worked out how the pieces move by observing him. She becomes obsessed and improves quickly, thanks to her spatial intelligence and abuse of mind-altering tranquilizers that allow her to focus and visualize chess games on the ceiling above her bed. When she can beat him regularly, Shaibel introduces her to the local high school chess club teacher, Mr. Ganz, whom she also beats. Ganz invites her to play a simultaneous exhibition against his entire club. She beats all of them easily, later commenting to Shaibel on their poor chess skills and how invigorating it is to win. After the state passes a law outlawing the use of tranquilizers on children, Beth begins to suffer from withdrawal. She is caught stealing a jar of the medication and passes out after overdosing from swallowing several mouthfuls of pills. 
After her overdose, Beth is prohibited from playing chess. Time passes and Beth is adopted as a teenager by the Wheatleys. While running an errand for Mrs. Wheatley, Beth discovers her adoptive mother is taking the same tranquilizer pills that she was given at the orphanage and secretly steals some for herself, allowing her to play mental chess again. She also steals a Chess magazine and sees that there is to be a local chess tournament. She writes to Mr. Shaibel who sends her the money for the entrance fee. As she cruises through her matches, she develops a crush on one of her later opponents, an older boy named Townes (played by Jacob Fortune-Lloyd). After the second day of the tournament, during which her periods start, Beth comes home to find that Mr. Wheatley (played by Patrick Kennedy) has left Mrs. Wheatley (played by Marielle Heller) and Beth fears that she will be sent back to the orphanage. But Mrs. Wheatley tells her they will lie so she can stay. During her final match of the tournament against Harry Beltik (played by Harry Melling), the highest-ranked player, Beth becomes flustered and runs to the restroom; where she takes a tranquilizer pill, then wins the match handily. Upon learning of the prize money to be won in other tournaments, Mrs. Wheatley hatches a plan for the two women to support themselves. 
Mrs. Wheatley and Beth check into their hotel room in Cincinnati. Beth wins the tournament. Her mother asks for 10% of the prize money as an agent commission, but Beth gives her 15%. Beth continues to miss school while traveling to tournaments, where she is quickly gaining national recognition for her achievements. Back at school, Beth is invited to a meeting of the 'Apple Pi Club' by the girls who had initially shunned her. She soon realizes she has nothing in common with typical teenage culture and, stealing a bottle of alcohol, escapes back home. In 1966, Beth heads to Las Vegas for the US Open where she is reunited with Townes, now a journalist who is covering the event. They return to his hotel room where Townes takes her picture. The two share an intimate moment before being interrupted by a man Townes is living with. After playing chess with Townes, Beth abruptly leaves before Townes can explain the situation. Beth runs into Benny Watts (played by Thomas Brodie-Sangster) who points out a weakness in her game against Beltik. Beth is taken aback and suddenly loses confidence. She experiences her first loss against Watts the next day; they finish the tournament as co-champions. 
Beth travels to Mexico City with Mrs. Wheatley who spends most of her time with Manuel, a longtime pen pal. Beth competes against several international players including a young boy from the Soviet Union named Georgi Girev in a match that spans two days. She also befriends Matt and Mike (played by Matthew and Russell Denis-Lewis), twins who had served as registration officials at her first chess tournament. In a crowded elevator, Beth uses her growing knowledge of Russian to eavesdrop on Soviet world champion Vasily Borgov (played by Marcin Dorocinski) and two associates. While they point out her weaknesses as a player, Borgov merely comments that she is an orphan and a survivor like them. Manuel soon abandons Mrs. Wheatley just as Mr. Wheatley did. The following day, Beth plays Borgov and after an intense game loses to him. Back in the hotel room, Beth discovers her mother has died of hepatitis, likely worsened by her excessive drinking. She has to make all the arrangements for flying the coffin home and the funeral. Beth manages to get Mr. Wheatley on the telephone but, apart from telling her where her mother's family plot is, he wants nothing to do with it. However, he does indicate that as far as he is concerned the house is hers. 
Beth returns home to Kentucky and reconnects with Harry Beltik, the former state champion she beat five years prior. Beltik moves into the Wheatleys' house to accompany the now lonely Beth, and the two spend time training and growing close until Beltik realizes Beth's obsession with chess will always supersede any relationship they may have. The two part ways, Beltik having taught Beth all he can, and time flashes forward to the 1967 US championship where Beth reunites with former child prodigy Benny Watts. The evening before the final round and rematch between the two, Benny challenges Beth to several rounds of speed chess in front of a large crowd of tournament attendees. He beats her in all of them but does not realize that she has used the opportunity to learn his weaknesses. This motivates Beth to a quick victory over Benny the next day and the two discuss Beth's future in international competition. Benny invites Beth to train for the Paris Tournament with him in New York. 
In New York, Benny has Beth sober up and enhances her chess skills with the help of a few friends from the chess scene. Beth bonds with Cleo, a model who was once infatuated with Benny and is present with the rest of the group. Eventually, Beth travels to the tournament in Paris and works her way up to the final match with Borgov. Cleo reveals that she's also in Paris and invites Beth for drinks, making her relapse on her alcohol and pill addiction. Beth is woken up, leading into the opening moment of the first episode. Hungover, she loses once more to Borgov. Devastated, Beth declines Benny's offer to continue staying with him in New York and instead goes back home to Kentucky, where she learns her adoptive father has returned home only to extort money from her by making her buy the house. Beth plunges into a days-long drug and alcohol binge, causing her to pass out in her living room. Despite Beltik offering support, she refuses just as Jolene (played by Moses Ingram) shows up at her door. 
Jolene arrives and informs Beth that Mr. Shaibel has died. They both attend the funeral, and Beth revisits the orphanage. She is moved to tears when she finds newspaper clippings on Mr. Shaibel's basement wall revealing that he had followed her career all along, as well as a photograph of the pair together during her time at the orphanage. The experience allows Beth to come to terms with her past. Beth gives up her funding from Christian Crusade after they request a public statement from her which she is unwilling to give. After getting a loan from Jolene, Beth goes to Moscow to play in the prestigious Moscow Invitational. The final game is with Borgov and Beth surprises him by playing the Queen's Gambit; the game is adjourned after 40 moves. That evening, Townes, who is covering the match, visits Beth in her hotel, where they reconcile their friendship. The next morning, Beth receives a phone call from Benny, who has assembled a team which includes Beltik and the twins, to help her analyze the adjourned position of her match with Borgov. Beth is grateful to receive help from her friends and takes copious notes. When play resumes that evening, Beth beats Borgov in the adjourned game. On the way back to the airport, Beth gets out of the car and walks around the city. She finds several elderly townsfolk playing chess, who recognize her and invite her to play. 
ACCURACY 
The show itself was viewed and graded by many chess professionals, all to determine the accuracy of the show. Chess pros and sisters Alexandra and Andrea Boetz recently reviewed the show on Twitch–while playing chess, giving their expert take on the series. 
The Boetz sisters say the series surprisingly depicts much of chess tournaments and the culture of the sport accurately, from the nerves to the studying, and the intense focus. Of course, there is the occasional wonky set-up or improbable scenario, but not enough to make even a pro chess player lose interest. 
"This has been the closest we've gotten in cinema so far, and I don't think they need to be absolutely perfect all the time," Alexandra says, adding, "They are actually making chess sexy in the show—competitive chess." 
OVERALL 
This show is truly amazing and worth watching. I will warn that the series does show smoking, drinking, and drugs– the reason why Netflix has labeled it as 'TV-MA'. Apart from that, the series truly is empowering and worth watching all the way through. From the backstory of Beth Harmon to her beating the Russian master, Borgov, it is an exhilarating show that I would watch again and again. Quite honestly, the series makes me want to play a game of chess. 
About the Contributor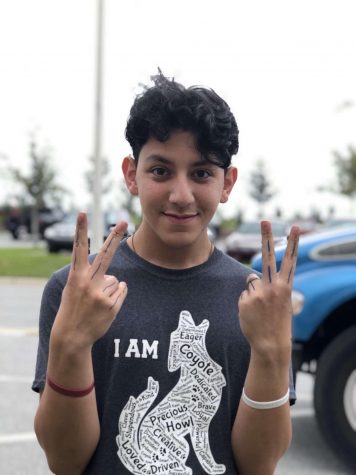 Patrick Deliz, A&E Editor
Patrick Deliz is a senior at Four Corners Upper School, in his second year with The Coyote Chronicle. While invested in the arts, Patrick enjoys photography...