Play Truly Has No Limits
An In-Depth Look At The New PlayStation 5
The video game world is constantly advancing, hardly ever at a stand-still, and the release of new gaming platforms helps players feel more in the game than ever before. 
What's New? 
The last console generation was all about sleek, plastic rectangles, with both the Xbox One and PlayStation 4 looked like futuristic VCRs. For some, it just did not have an exciting or inspired "vibe". In this year's console generation, Sony and Microsoft are leaning into their respective aesthetics.
The PlayStation 5's design is more radical. The console looks like a cybernetic wave, giving off a clean and fresh feel. It is slick, oceanic, and refreshing. The new Dual Sense controllers have a subtle Stormtrooper aesthetic that pairs well with the PS5's curvy aqua-tech design. The whole package is a departure from every previous PlayStation console, leaving no similarities from the PlayStation 5 to its predecessors. The changes themselves are more than the design itself.
The console's graphics are incredible, and games look better; there is a granular detail you get at 4K that creates a lot of visual depth and invokes interest. Despite Sony touting their new graphical features and their latest consoles as "8K ready," the defining visual enhancement is in its higher frame rate, and that presents a new problem: To get the most out of your new console, you might need to head to the store to buy a new TV.
Gaming TVs are a new product category, compared to regular high-definition TVs. The refresh rate is what makes a Gaming TV, a gaming TV. Just as frames are measured in frames-per-second (FPS), the refresh rate is measured in hertz (Hz). When these two numbers match up, magic happens. 
Think of it as those little flipbook animations: the more frames there are, the smoother the motion becomes. There are an unreal smoothness and purity to every motion; to every kick and punch and web-swing. Rendering all those extra frames requires some serious graphical horsepower, which the PlayStation 5 has, fortunately.
The PlayStation 5 is marvelous but buying a brand-new console and an expensive new TV is a bit much amid a global pandemic. If you do happen to be in the market for a new TV, it is something to consider. 
The Games and The Console 
With Sony's release of the PlayStation 5, they released a small number of games alongside the launch. The downside is that not many games have been released yet, so it cannot really show off what the PS5 is capable of. "Spider-Man: Miles Morales" comes the closest, with high-definition textures, details, lighting, and with hyper-realistic characters. In this new adventure, you step into the shoes of Peter Parker's protege Miles Morales as he learns how to be a superhero. It is a fun and enticing game, with an engaging story and memorable boss fights. It is fair to say that more games are on their way, as you can preorder them now. All we must do is sit and wait. 
Where to Buy the PlayStation 5? 
Unfortunately, I cannot concretely say exact places to buy the new console, as not many people have gotten a hold of it yet. Since its release on November 12, the PlayStation 5 has been very hard to purchase. On the PlayStation site, the webpage to purchase the console will greet you with "Out of Stock". That problem is partially due to people buying (or preordering) it on the spot, and due to Sony limiting how many PS5's is sold at a time.  
With any luck, things might possibly calm down and a window of opportunity might present itself to go and click "Buy Now", but until then: just keep hitting the refresh button. 
About the Writer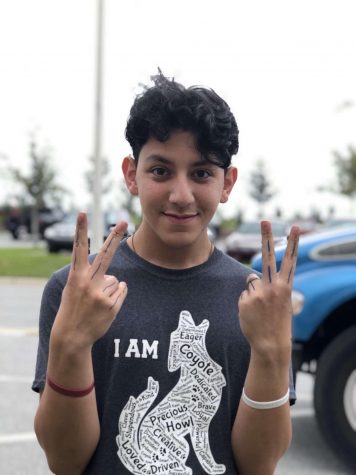 Patrick Deliz, A&E Editor
Patrick Deliz is a senior at Four Corners Upper School, in his second year with The Coyote Chronicle. While invested in the arts, Patrick enjoys photography...