A Visit from the Ghost of Christmas Past
Nostalgia and Christmas go hand in hand for teachers and students at FCUS.
As a general rule, Christmas looks similar for everyone. But, no matter how normal you think your Christmas celebration is, every family still seems to have their own unique traditions. Many of these traditions are passed down from generation to generation and help people make Christmas their own. Students and teachers at FCUS are no exception and some have particularly special ways to celebrate the holidays.
Decor
Brightly colored lights and colorful ornaments may be the first things to come to mind when thinking about Christmas decorations, but some people have managed to turn decorating into more than just a way to make a home more festive. One teacher shared how she used to involve her children in decorating their Christmas tree.
"We would make the ornaments. We would do these like arts and crafts sessions in order for them to make things to put on the Christmas tree," Geometry teacher Ms. Nilza Cruz shared. "Because rather than having a Christmas tree, it would be our Christmas tree. That's the difference."
Some schools allow younger students to create their own holiday crafts to take home during the winter season. Since these sorts of crafts are only taken out once a year, they often stand the test of time a little better.
"My favorite ornament was made during the winter season in my class," junior Khelan Lewis shared. "(It) was made in second grade."
While they might disrupt parent's visions of perfect trees, it is ornaments like these that allow families to add a personal touch to their trees. Not everyone may be able or willing to fully deck out their homes, but Christmas decorations are still an integral part of any celebration. Junior Emily Bobadilla shared a few of her roles within her family when it came to decorating.
"I always have helped my mom wrap gifts since I am the eldest and I help her decorate the house and tree and put the stockings in (a) specific order," Bobadilla explained.
She also shared that her family also used to have inflatable decorations they would put out in the lawn, although that was when her family lived in Rhode Island.

Memories
Even for teenagers Christmas can still be chock-full of memories and nostalgia, all of them mixed with family traditions. Students and teachers love to reminisce about a Christmas long gone, or a special moment they will never forget.
Cruz shared a unique way her mother taught her an important lesson when she was only a few years old using a Christmas Gift.
"One of my presents I remember was a colored doll. My other cousins, they had dolls, but my doll was different," Cruz shared. "I was just crying because my doll was different. But then my mom sat with me. She just explained the fact that it doesn't really matter if you have a blonde doll (or) if you have a colored doll, we're all equal."
Not everyone may have such a vivid early Christmas memory, but everyone seems to have something to look back upon. Christmas mornings and opening Christmas gifts can be some of our most beloved childhood memories.
"My earliest Christmas memory was when I was about seven when I received the baby alive doll that I had been wanting for so long," Bobadilla said. "My favorite gift was this mechanical puppy I used to walk around with both all the time and would "feed" them and take care of them as if they were real."

Food
Christmas foods from candy canes to turkey dinners are staples of the holiday season. For many teachers and students though, these foods have quickly become traditions.
"I love having French toast on Christmas morning. This is something my parents would make every year after we opened gifts," English teacher Mrs. McKenna Hosek said. "Right after we would go see a new movie and then head to a family members house. This would happen each year like clockwork."
Cruz also shared a some of her and her parents baking and cooking traditions.
"I used to love to have desserts and to laugh and to have a lot of candy," Cruz shared. "So I kind of miss that. All of us coming together as a family making these great traditional desserts. I used to have a lot of fun with that."
Cruz also shared that her cultural background heavily influenced the food her family would make, since she is from Puerto Rico with a lot of family from Spain. This was reflected particularly in her family's deserts as well. Including, coquito which is like eggnog and flan de coco which is similar to coconut cheesecake.
Events
The few weeks leading up to Christmas tend to be some of the busiest of the entire year but making time to go out and make a difference as a family during this time can help form wonderful traditions. Many families manage to find the time to do this, and their children never seem to forget it.
"My daughter has been playing the violin since she was three," Cruz explained. "We would create groups and take the kids to places that were in need or in poverty so they could make people happier through the music."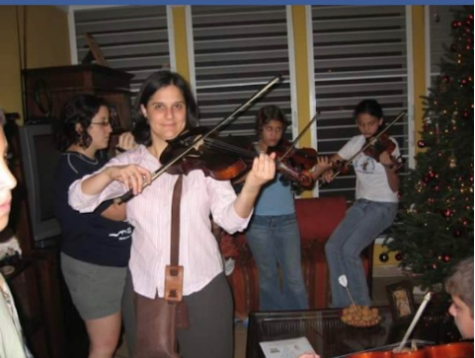 Another teacher shared a Christmas tradition that was slightly more conventional but equally important to her family's way of celebrating Christmas. This tradition combines decorating with fun Christmas events that helped this family keep everyone included during the Christmas season.
"The day after Thanksgiving each year we would wake up and go shopping for our ornaments," Hosek shared. "We would then get lunch somewhere, come home and spend the rest of the day decorating inside (and) outside. We would end the day with Christmas cookies, sparkling cider and one classic Christmas movie."
Traditions like this go to show that almost every aspect of Christmas can turn into a treasured memory. Not part of Christmas is done in solitude, and even Christmas preparations are a way for families to bond during the winter season.
On occasion, however, family traditions are forced to change when people's lives change. This can push families to create new traditions, or simply adjust older ones. Lewis shared a new, and very Floridian, family tradition.
"I love going to Islands of Adventure during the winter season because I can see the Grinchmas celebration," Lewis said. "It's a great show. It's exciting and it's a good way to relax and eat food."
As children turn into teens, Christmas celebrations often go from being a family only affair to a way to social and bond with friends. Bobadilla shared how she would celebrate the holidays in school with her peers.
"I used to go to a private school and every year this company named Greggs would let us choose about five gifts that (could not) cost more than $20," Bobadilla explained. "A day or two before winter vacation my friends and I would open our gifts in school and have Christmas parties with pizza and soda."
Ending
Christmas itself, while not a universal holiday, is something most Americans can relate to, and the Christmas spirit often extends beyond classic Christmas movies or childhood innocence. Cruz shared a final wish for students and teachers regarding Christmas.
"What I perceive is that Christmas brings out the best in all of us. Christmas is a time of sharing Christmas is a time of giving," Cruz stated. "I think we should be in the Christmas spirit every day of the year."
About the Writer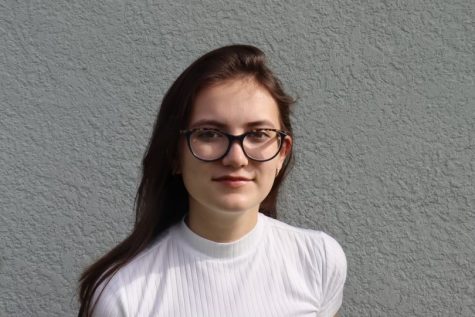 Kate Stout, Editor In Chief
Kate Stout is a sophomore at Four Corners Upper School, and this is her second year on staff. Kate was born in England but raised in central Florida. She...