This Looks Like the Start of Something New
High School Musical Makes a Comeback, and For the Better!
Amidst the pandemic, many after-school programs were left wondering: What now? That was the big question for Twelfth-grade English and Theater teacher, Julie Gardieff. With the school taking precautionary measures to ensure the safety of its students, how could plans for a theater production go on?
"Everything is pretty much the same except we wear masks at rehearsals. I mean, that is the biggest difference. It is almost the same experience, and every now and then I will do a rehearsal through Zoom." says Mrs. Gardieff.
"High School Musical" starts on New Year's Eve, where high school juniors Troy Bolton (Daniel Manrique) and Gabriella Montez (Breanna Gallo) meet at a ski lodge party during winter break. The two are called upon to sing a duet together for karaoke ("Start of Something New"). Returning to school after the break, Troy sees Gabriella in his homeroom. She explains that she has just transferred to East High School over the break. As Troy shows Gabriella around the school, Drama Club President Sharpay Evans (Gracey Davis) assumes that Gabriella is interested in auditioning for the school musical, Juliet and Romeo. Wanting to eliminate competition, Sharpay has Scholastic Decathlon Captain and Chem Club president Taylor McKessie (Kayla Nazario) investigate Gabriella's past academic achievements to recruit Gabriella for the Scholastic Decathlon. As a result, Taylor and Gabriella became friends over their shared interests. During basketball practice, Troy is distracted by thoughts of Gabriella and the idea that he might enjoy singing in addition to basketball ("Get'cha Head in the Game"). Gabriella and Troy go to the musical auditions where Sharpay and her twin brother Ryan Evans (Olivia Georgette-Velazquez) perform ("What I've Been Looking For").
"Sharpay feels like such a relatable character to me. She just wants something so bad. It's always been something that she's had and when it's taken away from her, she doesn't know how to react. I want to say that it's my favorite role that I have played because I find it relatable." says senior Gracey Davis, who played Sharpay Evans. "Relating to a character allows you to connect to the role in a different way. You understand their motivations and decisions. I don't want to say that I completely understand why Sharpay acted the way she did, but I feel like kind of relating to her and her interests allowed me to portray her in a stronger way."
When Gabriella gains the confidence to step forward once the auditions are unofficially declared "over", Troy offers to sing with her. However, drama teacher Ms. Darbus (Niall Roman) tells them they are too late and leaves. Kelsi Nielsen (Daliana Perry), the musical's composer, trips and drops her music all over the stage. Troy and Gabriella rush to help her and sing together as Kelsi plays on the piano ("What I've Been Looking For (Reprise)"). Overhearing their performance, Ms. Darbus gives them a callback audition. When the callback list gets posted, Sharpay discovers that she has competition for the lead role, while the Wildcats basketball team is shocked that Troy has auditioned. After finding out that Troy can do activities outside his clique, other students confess their secret passions and talents ("Stick to the Status Quo"). This alarms Taylor and Troy's best friend Chad Danforth (Josiah Farley). In the locker room, Troy is tricked by his teammates into saying that Gabriella is not needed. Gabriella watches this via a hidden webcam that the scholastic decathlon team has set up.
"Playing Gabriella in the show this year compared to the production two years ago was honestly just very different. Two years ago, I played Kelsi who is a known character, but she didn't have as many lines in the show; didn't really have her own songs – she just had a line and a song. It was honestly just a big step up from the last time I was in the show. It was a little bit – I felt a little bit of pressure because I was trying to live up to portraying Gabriella correctly." says senior Breanna Gallo, who played Gabriella Montez. "Like in the past, I feel like there definitely was some like there was some awkwardness the last time we did it between our Troy and Gabriella, and that was honestly one of the things that made it a bit hard to believe the story. So, I had to make sure that I didn't make the same mistake, so I just felt like there was a lot of pressure on me to stop myself from doing that and I tried to build a relationship with the Troy [Daniel Manrique] so we could have that comfortable relationship and not seem so awkward on stage together. It was honestly such a different experience. I had more lines, more songs and my role was co-dependent on Troy, but honestly it was really cool to step up from a supporting character to one of the leads."
Upset by Troy's betrayal Gabriella decides to not audition for the musical. Troy, confused by Gabriella's decision, is unable to concentrate on the game, while Gabriella is low in spirits. Overhearing Gabriella and Troy rehearse, Sharpay asks Ms. Darbus to move the callbacks so they start at the same time as both Troy's basketball championship game and Gabriella's scholastic decathlon competition. Kelsi overhears the conversation, and the basketball and decathlon teams plan together. On the day of the competitions, Taylor and Gabriella use the school's computers to delay the championship game by hacking the power in the gym and causing a chemical reaction that forces an evacuation during the decathlon. Troy and Gabriella rush to the auditorium as Sharpay and Ryan finish their callback song ("Bop to the Top"). After Gabriella and Troy successfully perform their song ("Breaking Free"), Ms. Darbus gives them the lead roles, making Sharpay and Ryan understudies. Both teams win their respective competitions, and the entire school gathers in the gym to celebrate ("We're All In This Together").
"Honestly, that [COVID-19] is why we did the show. Mainly because it was fast and easy, and we had run it before. Some of them have expressed that 'We've been stuck outside' and 'I haven't really seen my friends'. In fact, I actually asked Childers about this in September, and I was like 'Listen, I want to start to do theater, and I want to try and maintain a sense of normality for our kids'' says Gardieff "and he was like 'Yeah, I feel that'. He was basically like 'As long as your cases stay low, and you take precautions, then go for it.'"
With the coronavirus pandemic canceling the 'Bye Bye Birdie' show last year, the theater department was left at a stand-still. The big question was what comes next and what shows would be performed; fortunately, the theater department still owned the rights to 'High School Musical Jr.' and so the bud of a promising performance sprouted from the ash.
"High school musical was very different than last time we did the show. The dynamic and sound was so different, but this made the experience all the better. A lot of work and time went into the show and it was really cool to be a part of that." says Davis.
Gallo also discusses the difference in pressure between her previous role in High School Musical Jr., and discusses how she relates to Gabriella Montez.
"Honestly, it was a lot of work, but it was something that I really wanted, so I put in the time and I put in the work to ensure that I could get there – and there were times when it was scary. Like the song "When There Was Me and You" scared me so much because there were parts of it that were a little bit challenging for my range or difficult in terms of singing style, and belting. Honestly, there were somethings about it that were really scary. I feel like this time around, I was super happy to play Gabriella just because when we initially played the show, I played Kelsi, who was a supporting role and she didn't have a lot of lines, and she didn't have her own part of song that was just hers. With Gabriella, she's the lead and she has all these lines and all these songs and so, it really made me proud of myself because it showed me how much I've grown significantly as an actor to get to the point where I did have a lead role and that was honestly really cool. When channeling Gabriella, I channeled a lot of experiences and emotions to play her just because I felt like I identify with her a lot because she was seen as the freaky math girl and who everyone thought was boring, and at one point in time people saw me as the same way because I'm smart and have good grades and people who were in extracurriculars came up and told me "When I first met you, I thought you were boring and stuck up, but when we got to talk to you that wasn't the case". I channeled that kind of emotion, of being judged before people got to really know me into Gabriella and channeled emotions into the song like "When There Was Me and You". I channeled pain that I had felt from bad experiences with people into the songs which made it even more raw and real." says Gallo.
One of the things that Gardieff had started doing in light of the pandemic was virtual rehearsals on Zoom, for those who may not have been able to attend in-person rehearsals, but this has proved to have been quite a struggle.
"Honestly, I don't think I can do it again because it is just not working. It's just hard for me to give attention — I mean I can do it as a teacher, but when I do something like I get so focused on it and I forget about everything else. So, it's hard to give attention to the people that are on Zoom and the people that I am having to deal with on stage. I usually only have two people via Zoom, and everyone else is in-person and over Zoom, there's just a delay with music so unfortunately it's just not working." states Gardieff.
AFTERSHOW
High School Musical Jr. hit it off on December 10, as people started filling in the seats. Due to the pandemic, Gardieff took precautions to limit an 80-person seating, with the addition of live streaming the performance to parents who couldn't attend or were still cautious about the environment. With minor technical issues, the performance went off with a couple of hitches but overall left the audience with overall satisfaction. The next performance that Gardieff has up her sleeve is Bye, Bye Birdie in April of 2021.
"Overall, I'm very pleased with the show. Our rehearsal on Tuesday before the show was rough but they pulled it together and theater magic kicked in. There is no such thing as a perfect performance. Even professionals will tell you this. Most of our issues were tech related. I can ALWAYS find things I would have fixed but I am super proud of everyone. Our biggest issues were tech related. I know what to do to make things better for the next show." says Gardieff. "We could have practiced that show 8 million times with tech and something still would have gone wrong. I'm just glad I'm able to bring live theater back. Many schools are having to do virtual performances and audiences. We're lucky we can do it live. I'm very much looking forward to the next show. This was supposed to be our show last spring. I recast a lot of the roles and shuffled some around. We have a small cast but I'm really excited. This was one of my favorite shows in high school and everyone enjoyed it last year. Everyone also has that energy coming from the last show and that often gets everyone through to the next opening night."
About the Writer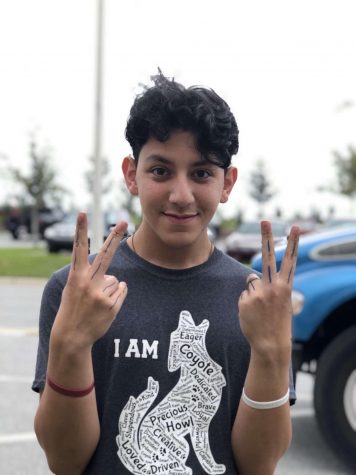 Patrick Deliz, A&E Editor
Patrick Deliz is a senior at Four Corners Upper School, in his second year with The Coyote Chronicle. While invested in the arts, Patrick enjoys photography...