Internet Sensation CallMeCarson Charged With Allegations
Accusations Against Content Creator CallMeCarson Surface Over The Internet
YouTuber Carson King, better known in the gaming community as CallMeCarson, is facing accusations of messaging pornographic photos and texts with two minors initially at 19. He is also being accused of grooming minors to solicit photos from them. Carson is currently 21 and has over 5 million YouTube subscribers across his channels, he also has 1.4 million Twitch followers. He is known for comedic commentary and for streaming "Minecraft" and other games.  
The first of Carson's accusers came forward on Twitter on January 4, 2021. A Twitter post created by an 18-year-old named Sam has since become the primary allegation against Carson. She included screenshots of the supposed Discord messages on Twitter that appear to show Carson sending sexually suggestive messages to her. "I can personally come out and say that I've been groomed by Carson. I have talked to many people and never came out about this since now. At the time I was still 17 and in high school." Sam stated in one of her Twitter posts.  
"I'm actually really surprised on the matter even though Carson makes a lot of jokes including sexual ones, but I never imagined he would really do something like this, it's kind of hard to believe, but the way I see it I don't think he is considered in the wrong if he has consent to it as well as how the laws fall in order with this." Junior Jonathan Polohronakis stated 
One of Carson's former collaborators who goes by JOKO online shared a screen recording that appears to be from a Discord chat server that included Carson. One statement Carson appears to have made in the group chat says: "I'm not into kids but I did trade nudes with people under the age of 18 which is very bad." Further down in the conversation, Carson comments on a thread of "grooming" allegations and Discord screenshots shared by Sam, writing, "I can't believe I said those things." 
"I personally think that it messed up and unacceptable, he took advantage of his fame to get to minors and that's just inappropriate. I used to watch him on twitch he was funny, but he got famous and it consumed him, it's really sad and I do feel as if he should be punished for it. I do wonder what's going to happen to him and his fame in this situation." Sophomore Ayden Gray stated. 
Some of Carson's defenders have argued that the interactions between Carson and both accusers are legal under state "Romeo and Juliet" laws, which typically allow sexual interactions between minors and adults as long as the age gap between them is no more than 4 years. However, one of the accusers, Sam, stated that she and Carson resided in separate states at the time, which would subject the interactions to the federal age of consent of 18. Sam also said she did not contact authorities because she did not believe the incident would be taken seriously as it occurred online.  
"I feel as though Carson just made a mistake and let his how he felt out instead of thinking of consequences, this stuff happens to a lot of celebrities and I feel as though they're just trying to get CallMeCarson canceled over a mistake he had made. It would be different if he continues to do this, but I highly doubt he will" Sophomore Pascalis Hartofilis stated.  
Students seem to have different opinions on the accusations that Carson faces, some believe he abused his fame to get to "fans" and others believe it was just a simple mistake he had made that he should not repeat. Carson has yet to make a statement on these accusations or his actions. 
About the Writer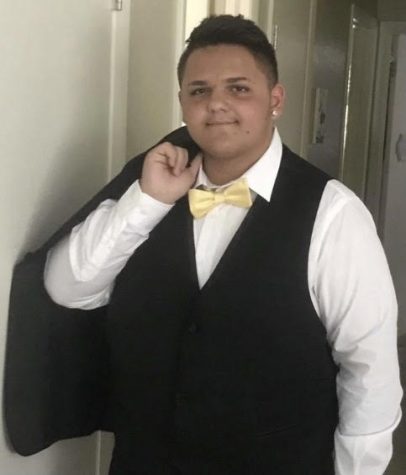 Nick Beri, Writer
Nick Beri is a junior at Four Corners High School and this is his second year working in publications but his first year on staff. Nick enjoys communicating...