Not Just Your Average Lemonade Stand Anymore
The Rise Of Young Talent In The Financial World Influencing The Market
In a deep plethora of internet forums and chat rooms, the birth of a complex financial escapade against Wall Street can be traced to a subreddit called r/wallstreetbets.
"On the stock market, you can buy shares in a company and the prices can go up or down depending on how much demand there is for those shares," journalist for BBC, Chris Fox said.
WallStreetBets (WSB) is an online society of people on a now-infamous platform called Reddit,  who discuss the fluctuations within the stock market, share their experiences, ask questions about the trading, and of course, share memes.
According to the frequently asked questions forum within the subreddit, "/r/wallstreetbets is a community for making money and being amused while doing it. Or, realistically, a place to come and upvote memes when your portfolio is down."
Yet the community made headlines on Wall Street when some of the participants amassed to orchestrate one of the riskiest financial maneuvers on the market, a short squeeze. The revolution started with Keith Gill, a financial analyst the proclaimed that GameStop was likely undervalued if it held up for the next couple of years because the transition to online purchases and downloads was slow. Additionally, approximately 84% of GameStop stocks were short stocks, meaning that the hedge funds that invested within this stock predicted that the price would drop.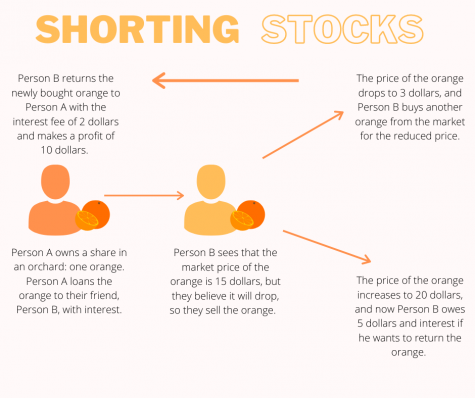 "GameStop is really an interesting scenario here because it really is a stock that can be affected by retail long holding and long buying; I think people have to understand that in some of the bigger names you know this isn't really so possible." S3 member and analyst Ihor Dusaniwisky said in an interview with CNBC.
The maneuver has not gone without controversy, however. Volatile arguments between hedge funds who short-stocked and the new wave of investors shook Wall Street indefinitely. As stock prices increased, the investors who predicted the stock would fall have found themselves owing much more than the amount they predicted or would have gained.
"The guys buying it at $300 think some greater fool will buy at $400, and so far the greater fools keep showing up," he said. "It's a pyramid scheme." Analyst Michael Patcher said.
Amidst the movement, is an army of amateur traders varying in age, one of which was 10 years old when he decided to invest in GameStop until ultimately retracting. Other young contributors have maintained their investment in the stock despite the instability and volatile growth.
"This is somewhat a transfer of power from the big guys to the little guys, or at least an eye-awakening, saying, 'Hey, we're just as much in this game as you guys are. There's nothing special about y'all," 20-year-old Hunter Kahn said in an interview with Good Morning America.
However, the rise in young amateur investors in GameStop is not the only demonstration of financial mobilization by younger generations. In August of 2020 alone a surge of young investors infused their finances into bitcoin, an online cryptocurrency.
"The two cohorts show divergence in their preference for 'alternative' currencies," Nikolaos Panigirtzoglou's analysts wrote. "The older cohorts prefer gold while the younger cohorts prefer bitcoin."
As cryptocurrency blossomed with the release of bitcoin in 2008, alternate versions of cryptocurrency dispersed into the community. The success of these independent currencies has yet to be seen because they are relatively new. Although some choose to invest in them regardless, their faith in their success is unstable.
"So Dogecoin is a nifty little cryptocurrency that was created primarily as a meme coin." Alumni Mathew Lu said. "Well I hold 15 dollars of Dogecoin, I personally don't think it's going to reach massive amounts of money but with the support of some big names like Elon Musk and Snoop Dog it rose in price a small amount."
While the market has been saturated with new forms of currency and amateur investors, other forms of business have gained traction. The accumulation of small businesses accounts for job prospect growth and expansion in employment.
"From 2000 to 2019, small businesses created 10.5 million net new jobs while large businesses created 5.6 million." The U.S. Small Business Administration wrote on their Frequently Asked Questions About Small Businesses document. "Small businesses have accounted for 65.1% of net new job creation since 2000."
Small business owners have cultivated entrepreneurs of all age groups, the standard lemonade stand was once the pinnacle for youth-led business accountability. Now teens have turned to websites like Etsy and Depop to sell their creations and make a profit.
"So the sunnyhoneybee is a little earring shop that I set up on Depop!" Junior Kayla Nazario said. "I started it because I would always get complimented on my unique earrings and I figured, why don't I make my own and share them with the world."
Opening a small business as a student presents its own set of unique challenges, for instance, time management between studying for class and preparing and filling orders can be costly if not done properly. Other issues may include developing a clientele for your business when competing with various other vendors.
"It's been interesting that's for sure. With how stressful being a junior is, with SATs and getting ready for college applications for senior year, I tend to prioritize my studies over my business," Nazario said.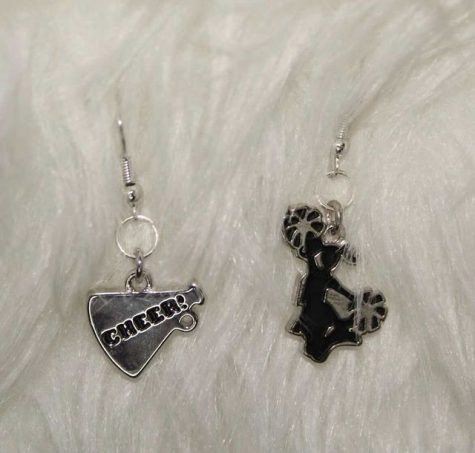 Social media extends its own advantages for independently-run businesses, particularly in its ability to promote content. Consumers may tag businesses within their posts boosting the number of shoppers. Individuals that follow the business on social media may inadvertently cause the algorithm to suggest it to their followers, therefore skyrocketing exposure.
"I think modern media is a huge influence for that (rise of small businesses), people seeing these small creators and business owners doing what they're passionate about and what makes them happy is inspiring." Nazario continued.
The migration of younger people into the realm of financial startup has not been without objection, some argue its presence at all. Although there has been an undoubtable growth within the younger generation and their participation in the vast financial opportunities of the market the field is still dominated by middle-aged practitioners.
"We found that the average age of entrepreneurs at the time they founded their companies is 42." The Harvard Business Review wrote. "But the vast majority of these new businesses are likely small businesses with no intentions to grow large."