President Biden's Mission
Biden Aims To Deliver 100 Million Vaccines In His First 100 Days Of Office
On January 25, President Joe Biden upped his COVID-19 vaccination goal to 150 million shots in arms in his first 100 days in office. Then Jan. 26, shortly after this article was first published, Biden backed away from 150 million and restated his 100 million goal. In the days and weeks before entering office, he said his goal was 100 million vaccinations. While Biden's chief of staff had called the 100 million goal "ambitious," the vaccination rate necessary to reach the mark is not much higher than what the rate was on January 20th. The Biden administration has until the end of the day April 29 to reach the target. 
Biden has emphasized that his goal doesn't mean 100 million people will be fully vaccinated, but rather that 100 million shots will be administered. After all, both the Moderna and Pfizer-BioNTech vaccines require two doses. 
Biden team said they were aiming for 50 million people to receive both doses and become fully inoculated. Then, in early January, they said the president-elect instead favored releasing most of the vaccine supply as it's produced, rather than holding back doses for people's second shots, on the assumption that the new vaccine being produced would cover those booster shots on schedule. The Trump administration, still in office, announced a similar plan. Even now, though, about two weeks into Biden's term, confusion continues to surround the implementation of that policy, which could influence the number of people who receive both vaccine doses within the first 100 days. 
At a Jan. 26 press briefing, Biden said his goal of 100 million shots "means somewhere between 60 — maybe less, maybe more — million people" will receive at least one dose of the Covid-19 vaccine. 
Some critics have said the target number should be higher. A day earlier, Biden suggested he would like to eventually increase the rate of vaccinations to 1.5 million a day. 
Whether it's 50 million or 60 million people who are fully inoculated by the end of April, that number is still well below the prevailing herd immunity threshold recommended by public health experts. 
herd immunity is when enough people in a population become resistant to a disease so that it has difficulty spreading. Epidemiologists estimate at least 70% of a population must be protected to reach herd immunity. Because it's unknown how long natural immunity lasts after being infected with the coronavirus, it's recommended that even those who have had Covid be vaccinated to reach herd immunity. Dr. Anthony Fauci, director of the National Institute of Allergy and Infectious Diseases, has suggested the herd immunity benchmark could be higher, up to 90%, especially since it seems some new Covid variants are more transmissible than the dominant U.S. strain. 
Dr. Bruce Y. Lee, a professor of health policy and management at the City University of New York, walked KHN through the math. About 330 million people live in the U.S. Seventy percent of that figure equals about 231 million. 
Currently, the U.S. has access only to the two-dose Moderna and Pfizer vaccines, meaning the nation would need 462 million doses to fully vaccinate enough people to reach that 70% mark. 
At a rate of 1 million doses administered per day, it would take more than 460 days. "Which we would reach some time in early 2022," said Lee. 
Of the estimated 330 million people in the U.S., about 70 million are children and not yet eligible to receive a vaccine, so the vast majority of adults would have to be vaccinated to achieve this level of herd immunity. 
Others have sketched out how the timeline accelerates if vaccination numbers improve. For instance, KFF chief executive Drew Altman wrote in a column that if the U.S. increased vaccine administration to 1.9 million shots a day, 70% of the population could have vaccine coverage by Labor Day. If vaccinations were increased to 2.4 million a day, that threshold could be reached by July 4. (KHN is the editorially independent program of KFF.) In addition, other vaccines are in the pipeline that require only one dose, such as the Johnson & Johnson vaccine, and could change these projections. 
At the White House's second Covid response team briefing on Jan. 29, Andy Slavitt, senior adviser to the team, said about 1.2 million vaccine doses per day had been administered in the past week. Vaccine trackers from Bloomberg News and The Washington Post also report about 1 million people in the U.S. receiving their first dose of the vaccine every day in the past week. And the Biden administration expects this number to increase significantly in the coming weeks and months. 
But roadblocks loom, including a short supply of vaccines. 
Between the Trump and Biden administrations, the U.S. has agreed to purchase 600 million doses, in all, of the Covid vaccines from Moderna and Pfizer. One-third, or 200 million, of that amount, was supposed to be delivered by the end of March. The remaining doses aren't slated to arrive until late spring and summer. 
"The brutal truth is it's going to take months before the majority of Americans are vaccinated," Biden acknowledged during his Jan. 26 press conference announcing the United States' latest vaccine acquisition. 
The difficulty of reaching people who may have trouble accessing the vaccine, such as rural residents or communities of color, could also hamper vaccination efforts. And certain individuals are likely to be hesitant or refuse to get vaccinated. 
About the Writer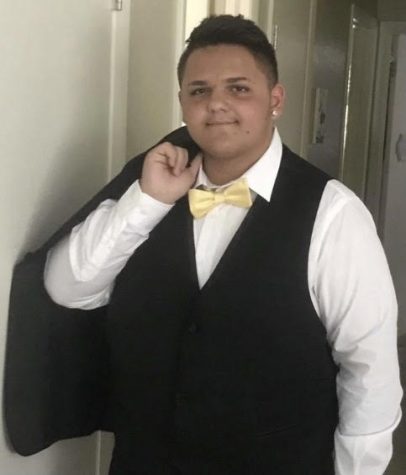 Nick Beri, Writer
Nick Beri is a junior at Four Corners High School and this is his second year working in publications but his first year on staff. Nick enjoys communicating...