Vacationing During COVID-19
Some Students Have Already Started Travelling Recreationally Again, Experts Are Mixed On Whether This Is Safe
Staying home and social distancing has become the new way of life for most people, but this past year has not been entirely travel free.  Many people have made the decision to go on vacation during COVID-19 and experts are divided over whether this decision is wise.
Making the Decision 
During March of last year, many were forced to totally abandon their travel plans, postponing every vacation or trip indefinitely.  But, when COVID-19 travel restrictions became more and more lenient, people began making plans again.  Freshman Eden Bryant described her family's decision to take a trip to California and Arizona over spring break.    
"It was kind of an urgent trip, a now-or-never thing, otherwise we wouldn't have gone as we are still trying to have as little a chance (at getting) exposed as possible."  
Bryant explained that her family had put a significant amount of thought into the decision, wanting to ensure that they were being as realistically safe as they could. While she may not have been making the final decision, her parents discussed with her the process for deciding whether or not they should go.  
"My mom basically asked how I felt about the trip itself, like if I was okay with the whole mask thing, and the possible precautions or if i would just rather not go at all. Of course I wanted to go and the precautions turned out not to be a big deal, but she was just prepping me in case. There would be no situation where we would slack on precautions, it was either "take the trip and be careful" or "stay home"." 
Freshman Josiah Farley shared that his family also discussed staying safe and travelling, mainly to keep his relatives safe.  During a trip to Georgia his biggest reason for travelling, to visit older family members, was also his biggest concern. 
"My aunt's mom is very old and has smoked her whole life, still smokes, and so the risk level for her was probably up there with my aunts and uncles over in Georgia," Farley said. "So we had to not as much like sit down and talk about it, but just I kind of realized like, all right. We need to make sure that we follow these and do these because she's at risk." 
While Farley's trip to Georgia occurred during Thanksgiving, before the distribution of the COVID-19 vaccine distribution began, he felt relieved when his older family members were vaccinated.  He explained that while the distribution of vaccines did not affect the precautions he took during his Tennessee trip over spring break, it did make him feel safer. 
"Due to there being the vaccine, now, it's a lot lower risk that older people are going to get it, or younger people are going to get it from other people, and then spread it to other people," Farley shared. "I just in general felt better about going now that there was a vaccine, I felt kind of at ease, I felt like there was a weight lifted off my chest."  
Freshman Erin Foley's experience was very different, while she and her family tried their best to social distance and wear masks, the vaccines were totally irrelevant to her travel plans.  She travelled to Puerto Rico in February to celebrate her birthday.  
"I'm already comfortable with it," Foley said.  "But a vaccine for a virus cannot make you feel comfortable (even) if I were to, like, believe that the vaccine would work, in my opinion, because, I know this is very biased, but how are you going to get a vaccination for a flu that mutates a lot and constantly? There's no vaccine for it?"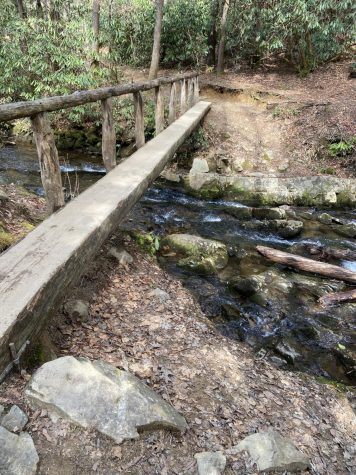 Precautions 
When travelling during a pandemic taking safety precautions is more important than ever.  The Centers for Disease Control (CDC) currently recommends that people do not travel, but it does have some recommendations for those that have to travel.  These include wearing a mask, staying six feet away from others, getting tested before and after your trip, and self-isolating once you return, even if your test result is negative.  Bryant explained some of the precautions her family took while flying.   
"We were very responsible and safe as a group, but also other people were respectful and kept their masks on and over their nose," Bryant said. "The only time we were allowed to remove it on the plane was to eat or drink and people seem to obey that pretty well, especially for a long flight."  
Bryant and her family spent their time in California visiting family and though they took precautions in public, Bryant explained that they did not find it necessary to wear masks and social distance around family members.  
"They hadn't seen us in years so they really wanted to see how we have grown, plus we would go for hours on end and it would be very difficult to bear," Bryant explained.  
Farley's trip to Tennessee did not involve being tested for COVID-19, since his family drove, meaning a negative test was not required for travelling.  However, his family still took steps to ensure the safety of their trip.   
"A lot of the places we went had regulations, even though in Tennessee, I can't say that they follow them that strictly," Farley stated. "It was kind of funny to see. But I wore my mask and my family wore their masks. So other than that, not too much changed."   
Foley shared that there was a mask mandate in Puerto Rico and on the plane, with the exception of when passengers were eating or drinking. The plane was also cleaned before her flight, but the airline she was on did not distance its passengers at all, the plane was full.  
"I know that planes are taking the precautions like before they take time between every departure to clean the seats and they'll do sanitation, and you walk in and you can smell it I don't know about all the airlines but the airline I (went on) did it at least and the airline that I went to as well, they filled all their seats so there wasn't any spacing"
Experts Weigh In  
Currently, the CDC is against all forms of non-essential travel and flight, even for people that are fully vaccinated.  It also has a scale for how dangerous travelling would be, the safest being short car trips with members of your household and the most dangerous being flights with layovers or vacationing on cruise ships. The agency believes that the risks of travelling during this time are too high, especially since a person could catch COVID-19 and not be aware of it. 
"Travel increases your chance of getting and spreading COVID-19. Anyone can get very ill from the virus that causes COVID-19, but older adults and people with certain underlying medical conditions are at increased risk for severe illness from COVID-19," the CDC states. "If you get infected while traveling, you can spread the virus to loved ones when you return, even if you don't have symptoms."   
However, CNN Medical Analyst Dr. Leana Wen explained that she was fully in support of travelling, so long as those involved were vaccinated.  She likened the danger of travelling to the danger of visiting loved ones, labelling the CDC as overly cautious in their decision to continue to stand against travelling.  
"It just doesn't make sense that you can't travel, especially if now you can get together with loved ones.  I think people are eager to see their grandkids, who they don't necessarily live with, and so I think it's really important to give the guidance about travel," Wen said. "And I actually would go further and say that people who are fully vaccinated should be able to travel, should be encouraged to travel, and that's one of the incentives we can give."  
The CDC continues to stand against vacations, especially with concerns that fully vaccinated people could still spread the virus.  It has yet to be proven if this is possible, but the CDC advises against travelling or visiting people that are at an increased risk for developing severe symptoms if they catch COVID-19.  Concerns of infection despite vaccination likely contributes to the CDC's stance on travel as well.  
Still, there is some evidence to suggest that one of the greatest forms of protection against COVID-19 is being a child.  The odds of the average child becoming sick or spreading the disease is significantly smaller than for the average adult. Even when children do get sick, they are significantly less likely to become seriously ill.  Emily Oster explained these numbers, based on findings from the CDC, in an article from The Atlantic.   
"For comparison's sake, I'll phrase the findings the way I would the results of a vaccine trial: Being a child aged 5 to 17 is 99.9 percent protective against the risk of death and 98 percent protective against hospitalization. For children 0 to 4, these numbers are 99.9 percent (death) and 96 percent (hospitalization)," Oster wrote.  
For adults though, the risk of causing an outbreak is very much present.  Miami has been dealing with major rises in COVID-19 cases, which can be attributed to out of state spring breakers refusing to follow COVID-19 safety guidelines.  The New York Times reported that entire state, not just Miami, saw an 8% increase in cases.   
"I believe it's a lot of pent-up demand from the pandemic and people wanting to get out," David Richardson, a member of the Miami Beach City Commission, said in an interview with the New York Times. "And our state has been publicly advertised as being open, so that's contributing to the issue." 
Regardless, experts remain divided on what level of travelling is or is not appropriate, leaving families to make the decisions for themselves.  Balancing the risks and rewards of travelling can be difficult and sometimes there is no right answer. Masks and social distancing may help, but there is no sure-fire way to stay away from COVID-19 entirely.  
"Try your best not to but if it's urgent, just be careful and do your best to keep others health in mind," Bryant said. "We all need to work together during this pandemic."