Bye Bye Birdie
Students Recreate The Well-known Sixties Musical "Bye Bye Birdie"
Students at FCUS performed the well-known musical "Bye Bye Birdie", directed by acting teacher, Julie Gardieff. Middle school and high school students have pushed through many challenges their way to create a beautiful show, that shows how in the end, hard work pays off.  
"Bye Bye Birdie was supposed to be our spring 2020 musical.  In the Broadway world, doing shows that were planned for spring 2020 is called the Sunshine Song.  Not all schools were able to do this.  We are fortunate that we were able to recast and shuffle some things around.  The reason I originally chose it was because they wanted to do Grease, but it was SO much money," Gardieff said.  
Trying to find a show that was both cost effective and liked by students seemed like a challenge, but after deciding on "Bye Bye Birdie" they all felt as if they would enjoy performing it while also accepting the fact that they have a budget.  
"When I asked some of the kids why they wanted Grease at first they said because of the fun group numbers and the girls got to wear poofy dresses.  With Birdie, you also don't need a lot of boys and at the time, I didn't know how many we would have so it was a good fit for us." Gardieff said.  
Since "Bye Bye Birdie" had an integrated cast and crew full of both middle school and high school students, there was an obvious age difference between many students.  
"Surprisingly a lot of people would think that it would have gone badly because of the different ages and grades but everyone was professional, and it created sibling like relationships between some of us." Junior Kayla Nazario said. 
Nazario played Ursala Merkle, which is the hyper -enthusiastic teen-aged girlfriend of Kim's who leads the fans screaming for Conrad Birdie. Nazario explains that she found herself heavily relating to her character.  
"Although she is a supporting character, she has some wonderful moments. As Kim's number-one confidant, she is always looking out for her best friend's interests, Ursula offers wise council to Kim in times of need. In my friend group I feel like I bring the same kind of helpfulness when someone needs advice, so me and Ursula connected in that way." Nazario said.  
Amidst of all the fun and creativeness, there were still challenges that the cast and crew encountered in the days leading up to the opening night of "Bye Bye Birdie". 
"Some of the main challenges of Birdie was the fact that there is obviously COVID so we have students that are hybrid so they would only be able to come to rehearsal some days and it was a whole lot of "well what can we do?" Junior Leah Rodriguez said. 
Rodriguez played the sister of Ursula Merkle, known as Deborah Sue Merkle. She mentions how this role made her notice how different life was back then to how it is now. 
"Birdie started off in the late 50's, which is obviously a time ago, so it was interesting to see how women would dress or how different society's standards for both men and women were."  
While working their way around the global pandemic, it was difficult to get hand on a large group that can accommodate both the cast and crew members. So Gardieff and theater members had to improvise.  
"Creating theater at a school that has no theater is a challenge in itself but we make it work.  This year we had all the additional challenges that COVID and this school year in general brought.  When we got out last year, we had a cast of over 40. When we performed it, we had a cast of half of that." Gardieff said. "We had a lot of seniors in the first cast, so they all graduated.  I had to recast every male role.  Everyone had more responsibilities.  Many people had to play multiple roles.  Add all the challenges that theater in general presents to a pandemic (with masks and social distancing) and it could be overwhelming." 
Operating under COVID-19 restrictions, the cast faced many tough decisions to ensure their safety.  
"We were initially going to sing without mask but then we needed mask, so it was a lot of "how are we going to do this while also abiding the covid laws, but in the end, we ended up getting clear mask so that way we could have a performance as it we didn't have mask but still have the protection and everything." Rodriguez said. 
Even though the theater community had faced many hardships while creating this show, it ultimately worked out and allowed students to grow and learn about accountability and being there for your peers. 
"I think the cast downsizing was one of the best things to happen to this show.  It made us stronger as a cast and it taught the performers valuable lessons about teamwork, perseverance and flexibility. As far as the COVID things, we just dealt with them because being able to do theater was something these kids desperately needed." said Gardieff. "It restored a sense of normalcy at a time when the world isn't normal.  We ran our rehearsals like we used to, just on different days of the week to accommodate different people being on campus and we wore masks."  
The process of creating "Bye Bye Birdie" allowed the cast and crew to flourish. They have spent many hours together while being in rehearsal and from their previous shows.  
"For this show we tried to learn from our past mistakes that we have made with our productions like High School Musical, so we can improve as a cast and crew and honestly, I would say that the biggest issue would be rehearsals because we undersold ourselves and we were never entirely pushed to be our best until show night and we all didn't have an issue with each other as a cast but there were still times were we wanted to kill each other." Nazario said. 
Overall, it is safe to say that the long hours of rehearsal or the many complications that the cast and crew of "Bye Bye Birdie" encountered weren't going to get in the way of students creating an outstanding musical that is a prime of example of how hard work pays off.  
"This was hands down the best show I have ever directed.  I don't know if it was because we spent so much time working on it (about half the cast had been part of this show for over a year), because we went through so much to get to opening night or everyone was so grateful to be able to do something normal after the world being not so normal this past year.  It was probably a combination of all these things.  Regardless, it made everyone really close, and we have set a high standard for ourselves for years to come." Gardieff said. 
About the Writer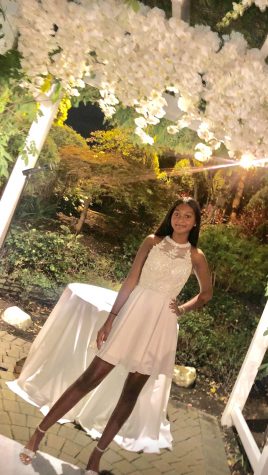 Cianna Sulaiman, Writer
Cianna Sulaiman is a sophomore at Four Corners High School and this is actually her first year on staff. She enjoys playing volleyball , singing and also,...