Oscars – Rise or Fall of the Entertainment Industry?
Since 1927, the Oscars have always been an anticipated event, as we see celebrities walk across in their best clothes and brands across the red carpet before nominations and winners are announced. However, since the COVID-19 outbreak, it really has taken a toll on the entertainment industry which brings the question – are the ceremonies worth watching anymore?
WINNERS
Actor in a Leading Role – Anthony Hopkins ('The Father')
Actor in a Supporting Role – Daniel Kaluuya ('Judas and the Black Messiah')
Actress in a Leading Role – Frances McDormand ('Nomadland')
Actress in a Supporting Role – Yuh-Jung Youn ('Minari')
Animated Feature Film – 'Soul'
Cinematography – 'Mank'
Costume Design – 'Ma Rainey's Black Bottom'
Directing – 'Nomadland'
Documentary (Feature) – 'My Octopus Teacher'
Documentary (Short Subject) – 'Colette'
Film Editing – 'Sound of Metal'
International Feature Film – 'Another Round' (Denmark)
Makeup and Hairstyling – 'Ma Rainey's Black Bottom'
Music (Original Score) – 'Soul'
Music (Original Song) – 'Fight for You' (from 'Judas and the Black Messiah')
Best Picture – 'Nomadland'
Production Design – 'Mank'
Short Film (Animated) – 'If Anything Happens I Love You'
Short Film (Live Action) – 'Two Distant Strangers'
Sound – 'Sound of Metal'
Visual Effects – 'Tenet'
Writing (Adapted Screenplay) – 'The Father'
Writing (Original Screenplay) – 'Promising Young Woman'
BREAKDOWN AND RECAP
Heading into the 93rd Oscars held amid an ongoing pandemic, it was clear things were going to be different. Most people at home watching were prepared to see something off-brand and unusual, and the Oscars did not fail to disappoint in that regard. Only nominees and their plus ones were invited to attend and those who could not be there in person were wired in from select locations around the world.
As to not leave thousands of empty seats in the Dolby Theater, they occupied the former ticket concourse of Union Station. An orchestra had been swapped for a DJ Questlove, the original song nominees were performed during the pre-show, and for the third time in a row – the Oscars ran host-less.
Filmmaker Steven Soderbergh led producing duties of the award show itself, teasing that the ceremony would be made as if were a movie and when it was time for showtime, he seemed to make good on that promise. A wide screen format, popping opening credits, and one shot following Regina King into the make-shift auditorium. The main space was shockingly small compared to what we have become accustomed to, which really showed how few people are Oscar-nominated in a given year.
As if those changes were not enough already, the producers saw fit to scramble the order in which awards would be given that we have grown used to over the years. They even altered how the nominees were named, swapping out the tried-and-true highlight reels and clips for a more "anecdotal" approach. It felt like a ceremony solely for the people in the room, and the few of us at home who already knew about the nominated films.
Instead of starting with "Actor in a Supporting Role", they began with awards for "Original Screenplay" and "Adapted Screenplay" – going to 'Promising Young Woman' and 'The Father', respectively.
Surprising nobody, Daniel Kaluuya won 'Best Supporting Actor' for 'Judas and the Black Messiah' and delivering one of the most memorable speeches of the night – especially when he revealed how he came into this world, much to his mother's embarrassment.
Mia Neal and Jamika Wilson made history, becoming the first black winners of the 'Hair and Makeup' Oscar for their work in 'Ma Rainey's Black Bottom'. On that same note, Chloe Zhao became the first woman of color and only the second woman in 93 years to win the 'Directing' award after Catherine Bigelow, which was a big and historic moment that felt slighted by the circumstances and the premature placement of the award. And then the contentious actress in a supporting role race was finally decided in favor of Yuh-Jung Youn for 'Menari.'
Viewership for the annual Oscars telecast plunged to a new low, with 10.4 million people (about half the population of New York) watching to find out which film took home the best picture prize, according to Nielsen data. That is a 56% drop from the 23.6 million viewers that turned on their TVs for the program last year.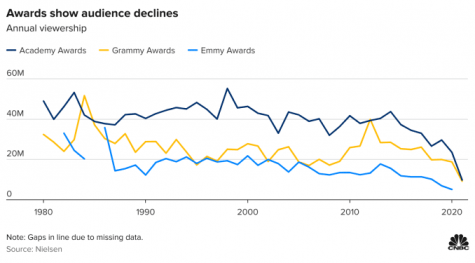 Considering the circumstances, and the heavy toll that the COVID-19 pandemic has taken on the Entertainment Industry, there is effort put behind these events. With new ways to communicate and connect, we have had and seen technical issues throughout this year. Despite this, we are all trying to adapt and accommodate some form of normalcy into this era. Hopefully, circumstances are better next year and have a better turnout in viewership for these traditional award ceremonies
About the Writer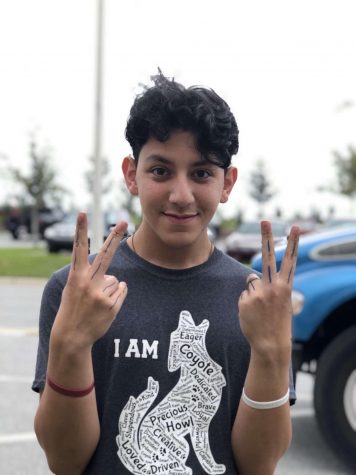 Patrick Deliz, A&E Editor
Patrick Deliz is a senior at Four Corners Upper School, in his second year with The Coyote Chronicle. While invested in the arts, Patrick enjoys photography...