The Passage of The Parental Rights in Education Bill
The Parental Rights in Education Act has sparked the latest American cultural war, which has targeted children with a combination of book bans, Pride flag removals, and LGBTQ-specific legislative action.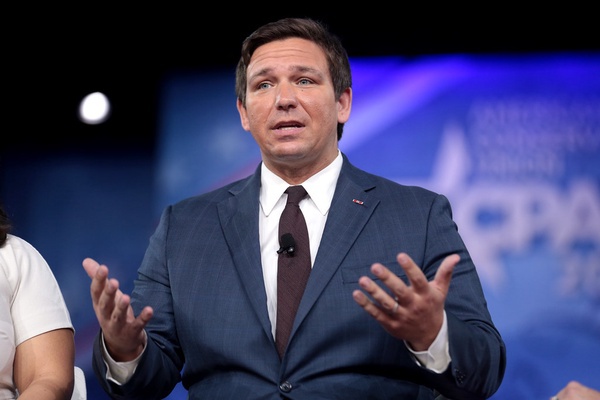 The Parental Rights in Education Act, otherwise known as the Don't Say Gay Bill, was signed into law on March 8th and will be implemented in schools as of July 1st.  
The authors of the bill state that their goal is to prohibit "classroom discussion about sexual orientation or gender identity." Although, later in the bill, it is also specified that "classroom instruction by school personnel or third parties on sexual orientation or gender identity may not occur." 
"Sometimes you can't talk to your parents, and you need to talk to somebody else. And I like to be in that safe space that students feel comfortable talking to me about it," Business and Personal Financial Literacy Teacher Mrs. Holly Schmitt said. "They'll have to fire me, I would never." 
The bill, which was primarily passed along party lines in both legislative chambers, has led to the latest American cultural war, which has targeted children with a combination of book bans, Pride flag removals, and measures directed at LGBTQ children. The bill has piqued the interest of international periodicals, Hollywood performers, and the White House. Supporters argue that the bill provides parents more control over their children's education, while opponents argue that it discriminates against LGBTQ people. 
"I am deeply concerned that the so-called "Don't Say Gay" bill recently passed by the Florida Legislature will make Florida a more dangerous and unwelcoming place for many young and all LGBTQ+ youth," Sophomore Jadalyse Dominguez said. "For young people, having a safe place to turn is critical and could save lives. For many of the LGBTQ+ youth, home is not a safe place, and many don't feel comfortable being themselves."  
In kindergarten through third grade, the bill prohibits classroom instruction on gender identity or sexual orientation by school administrators or other parties.  It also prohibits such teaching in a manner that is not age appropriate or developmentally appropriate for students, which critics argue may apply to all grade levels. Parents have the right to sue school districts if they believe they have been violated.  
"If they think I'm going to go ahead and tell their parents, 'Oh, I think your son or daughter is gay, like, no, that's none of my business." Mrs. Schmitt said.  
Students being bullied at school can and will affect all areas of their lives. If they face a lack of support at home or know that being 'outed' (having their sexual or gender identity revealed by someone else without permission) to their family will permanently harm their home lives. The bill does not account for this, and instead focuses on the rights of the parent over the student.  
"I know how important it is to empower parents in this relationship. I want to encourage parents across Florida to own it," Republican Senator Dennis Baxley said. "They're your kids, and it is tough — it's tough to figure out what influences will be on them and what kinds of decisions they will make and how that all comes out."