Coyotes Take Home Field Advantage
Baseball team inaugural season closes out their season with 5 wins.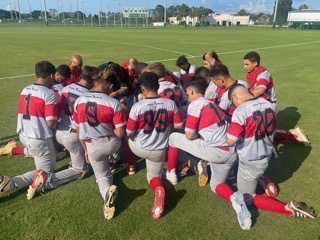 Boys' varsity Baseball team brings home first home game win in new field.  
On Saturday April 16th, the Coyotes were set to face off against the Frostproof Bulldogs at the new home field. The game lasted for just a little over 2 hours, both teams played admirably but, in the end, the Coyotes came out on top and won 13 to 6 adding to their win streak.  
"I am extremely proud of how far we have come since January" Baseball Coach Joseph Morgan said.   
Before the game began, Henry Milligan, Joesph Childers, and Deon Shazier all threw the first pitches of the game. It is the first game the boys' team got to play on the new home field in Plant City in their game versus the Frostproof Bulldogs.   
"Yeah, we are excited and thankful, it's a gift and privilege because of how hard we have worked" Junior Carlos Pacheco said  
It is the first year the boys' varsity baseball team has played, and they have won 5 games out of 7 in the inaugural season, they have set standards and goals for next year's team to live up to and surpass.   
"Me and the team have set a good example for next year's team, we worked hard, and we did our best, but I feel like we can do better," Carlos Pacheco said    
Though the season has ended, the boys' team has put on an incredible display of Goodsport Manship, and discipline. Fans and parents cannot wait till next year to see how the coyotes will come back and exceed expectations.   
"Ending the season with 5 wins is something I am proud of and encouraged about the future of FCUS Baseball" Joseph Morgan said