The Last Hit!
Volleyball season comes to an end!
Varsity Volleyball started their season in the fall of the school year. While the team came on top winning 6 out 10 games being played, with a 60%-win rate, they hit some rough patches through the season like loss games and having injured players.  
"I think the season had a lot of obstacles that we had to face and overcome but overall, I think that we handled it to the best of our abilities," Senior Varsity Volleyball player Brianna Moore said. "With you know having a new coach, obviously having a new team, but I think overall we did pretty good."
They kick off their season against New Dimensions, the Coyotes being the home team. Winning both the first and second set 25-19. While the third set went to overtime, New Dimensions winning 26-24. The fourth set was in favor toward the coyote winning 25-18, winning the game 3-1.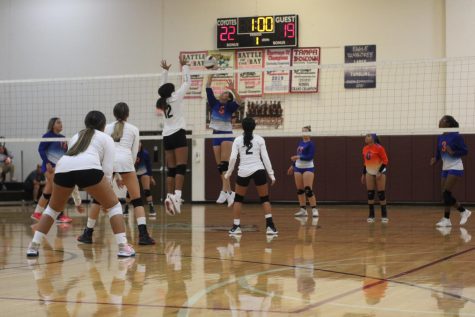 "I think our team needs to improve on attitude and mindset. It's mainly within yourselves than its with other player," Moore said. "When you're thinking like negatively by yourself because you messed up one time, it takes energy out of other people to lift you up and then they wasted that good energy that they have and everybody just feels like crap at the end of the day."  
The first away game for the Coyote did not go as planned as they lost 3 sets to nothing against Ridgeview Global Studies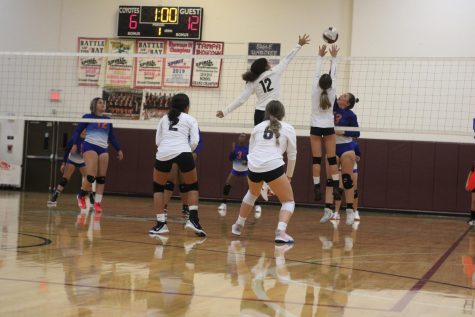 Academy Explorers Varsity Girls Volleyball Team. Losing the first set 18- 25, second set being 10-25 and last being 8-25.  
"Our chemistry is not the best, but we can always find a way to work together." Senior Gabriela Rebello De Silva said  
The Coyotes victory against New Dimensions let them have a 2-win streak. The game against Master Brighton Lake Academy was an intense game, where the Coyotes were losing 2 set nothing, however they made a comeback winning 3 sets back-to-back, winning the match. While the rematch between the Coyotes and New Dimension was completely different, the Coyotes won 3 sets to nothing.  
"My favorite moment this season was Senior Night," Rebello De Silva said. "Because it was a game that took a lot from us, by helping us working together." 
On Senior Night, the senior players stepped onto the court wearing their uniforms one more time. The game was being held at home, where the Coyotes were playing against Mater Brighton Lakes Academy. A team they have successfully defeated before, and that night was not the exception. The Coyotes won 3 sets to nothing, MBLA not giving a fight.  
"This season was pretty rocky, we had our ups and downs," Junior Karina Cruz said "More downs than up."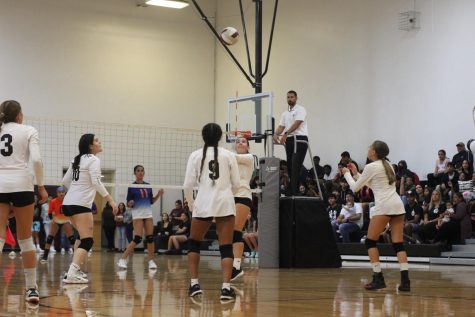 The Coyotes started their district tournament, after their victory against MBLA. Their opponents were Windermere Prep who they have not played before. The Coyotes fell to Windermere Prep 3 sets to nothing.  Volleyball season comes to an end
"My favorite moment this season was with Bri and Andrea, when we will pepper (a warm-up drill, in where 2 or more players pass to each other, is used to practice and perfect ball control) with each other before games," Cruz said 
Due to the loss against Windermere Prep the volleyball season has come to an end, it was the last time the seniors step on the court, representing their school's colors.  
"What I enjoy the most about volleyball, I enjoy getting a good point, like a good hit, a good set," Moore said, "The hype that comes with it, and I get goosebumps, because you did so good, I love that moment."  
Leave a Comment
About the Contributor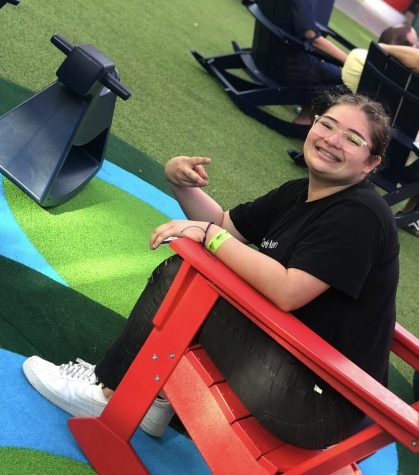 Karina Castillo, Writer
Karina Castillo is a Junior at Four Corners and this is her first year on staff. She was born and raised in Puerto Rico until she was 12 years old, to...