Thespians are Headed to States!
Thespian Troupe Brings Home Award After District Competitions
Thespians Troupe 10008 competed in the District 11 Individual Events competition and the One Act Festival for the first time and will be competing at the state level in March.
The competitions included many schools, each competing in a number of different categories, including improv, monologue, playwriting and more. The troupe won a variety of awards, including Freshman Mei Bates who performed two monologues
"When you do monologues you have to do two, so you have two different emotions," Bates explained. "My serious one was from the play Prodigal Son which was the one that I think really gave me that boost up of going to being able to go to states. And then my funny one was from I Hate Hamlet."
Bates' performance earned them a "Superior" award, meaning that they will compete again at the state level in March. They particularly liked their Prodigal Son monologue, which was called "Someone Saw Me". Although someone else was originally going to perform it, Bates ended up asking them to switch and practicing it in front of their classmates.
"I ended up performing in front of class. And when I tell you the room was like screaming, it was the most surreal moment of my life," Bates said. "And he [the other student] looked at me and he said, 'I'm glad I let you perform it because you did 10 times better than I ever could'."
Bates' excitement about their own performance at the competition also extended to their fellow thespians, especially during the One Act Festival, where they worked on the lights.
"I will say that I'm an emotional person. So it doesn't take a lot to make me cry. But when we went, the two main actors did end up making me and a bunch of other people in the audience just sob tears," Bates said.
Even though many performers were nervous ahead of time, both Bates and Sophomore Loriana Thompson found the group growing close.
"Being able to meet often, and talk to everyone and get to know them better was really fun, because it made going to the competition's a lot easier, because we were all comfortable with each other by then," Thompson shared. "And it was just a matter of keeping everybody energized and happy and not nervous."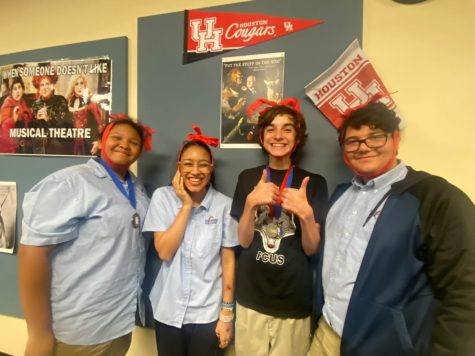 Thompson participated in the One Act Festival, in the play Sending Down the Sparrows, which won an excellent award, meaning the actors involved will also be moving onto states. One student, Senior Gabriel Morgan, even won an All-Star Cast Award. Thompson played the role of the nurse, one she found easy to embody.
"It was pretty easy. I kind of took her role as like a motherly role. Just like a person that likes to help people," Thompson said. "So it wasn't really that hard, I enjoyed it. It was very fun. "
Despite some nerves initially, Thompson enjoyed performing, and was especially excited to have her mother attend the competition and watch her perform.
"My mom came with me to the competition, so just when I was doing my piece and just looking at her and seeing her reaction to it and seeing her just being so proud of me was definitely a moment I really liked," Thompson said.
Two other pieces performed for the competition were August: Osage County and The Revolutionist. Both of them earned excellent awards. The former is about a trio of sisters, including the 'dumb' sister, played by Freshman Nevaeh Jackson.
"I was the dumb sister. Okay, let me rephrase that. I was a sister that was like, paying attention to the wall, while [the other sisters] were arguing behind me," Jackson explained. "So I was the middle child, basically, which I used to so I really like embodied that. It was really nice, like an outside view of how it feels to be like part of that family."
Like Thompson, Jackson also found herself a little nervous before actually getting on stage. Along with her fellow thespians, she managed some last minute practice.
"We weren't mad at each other because we were so focused on our life and didn't really pay attention to anything else," Jackson said. "But at the end of the day, we were still like a whole big family."
Both the One Act Festival and the District Competitions went extremely well for the thespians. Out of the pieces that were performed, six of them will be brought to the state level in March. This achievement was one that made listening to the award announcements so exciting.
"We were all just like screaming and laughing and getting in each other's faces, like really excited and happy," Thompson said. "[It was] just kind of like that weight being off of our shoulders."
Leave a Comment
About the Contributor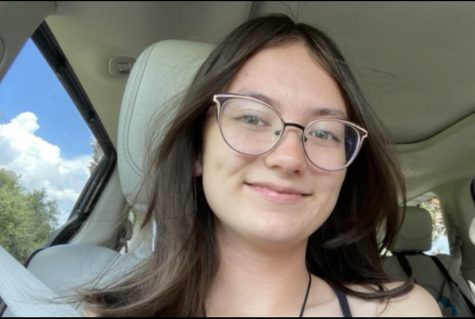 Kate Stout, Editor-In-Chief
Kate Stout is a Junior and this is her third year on staff. She joined journalism to expand her writing and editing skills. In the future, she would like...