How Are Dissections Helpful?
The Biomedical Innovations Class Dissects Fetal Pigs
The biomedical innovations class held its first fetal pig dissection in an effort to give students a hands-on learning experience. 
The dissection lasted several days, and was meant to mimic a human autopsy due to the similarities in human and pig anatomy. The class also watched a video of an actual autopsy ahead of time so that they could better understand the process. While Junior Emma Trumpy initially felt some trepidation about the act of cutting open an animal to dissect it, she found herself enjoying the process. 
"The best part of the body was the heart. The heart had arteries and everything was mostly intact. And also, like the other parts of the body, were also in there and just seeing them and like holding them. They were all cold and like, slimy, but it was cool. Honestly, it was interesting." 
The class broke up into groups of two or three to work, each working with a single pig. During the dissection the organs of the pigs were removed and weighed, students recorded these measurements to compare with the rest of the class. 
Senior Isaiah Smith explained that this was an opportunity to actually touch and interact with organs that had previously only been discussed in the classroom, "It really gives you like that, like, real life feel. So like, what I mean (is that) you're getting to touch the organs, you know, feel how heavy they are, the texture. Obviously, it's not going to be, you know, the same texture as it isn't a human but it would be very similar."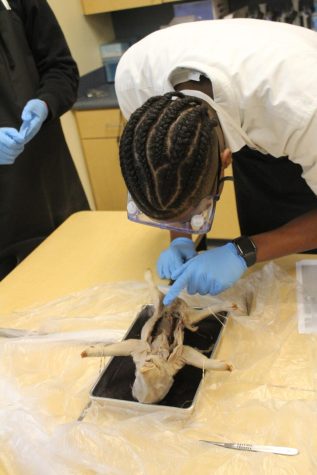 The dissection fit into the forensics unit of biomedical innovations curriculum, which involved giving students an opportunity to examine hypothetical situations in which a person died in an effort to better understand the practical applications of what they had already learned in other PLTW (Project Lead the Way) classes like Medical Interventions or Human Body Systems. 
"The BI (Biomedical Innovations) class is the final class in the PLTW biomed program. The intention is just to kind of wrap up what we did in MI (medical interventions) and PBS (principles of biomedical science), and HBS (human body systems). It is kind of a research class. So students have more free rein, but they also work a lot in groups. So they have different problems that they solve, or attempt to solve," Science and Biomedical Innovations teacher Ms. Karen Tripp explained. 
Due to restrictions in classroom activities related to the Covid-19 pandemic this was the first year that students were able to partake in the dissection. Smith took the activity one step further, he brought his own suturing kit from home to practice after the dissection was complete. 
"I practice suturing as, you know, a skill that surgeons really need and I want to be an orthopedic surgeon," Smith shared. "So yeah, I really wanted to just because the kits they give you come with silicone pads to mimic human skin. And you know, we're dissecting the pig so I felt like it would be cool and good practice to suture on something that has similar anatomy to humans."
Despite only completing a few stitches, Smith did find it to be a helpful experience since it provided an experience more similar to what he would encounter in the future as a surgeon. Smith was not the only student in the class with ambitions to pursue medicine though, Trumpy explained that she is hoping to pursue veterinary medicine after graduating high school.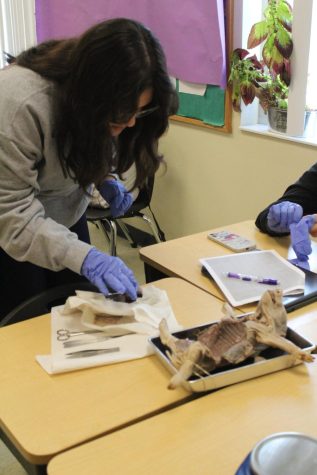 "I just want to be able to help animals and I really do love animals like they're such unique and precious creatures, I love them," Trumpy said. "But with the PLTW classes, they definitely help because it's kind of like, definitely setting in stone that I do want to do this."
For all students that participated, the dissection was a way to engage in a hands-on way with otherwise potentially difficult to visualize topics. Tripp found this to be an exciting opportunity for students to directly experience and see the anatomy most have spent years studying. 
"I just feel like for the students it's such a good opportunity to be able to actually sit there and like, like, see an organ, not just look at pictures of an organ," Tripp said. "And there's a lot of the students here that have never (done) a dissection because we don't do a ton of them here. So they're really interested in doing it."