Mario Movie Review
Full Review of 2023's the Super Mario Bros Movie.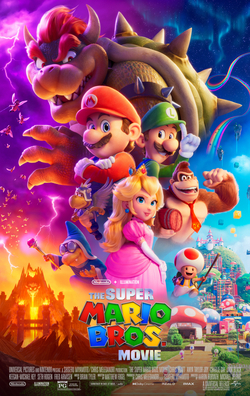 Let's a go! The Super Mario Bros. Movie hit theaters on April 5th, 2023, and as expected, it was an immediate smash hit, quickly becoming one of the highest grossing animated movies of all time, with very high praise from fans of the Mario series outlining the great fan service the movie delivers to its massive fan base, but does the Mario movie truly deserve all this praise and success?
The Mario franchise is by far the largest video game franchise in the world, with over one hundred games, there is a very huge fan base for anything related to Mario, so it seems like a no brainer that Nintendo, the owner and creators of the Mario franchise, would dip their toes into the movie business with their mascot. An attempt at a Mario movie was made before with the live action 1995 film Super Mario Bros., but that movie was considered a cinematic failure and is often forgotten nowadays. Now, with animated movies, especially superhero movies, bigger than ever, Nintendo tried one more time to deliver something epic in the form of Aaron Horvath's The Super Mario Bros. Movie, distributed by Illumination.
At first, it seemed the unusual cast of Chris Pratt as Mario, Anya Taylor-Joy as Princess Peach, Seth Rogen as Donkey Kong, and Jack Black as Bowser would be the detriment of the movie, but as it turned out, the cast delivered an exceptional job with the roles they were given. The most eyes were on Mario himself (Chris Pratt), with most thinking that he wasn't capable of voicing the mustached plumber, but he actually does a very great job with the role, and it is very hard to tell Chris Pratt is voicing Mario, which is a good thing depending on who you are speaking to. The real star of the show is Charlie Day's Luigi, who sounds like he was ripped straight out of the video games and pasted onto the big screen. His voice and emotions are spot on for the green brother, and it is really special for all fans of the franchise. Equal praise goes to Jack Black's Bowser, Anya's Peach, Keegan Michael-Keys Toad, and most of the cast performing the best they could with video game characters who don't usually talk.
As with every Illumination film, the Super Mario Bros. Movie has amazing animation. The design of Mario and every other character looks great, just like how anyone would imagine they would look in video games. The iconic designs make it impossible for anyone to be confused on which character is which and the movie does a great job showcasing those memorable features.
With the actual movie itself, the plot is very well crafted. Normally, it is difficult to apply a plot of a 20–40-hour game into a movie format, but the Super Mario Bros. Movie manages to overcome that barrier and deliver an amazing story that fits perfectly with the theme of Mario and has plenty of potential for numerous sequels. Mario is a massive franchise, meaning they have a lot left to do on the big screen that wasn't delivered in this movie, and that is unfortunately the first big downside of the movie. It is very short, clocking in at just barely an hour and a half. With this comes a very rushed plot with only around twenty scenes that are sometimes less than five minutes long. This leads to rushed plot points that makes the movie seem like a short television show, which is never good for a movie. At one scene you will have Mario and Luigi in Brooklyn, then in a matter of seconds they are already embarking on a big quest, which itself also feels very rushed. Another downside is that this rushed plot leads to much less character development, meaning only a few characters can share the spotlight with Mario and Princess Peach.
The Super Mario Bros. Movie does what it wanted to do; it delivers a great fan service to average fans of the franchise. If you know nothing about Mario, then you would not enjoy this film. Fortunately, Mario is a household name, so most millennials and Gen Z would enjoy this movie, as they grew up with the characters, although only the most extreme fans can catch all the references, and there are plenty of them in this fun and thrilling.