The Eras Tour
With Taylor Swift being on Tour and coming to Florida she had fans awaiting her left and right; eager, and excited to see her perform. 
Going into the tour Taylor Swift fans, otherwise known as Swifties, have high expectations knowing that a lot of her other tours have been such a big success.  
"I'm expecting for it to literally be mind blowing. I mean, I'm expecting to like, I can't even put it into words. I'm expecting to be flabbergasted basically," Junior Margaret Potter said. 
To be able to go to the tour Swifties had to go through a rough process where they had to sign up to get an email to a presale and from there try to get the concert tickets. 
"It was a process. I signed up for presale, I got the pre-sale email and then when I went to go get the tickets, I was at school, we skipped our seventh period to try and get these tickets. We logged into a school computer, and it wasn't loading and nothing was loading, and we kept trying to get these seats and it just kept saying oh sorry these aren't available," Potter said. 
Ticketmaster was giving out tickets to fans who unfortunately were not able to get any during the original presale and for some Swifties like Potter that was their saving grace. 
 "Then we were like oh we didn't get the tickets no, and then a couple of weeks later I got an email saying I was selected by Ticket Master to get two tickets and they would say what seat I'm getting how much I'd pay, and it was just too good, and I actually got the tickets. It was a long and real hard process," Potter said. 
Some fans went through the process and were still unfortunately not able to claim any tickets to a show even after trying so hard. 
"I tried really hard, but I do not get to go. It was exhausting we were on the website for hours and we were in the Capitol One group of people who were approved as "official swifties" and stuff and we still didn't get the tickets which was really sad and super disappointing," Sophomore Madeline Seaman said. 
For The Eras Tour, tickets are more expensive than any of her other tours or concerts usually are. The prices ranged from $100 to $1,000+ dollars. Some fans felt like these ticket prices were not reasonable. 
"Absolutely not. Would I still spend the money? Yes, obviously, but they were definitely not reasonable. We tried to do the presale at the normal price, got kicked out and then eventually just gave in and bought the tickets at whatever the stupid amount it was," Business and Yearbook teacher Shannon Muller said. 
Other fans felt that the ticket prices were reasonable because it is Taylor Swift who is putting on the concert. 
"Yeah 100%. I think she could have even made them more expensive because you know it's Taylor Swift. So, I think they were pretty reasonable yeah," Seaman said. 
Lots of Swifties are choosing not to watch, listen to or look at anything before they get to see the show in person, so they are able to have an element of surprise during the show. 
"I'm trying to stay away from what is going on, but I've seen like for every show she's doing a different acoustic song and little things like that, but I'm trying to stay away so I can be surprised," Potter said. 
Other Swifties however are watching, listening, and looking at things about this tour before they get to see the show or because they do not get to see the show.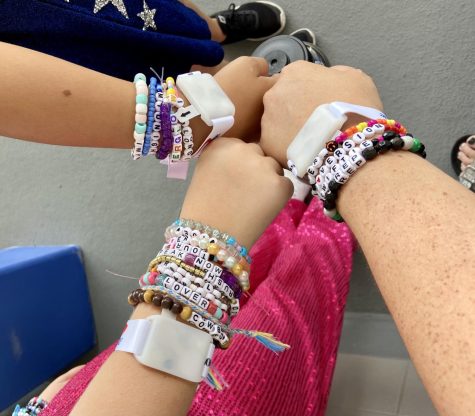 "Yes, I've been trolling Instagram and every single video that pops up on my for you page and every photo I've found of this tour, is on my story, every single thing. My story is basically The Eras Tour," Seaman said. 
The Eras Tour was first announced November 1st of 2022. That was the day Swifties across the US got to experience the joy of Taylor announcing that she would be going on tour again. 
"I cried. I'm going to be super honest I bawled my eyes out for a good hour and a half, two hours. Then I Immediately signed up for the presale email before everything happened. I was convinced I was going to see this concert one way or another. I followed all the fan accounts, and I already followed her accounts, so I just wanted all the info I could get," Junior Catarina Andrade said. 
Some Swifties that are going to this concerts were able to go to some of her other tours before and are excited to get to have an experience like that once again. 
"I'm looking forward to re-hearing her 1989 album in concert again. I went to the 1989, RED and Reputation tour and it was pretty cool," Muller said. 
Before the concert happened, Addison Davis the Superintendent of Hillsborough County sent out a letter to students encouraging them to not to skip school even though her concert was during the week.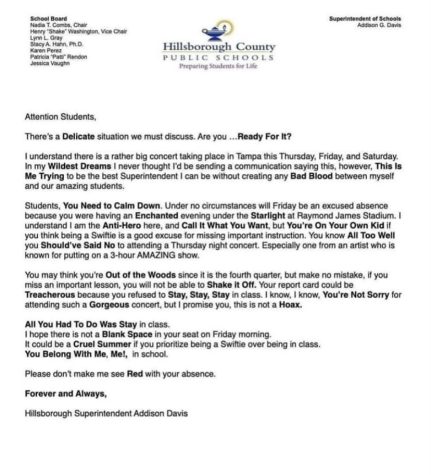 "The communication team did a really good job trying to find proactive ways to engage our community. Her concert was Thursday, Friday and Saturday so we wanted to find creative solutions and ways to understand and reach out to our community and students. Schools important but we wanted this letter to be light and fun," Davis "The man" said. 
Throughout the letter there are Taylor Swift references such as song titles. He uses songs in the letter such as "Delicate", "Wildest Dreams" "This is me trying" "Bad Blood" and more. 
"We incorporated about 25 songs into the letter. I think the students understood the fun in it and I give the credits to my communication team. There are a number of songs that I connect to and appreciate so this letter was really fun to help write," Davis stated. 
For some people like me, traffic while getting to Raymond James Stadium where the concert was held, was not as bad as traffic getting out of the stadium. 
I had a really easy time getting to the stadium. Finding the parking was fairly easy and the traffic was a breeze. Getting out of the stadium, however, was the difficult part. It took us almost an hour just to get out of the parking lot. The show ended around 11:45pm and my family and I did not get home until 2:00am. I definitely fell asleep on the way home. 
Now that Taylor's Florida concert shows are done, Swifties are able to say that the concert lived up to or even exceeded expectations. 
"It was literally the best experience I've ever had in my entire life. The second she got on stage I started bawling. I bawled multiple times throughout the night. I lost my voice, it was all just crazy, so I would definitely say she exceeded my expectations. More than exceeded if that is possible," Potter said. 
After attending the concert and finding out all of the songs that were a part of the set-list and the "surprise songs" fans felt that she had a good number of songs from each album represented. Because this is The Eras Tour, fans get to hear songs from each Taylor Swift "era" or album. 
"I think that the songs were a good mixture of all of her albums. I like that she's doing two special songs per show so you're still getting a wide variety of like everything and every album," Muller said. 
Some fans of Taylor such as myself have been following her their whole life and being able to go to her concert was a dream come true for fans like me. 
I grew up listening to Taylor Swift, she has been one of the biggest influences in my life. I've always dreamed of seeing Taylor in concert and the fact that my dream is coming true is amazing.  
For the last two shows Taylor performed in Florida, she brought up special guest Aaron Dessner, a songwriter, producer, and longtime friend of Taylor Swift. 
"Seeing Aaron Dessner on the stage, oh my God that was so amazing. Taylor and him up there singing and playing guitar together, wow just wow," Potter said. 
A lot of Swifties including myself decided to go big or go home when it came to their outfits for this tour. 
I definitely decided to go big. I had big sequence pants and glitter all over. It took days to get the glitter out of my hair and off my face. My outfit was inspired by her Lover album, so I had hearts all over. Dressing up was an amazing experience alone. 
Myself and other Swifties also decided to trade friendship bracelets with each other throughout the concert. This idea came from Taylors song You're on your own kid. In the song she sings the lyrics "So make the friendship bracelets, take the moment, and taste it you've got no reason to be afraid." These lyrics have inspired me and other fans to "make the friendship bracelets." 
I participated in trading bracelets with other fans, and it was so much fun. I had an amazing time and it introduced me to so many cool and fun people. I enjoyed making them just as much as trading them. 
Fans outfits were not the only amazing outfits of the night. Taylor herself had amazing outfits throughout the whole show and she made sure every era had a different outfit. 
"They were really cool. I liked all of them a lot. My favorite personally was probably the 'Enchanted' dress. It was a really pretty one," Muller said 
With the Florida shows now being over, Swifties say it was an amazing experience and they wish they could re-live it. 
"It was so well put together, she knew what she was doing the whole time. Every era was something different and amazing and I had the best time. It was probably the best night I've ever had. I really wish I could go back now that it's done honestly," Potter said.