---
This homecoming season, the Coyotes cheer team will be putting on a clinic for the future Coyotes, where they will get to cheer at this year's homecoming game. 
Elementary school kids were paired up with one or two high school cheerleaders to teach them the cheers. Junior Hannah Murphy, an older cheerleader, feels that the small groups helped so that they could connect with the little ones during the clinic and before the game. 
"I think it's really important for them to get to know us because if you don't get to know someone, I feel like you wouldn't listen to them as well as you would with someone that you know and feel comfortable with," Murphy stated. 
Some of the younger kids that were involved, like 5th grader Ava Fuller, felt nervous as it was their first time participating in anything cheerleading-related but found that the use of smaller groups helped calm them down. 
"I was a little nervous that I was going to mess it up and forget the cheers because it was my first time cheering, but I wasn't as nervous when I got to know everybody and because it was a group activity, I felt a little more confident because not all the pressure was on just me," Fuller said. 
The older cheerleaders are aware that for many of the younger students, this is their first time cheering. For that reason, they try to keep the cheers as simple and easy as possible. 
"We don't make these cheers as hard; it's only giving them a taste of what actual cheerleading will look like. These cheers won't be easy for them, but they won't be hard. They're going to be challenged and they will learn new things, but they'll do good," freshman Keilany Allicea stated. 
Most of the children who participated in the clinic found that this was a good steppingstone to partaking in cheer in the future. 
"I think that this lets me learn the basics of cheer, I know that there's tumbling and other stuff, but this gives me the basics of cheer early on. So, if I ever end up doing cheer in the future I would know a little bit about it," Fuller stated. 
Cheerleaders such as Murphy hope that this clinic will encourage the younger kids to want to stick with cheerleading and join the program once they join the upper campus.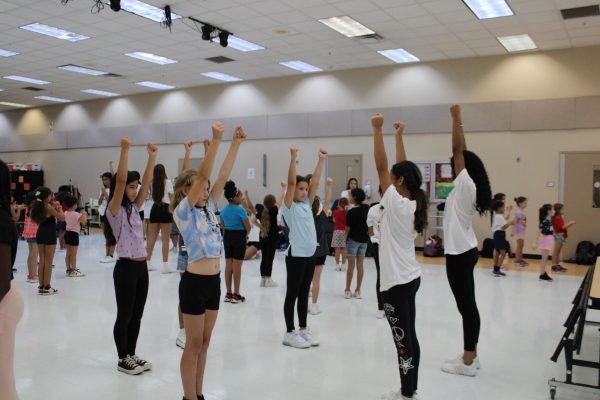 "I hope that when they get to 6th or 7th grade or whenever they come to our upper school they want to cheer, and they want to join our team," Murphy said. 
Some cheerleaders, like senior Alexis Potter, believe that the memories the little kids make while at the clinic are what could be the deciding factor in making them want to cheer for the upper school.
"All the memories that they are making now at this clinic they're going to think back on and remember and because of that, want to be part of the team. So, I feel like there really going to fall in love with it after that," Potter said.
Some, like Allicea, believe that having something to look forward to, such as cheerleading, can make it easier when transitioning from the lower school to the upper school.  
"I think this gives them something to look forward to so that they aren't so scared when they go to middle school. High school is easier when you have something to look forward to having and whenever you are little and find something like cheerleading that you love and if you stick with it, it will help a lot," Allicea expressed. 
Along with the perks that come for the mini Coyotes by hosting this clinic, the older Coyotes have been able to find little perks for themselves. 
"I feel like whenever we work with kids it helps with our communication skills. Not all of us are the most patient but whenever we work with kids it helps us, especially cause you can't just yell at kids," Potter said. 
Not only can this help the little Coyotes and the older Coyotes, but this clinic can help the Coyotes cheer team all around as this event is a fundraiser for the team. 
"This does help fundraise for our cheer team at the upper school, which is great cause were one of the only sports our school doesn't cover, but the fact that we can fundraise while doing something we all love is really great," Allicea stated.
This clinic only lasted for a day and some of the cheerleaders, such as Potter, felt that this only being a day was doable but was a shorter time period than wanted. 
"I think a day was fine, but with only a day I think we didn't do everything we knew we could have done. I feel like they could have practiced a little bit more, if we had two days, I think it would have been even better cause we would have gotten to go over it the next day too," Potter explained. 
Potter also discusses how you can be a cheerleader no matter what as long as you are dedicated, and she believes that the little kids can see that. 
"We always look for someone who is bubbly and bright. Usually, someone with a lot of energy cause you're going to need it. You don't have to be the most outgoing, you can be introverted but as long as you practice and put in dedication, I feel like you could do it and the little kids can tell," Potter said. 
Cheerleaders often face many stereotypes like they always have to be happy. Some cheerleaders like Potter believe that hosting clinic for little kids helps prove those stereotypes wrong. 
"Not only does the clinic show how cool being a cheerleader is, but it shows them that it's not so stereotypical. It shows them that us cheerleaders were nicer and it's okay and they can always come up to us and talk to us," Potter said. 
Though there are many different aspects that come with cheerleading, the clinic's objective was to ensure that the little ones got to participate and enjoy this special event as a cheerleader. 
"I was most looking forward to being out on the field, watching the football team and cheering for them. Just being a part of the school's cheer team for a night, and it was exactly like I imagined," Fuller stated.
---