"Drip Harder"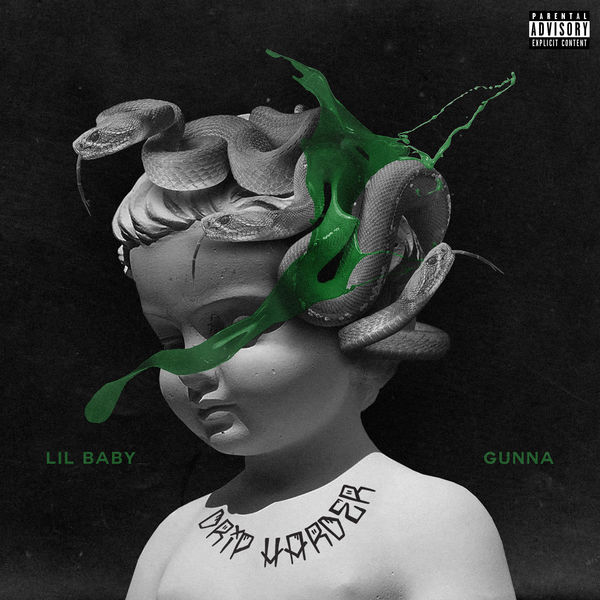 With an already abundant number of tracks together from previous mixtapes, Atlanta duo Lil Baby and Gunna have joined forces on their highly anticipated joint album, "Drip Harder".
Executively produced by fellow Georgia native Turbo, (Yosemite, EAT, Sold Out Dates, etc…), Turbo brings a very familiar Atlanta trap sound to the project that has taken over modern hip-hop today. With all 3 collaborators being from around the state's capitol, it was only a matter of time before they linked up in the studio to make a full-length project.
"I kind of just touched up everything" Turbo explains over a phone interview with Billboard, "My role was to put the finishing touches on to make everything come together sonically."
Songs like "Drip Too Hard", "OFF WHITE VLONE" and "Close Friends" solely produced by Turbo, have been cemented hits with students as they can be heard playing from headphones and vehicles all around campus.
"That song 'Close Friends' goes hard man, but it also gets me in my feelings" freshman, Daniel Fletcher, chuckles. "But you know I was already dancing to it and posted it on Snapchat, Instagram; I was ready for that to come out".
A big gripe the album has been receiving is the repetitiveness of certain themes and sounds. Most of the songs sound eerily similar and it's sometimes hard to differentiate what song is playing at the moment if you're not really paying attention. Lil baby and Gunna hardly ever switch up their cadence and flow on most of these tracks, instead opting for more of the same that was heard on their previous projects such as this year's "Harder Than Ever" and "Drip Season 3".
"Usually I'd get really annoyed with how songs sound the same, but since its Lil Baby and Gunna I'll let it slide" senior, Danny welling, said. "It's the drip, it gets me hype, I'm just trying to get turnt up when I listen to them and they bring that."
This production powerhouse filled album features an all-star lineup of producers from the likes of: Wheezy (Yes Indeed), Taz Taylor (Plug Walk), Frank Dukes (Fake Love) and Playmakers (Oh okay).
Arguably one of the best songs on the project is the final track, 'Never Recover', which features the lethal combination of Memphis producer, Tay Keith and the 6 God himself, Drake.
The duo, which is having an incredible year with tracks like 'Look Alive', 'Nonstop' and Travis Scott's 'Sicko Mode', offer up some of their hard-hitting sounds and verses on the final product. Lil Baby gives some insight to how the track came together by rapping "Drizzy hit me up like he got another one/ money ain't even came in from the other one/ I'm hot, so I might as well double up" likely referring to their hit 'Yes Indeed', which came out earlier this year.
The other features on the project came from Lil Durk and Nav on 'OFF WHITE VLONE' in which Durk is hardly even heard on the track, logging in a subpar 8 bar verse. Nav doesn't seem to give much effort either in his verse as it sounds very weak and uninspired. Baby and Gunna save this track by giving a very catchy hook and strong verses.
Young Thug also makes a guest appearance on the album on the track 'My Jeans', delivering a melodic and almost soulful take on the chorus. The track however, is mostly forgettable and at times hard to get through.
"I thought the features could have been better when I first heard it. I really didn't think that they added much to the album as a whole" says sophomore, Sophia Elkhabbaz. "Besides the song Drake is on, the features were underwhelming."
While "Drip Harder" manages to have tremendous production and vibrant verses from Gunna and Lil Baby, the albums highlights are far too few as it is mostly filled with lackluster concepts, flows and originality.
The final product could have benefitted from stronger ideas and switches in cadences from both artists, making it a much more cohesive experience rather than having most tracks sound the same.
Even with its missteps, RUN THAT BACK TURBO is sure to be heard from campus.
Overall- 5/10
Best Tracks- Drip Too Hard, OFF WHITE VLONE, Close Friends, Never Recover
Worst Tracks- Underdog, My Jeans, Seals Pills
About the Writer
Juan Viruet, Entertainment Critic
Juan Viruet is a senior at Four Corners High School and this is his first year on staff. Juan was always curious about how good of a writer he could...