Midterms
Students Voice Their Opinion On The Midterm Results

Politics. A sensitive topic that can lead to some of the most influential and chaotic conversations. For high school students the value of their government is seen full force as their government takes actions and makes decisions that can impact their future.
On November 6th, 2018 the midterm elections were held and millions of Americans were allowed to voice their opinion for who they believed should lead their government. The midterms revolve around voting for those who will serve in the Congress, including the House of Representatives and the Senate. This midterm saw the making of American history with the election of Jarid Polis, the first openly homosexual person into congress. Representing Colorado is Ilhan Omar, the first Somali-American into congress.
"I feel represented now as a black, queer woman. There was Muslim women elected into congress, the first black woman elected into congress for Massachusetts, the first Native American woman into congress, the first Latina woman," sophomore, Arianna Carter, explains. I'm finally seeing more women of color and it's a big step from a mostly white conservative male majority."
Jarid Polis, an openly homosexual man made history when he was elected into congress to represent Colorado. His win inspires LGBT youth to make strives in their lives as well.
"I think it's a big plus for the LGBT community," freshman, Courtney Gundry, explains.
This midterm also marked the accomplishment of the democrats flipping the house. Despite the democrats taking control of the house, the republicans still kept the majority share of the Senate.
"Flipping the house refers to the House of Representatives and the fact that it was controlled by the Republican party but the democrats gained enough seats so they now have the majority." US History teacher, Mark Roberts, explains.
According to a poll ran by the National Public Radio (NPR) only eight percent of Americans have a great deal of confidence in congress. Mr. Roberts believes that with the changes brought on by the democrats taking control of the house that the confidence American people have in their government will rise.
"Maybe if there is some bipartisan legislation to be passed it would be very helpful for the country." Mr. Roberts states.
Junior Daniel Rodriguez has a conflicting opinion.
"Most likely nothing will get done," States Rodriguez. "It's most likely going to decrease confidence in the government because not much is going to be done because of a lot political infighting."
With the addition of seniors more of the student body are registering and voting this year. Senior Annalise Petrovich is a student who registered to vote this year.
"If we don't vote, especially the kids who just turned eighteen, then our future is not going to be what we want it to be."
About the Writer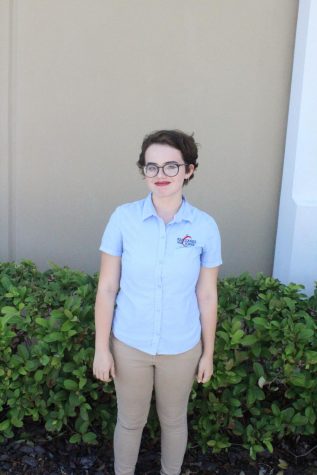 Megan Walsh, Politics Editor
Megan Walsh is a senior at Four Corners High School. This is her fourth year in journalism, and second year as a copy editor for the staff. Her interests...