Learning Through the Fetal Pig
Hang on for a minute...we're trying to find some more stories you might like.
Although dissecting things in the name of science has been a part of learning throughout middle and high school, many people have different views on the fetal pig dissection.
For biology students, the fetal pig dissection is to show the similarities between a human and a pig's organ system, but some students think that other methods could be used and that the dissection of the fetal pig is in some ways cruel.
"Well when she told me the name of it and I asked her questions then she explained it to me and it kinda hit me like wow, like it's something that hasn't been born yet, and I kinda teared up a little bit, cause it's a life although it hasn't been born, it's still a life," says 10th grader J'nae Ross.
Some students like Ross view the dissection as cruel and a little hard to handle, while other students like freshman Makayla Joseph view the dissection as a learning opportunity.
"I was ecstatic, cause I want to be a surgeon when I grow up so I guess it's like a little bit of an opportunity, I feel like I'm getting a glimpse of what I'm getting myself into later in life."
Many students are viewing the dissection as a hands-on opportunity that will prove to be memorable, some even saying they would not change the way we learn about the organ systems.
"I think it's a cool thing that we are doing, although I wish it wasn't a pig, a baby pig, I think it's something cool, and no, I think the dissection is the best way cause its hands on and when people do things that are hands on, they remember it better," says 10th grader Kuewbelanstar Jean.
The method of learning about the human organ system through the pig dissection is the most opinionated part about the whole thing. Students like Jean don't find it to be a problem, but some like Ross look at the situation through a different pair of lenses.
"I think it helps us educationally, but I feel like they should use other methods, I feel like they should use a different (method); not a baby something that hasn't lived yet, I'd rather have chosen something that already lived its life, not to kill it, but like something that is about to die just use that, not something that hasn't started yet," says Ross.
With Ross's point of view in mind, some students enjoy the originality of the dissection.
"I think it's cool, I mean it's a good way to get people involved with and science and everything and like a hands-on experience, I feel like if it was virtual, I don't think it's the same cause it's not authentic," says Joseph.
About the Writer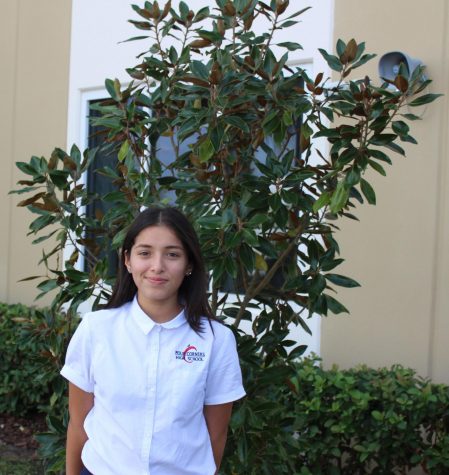 Daniela Araujo, Writer
Daniela Araujo is a freshman at Four Corners High School and this is her first year on staff. Daniela enjoys photography, learning new things, and writing....