Are LGBTQ+ Slurs Affecting Students Self-Esteem?
LGBTQ+ Slurs And Their Effect On Teens
Words can harm a teen's self-esteem, especially for students within the LGBTQ+ community. The halls go unfiltered as words like "faggot", "slut", or "dike" are being thrown whether as jokes or as a negative comment towards someone. If this continues, teens may no longer feel like they are in a safe or positive environment.
"Well, I personally don't care for them. And whenever I hear a student using those words, I tell them not to use that word. But there's like some other words that if they're used, kind of the same thing that are derogatory slurs to different types of people." according to English teacher, Mrs. Julie Gardieff.
Lesbian, gay, bisexual, transgender, and more (LGBTQ+) students are at a higher risk of getting bullied by their heterosexual peers. The 2017 Youth Risk Behavior Survey shows that nationwide, of those high-school students who identify in the LGBT community, 33% report having been bullied on school property and 27.1% cyber-bullied, more than their heterosexual peers, 17.1% and 13.3% respectively. The study continues to show that 10% of LGBT than 6.1% of heterosexual students were reported not going to school due to safety concerns. Even students who feel unsure of their sexuality were also reported being bullied on school property and cyber-bullying as well as not going to school due to safety concerns.
"I find that words like that are very insensitive, especially at this current point. As teens, we're all just searching to find who we are and seeking out acceptance from others." Junior Gracey Davis, said. "Words like faggot and such are so demeaning. They really make people of the LGBT+ community feel less accepted and wanted, and it's unfair that it's not an issue taken seriously within schools."
Some teens, especially students, are using terms in an insulting way. Phrases like "that's gay" are used to describe a person's personality, or their style, and it's meant in a negative way equivalent to saying "that sucks" or something similar. For some students, it may be difficult to be proud of who they are, when who they are is being thrown around as an insult.
"Using gay as a description shouldn't be used in a negative way. If a person is gay, they should be embraced for being themselves and not insulted for it. Whenever I hear someone say "that's gay" to describe something I just think they're showing disrespect to others and I sigh because they don't exactly look intelligent by saying that." Junior, Breanna Gallo, said.
According to the National Public Radio, in April of 2011, professional basketball player Kobe Bryant of the Los Angeles Lakers was fined $100,000 by the NBA for calling a referee the "Fa-word". At the same time, in May, Joakim Noah of the Chicago Bulls was fined $50,000 for hurling an anti-gay slur at a fan.
"I feel that words like " faggot " and others are somehow justified by a kid saying "sorry" or "I was kidding" but truthfully those types of words especially in the times we are in can severely lower someone's self-confidence and really hurt them," sophomore, Courtney Gundry, said.
A negative space can affect teens coming out or teens within the LGBTQ+, there are ways that can help create a safe and respected space. According to Gay-Straight Alliance Network, a growing body of research confirms that the presence of a Gay-Straight Alliance (G.S.A) has a positive and lasting effect on student health, wellness, and academic performance. It can also protect students from harassment based on sexual orientation or gender identity and improve school climates for all students in the long-term.
Junior, Arianna Carter says, "Kids are able to hear un-abusive language and be surrounded by people who are like them, meaning in terms of identity and sexuality; who understand these things. they can even be surrounded by those who are supportive of them"
For example, the current Pride and Unity Alliance (P.U.A), has been running after school on Thursdays for the last 3 years. Students like Carter believe the club is doing well, as far as creating a safe space for those who need it. On the other hand, Davis believes that the school isn't really 100% with P.U.A.
"I really wish I could say yes but especially at Four Corners, these groups are always being disrespected and treated like they don't matter or that they are jokes. Even the administration has restricted what we're allowed to do as a part of them. It's really important for people to understand that sexuality isn't a bad word and that it's okay and healthy to explore it." says Davis, "I think that groups like that completely have the potential to help but at Four Corners at least, we're never given the chance."
So, in general, creating these safe spaces will help improve the student environment. But coming together as a community and being kind and accepting those around you can really make a difference.
"The world we live in is such a disgusting place but starting with a little love towards everyone can change someone's whole entire day". says Sophomore Christian Alfaro.
About the Contributor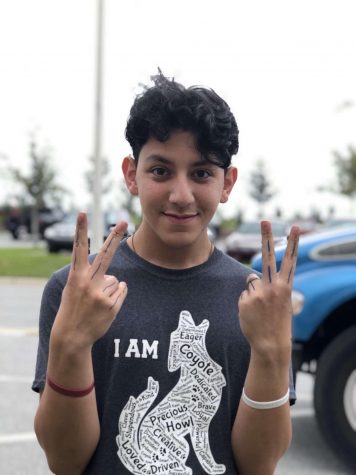 Patrick Deliz, A&E Editor
Patrick Deliz is a senior at Four Corners Upper School, in his second year with The Coyote Chronicle. While invested in the arts, Patrick enjoys photography...