#BigNight Or #BigFlop
Films Are Put To Test, Leaving Producers On The Edge Of Their Seats For The Nomination Winners
Following the Grammys, the spotlight transitions to the red carpet, as actors, actresses, producers, directors, and performers walk down in their best outfits for the 92nd Annual Oscar Awards.
The Oscar Awards drew an approximate 23.6 million viewers for ABC on Sunday, which is a new low for Hollywood's biggest night. The award show saw a decrease of 20% from last year's show, which brought in 29.6 million viewers. The previous low was 2018's telecast, which drew in an average 26.5 million viewers.
Although the ratings are low, they are still higher than most programs on television, but hardly ideal. Just six years ago, the award show brought in more than 40 million viewers. A number of factors were at play, from the show's length to the array of other entertainment options viewers can choose from. This probably stems from some of the year's biggest blockbusters like "Avengers: Endgame" not winning any major awards. The Oscars' low ratings follows the trend with other award shows like the Grammys and the Emmys, which have taken big viewership hits recently.
Aside from Bong Joon Ho [Winner of Best Picture for 'Parasite'], Billie Eilish's hilariously puzzled reactions, and Janelle Mońae's red carpet extravaganza, viewers from around the world certainly had plenty to talk about, especially after the ceremony. Headlines were circulating about things that we would not see: no female filmmakers for any of the top films, and almost no people of color in acting roles. Surely enough, female directors won, and so did the African-American performers. The night ended with a history-making victory for 'Parasite', the first South Korean film to win best picture. 
Eminem popped up during the ceremony to perform "Lose Yourself," his Oscar-winning song from 2003. Martin Scorsese however appeared to use Eminem's performance as an opportunity to take a nap. Cameras quickly cut away from the director and toward audience members singing along. To be fair though, they did give him a standing ovation. But the performance still went down as one of the ceremony's iconic moments. It is unknown if producers invited Eminem in an attempt to attract young male viewers. Eminem, who has a history of gay slurs, was most recently in the news for lyrics about the killings at an Ariana Grande concert in 2017. 
The 92nd Annual  Oscar Awards was spectacular for history-making, but also sparked controversies that will eventually die out, until the next red carpet rolls out.
About the Contributor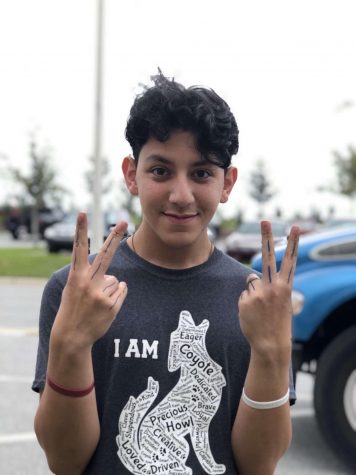 Patrick Deliz, A&E Editor
Patrick Deliz is a senior at Four Corners Upper School, in his second year with The Coyote Chronicle. While invested in the arts, Patrick enjoys photography...